---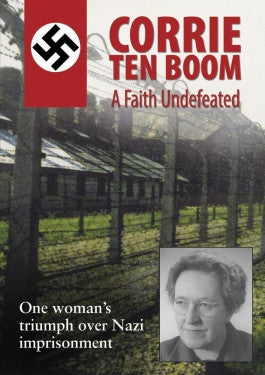 Sale
Corrie Ten Boom: A Faith Undefeated DVD
Additional Information
Cast: Pam Rosewell Moore
Director: Robert Fernandez
Languages: English, Spanish
Release Date: 11/11/09
Run Time: 55 min
Subtitles: English, Spanish
Region Code: 0

See More
Sale price $6.99 Regular price $19.99 You save 65%
Estimated arrival between and for USA.

---
You might also like
Sale price $32.99
Regular price
$54.98
Sale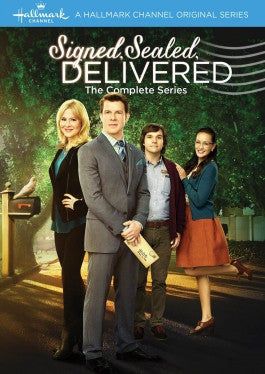 Sale price $24.95
Regular price
$29.99
Sale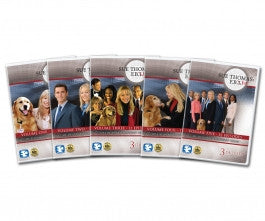 Sale price $95.99
Regular price
$119.99
Sale
—
Sold Out
Corrie Ten Boom: A Faith Undefeated DVD
Corrie Ten Boom: A Faith Undefeated is a dramatic film depicting the life and work of Corrie Ten Boom. A hero in World War II, she helped hide Jews from the Nazi Gestapo, protecting their lives. Along with her father and her sister Betsie, Corrie hid hundreds of Jews in a secret room in her house. Their underground operation was unfortunately exposed during a Gestapo raid, and Betsie and Corrie were sent to a concentration camp for the "crimes" that they had committed. The incredible bravery of Corrie Ten Boom and her family is shown in this film, retelling the life of an incredible hero. Corrie Ten Boom: A Faith Undefeated contains interviews with her personal assistant, Pam Rosewell Moore, as well as shots of the actual house in which Corrie and her family harbored Jews.
The Life and Work of Corrie Ten Boom
Corrie Ten Boom: A Faith Undefeated retells the heroic story of Corrie Ten Boom, and the sacrifices she made to save hundreds of lives.
Corrie's work with the Jews began with the first Nazi invasion in 1940. Marking the beginning of the terrible Holocaust that was to come, the Gestapo cruelly killed and placed many Jews in concentration camps because they considered them the scum of the earth. The Nazis put a ban on everyone stating that they could not help Jews. This included shutting down stores run by Jews and sympathizers, as well as shutting down a club that Corrie had been running for girls.
In 1942, a woman appeared at the Ten Boom's house with a suitcase in her hand, admitting she was Jewish and looking for shelter. Earlier, her husband was visited by the Nazis and sent to prison and her son had ended up having to go into hiding. She was worried about staying where she was at, and was told that the Ten Booms had helped Jewish neighbors of theirs. Though she took a huge risk, it ended up working out as Casper Ten Boom stated that God's people were always welcome in his home.
This began Corrie's work in hiding Jews, and her family continued to secretly harbor Jews for years. Their home became known as "the hiding place" and they harbored Jews and sympathizers to the Jewish cause. Anyone who was being hunted by the Gestapo came to the hiding place, and no one was turned away. Corrie, Betsie, and their father opened their hearts and their home to a cause that they believed strongly in.
Through Corrie's life, it is obvious that she felt extremely strongly about protecting the Jews. She risked her life and determined that she would not be afraid of being captured. Her heart was devoted to saving the lives of Jews that were being punished for nothing other than their beliefs and being different. Their operation was successful and saved the lives of countless Jews.
However, on February 28, 1944, a man named Jan Vogel discovered the Ten Booms' operation and informed the Gestapo of what they were doing. That night, a party of Nazi raiders came in and arrested every single family member and found all the hidden Jews. Corrie, Betsie, and their father, Casper, were all arrested and taken to Scheveningen prison. A week and a half after they arrived here, Casper died, leaving his daughters devastated. On top of the recent death of their father, the two girls were sent to the Ravensbruck concentration camp, a labor camp for women.
Though the days were hard and the work was exhausting, they managed to find joy. Even though they were treated as if they weren't human, they managed to hold Bible studies and worship services, using a Bible that Corrie had managed to sneak into the camp with her. Unfortunately, Betsie's health began to decline and Corrie began to worry that she would be left alone. As her sister's health worsened, she prayed all the more that God would show mercy on his people.
Ten months after arriving in the labor camp, Betsie died. However, she died peacefully and with a smile on her face, telling Corrie that God was and is faithful. Left alone, Corrie had no one to rely on but God. She became even stronger in her faith and took everything in stride. Still, she prayed for mercy and one day received it in a shocking way.
A clerical error occurred in the camp and Corrie was released, though she was not supposed to be. However, she did not question the decision, sure that it was God's faithfulness shining through. Though she had been through terrible experiences and had been beaten down, Corrie did not let her spirit fade. She decided to use her release as an opportunity to help others being released from the camps.
At long last, World War II ended and the Jews were slowly being released. Corrie decided to set up a rehabilitation center. She built multiple refugee houses that became home to concentration camp survivors and the lost and jobless Dutch who had previously been aiding the Germans. Her heart for people did not grow cold, despite the terrible things many had done to her.
Corrie decided to share her incredible story with the world and began writing "The Hiding Place"ÌÎ_̴Ìà?, a tribute to the name that was given to the Ten Boom household. In this book, she describes her family life and the terror that swept the nation as the Gestapo started capturing Jews and anyone who was aiding the Jewish cause. This book became a bestseller and was eventually made into a film. In 1977, she moved to California where she lived out the rest of her days. She suffered two strokes in 1978, which left her paralyzed and mute. In 1983, she suffered a third stroke and died on her ninety first birthday.
Corrie Ten Boom: A Faith Undefeated tells the amazing story of Corrie Ten Boom and the hardships she endured. Though she was beaten and thrown into a labor camp, her heart was still full of joy because she had hope in Christ. She was inspired to share her experiences with the world, hoping that her story would have an impact.