---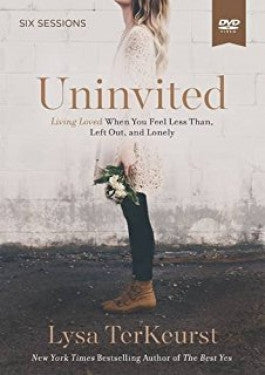 Sale
Uninvited Lysa TerKeurst DVD Study
Additional Information
Cast: Lysa TerKeurst
Languages: English
Release Date: 8/8/12
Region Code: 0
Sale price $14.85 Regular price $26.99 You save 45%
Estimated arrival between and for USA.

---
You might also like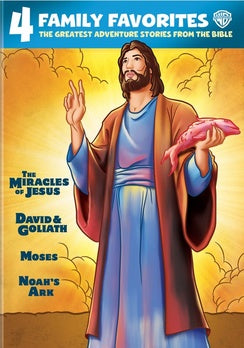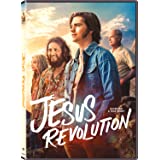 Sale price $15.99
Regular price
$29.95
Sale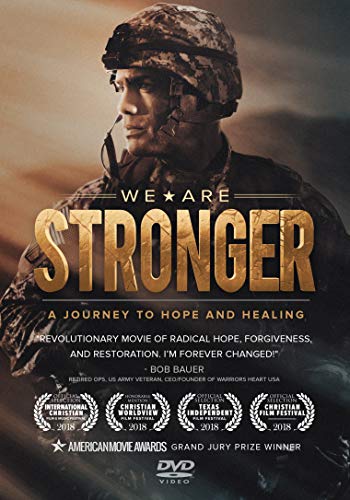 Sale price $9.99
Regular price
$14.99
Sale
Uninvited: Lysa TerKeurst DVD Study
Journey with Lysa TerKeurst from Proverbs 31 Ministries on a six-session study on rejection. Based on her book Uninvited this DVD Study digs into Gods Word to discover the roots of rejection and the way it can shape the rest of our relationships. As you travel with Lysa to the places of the Bible you will discover the truth about what it means to live loved, and that you will never be rejected by Jesus; he will never uninvite you. Discover God's truth for when you feel left out, lonely, or less than.̴Ì_
The Study
A study from Lysa TerKerust from Proverbs 31 Ministries Uninvited takes a serious look at how Satan wants us to feel rejected, left out, unwanted, and unloved. Not only are these lies themselves harmful, they lead to further untruths taking root in our hearts and minds. Often a rejection from our past can continue to add pain and trust issues to our current relationships. Lysa TerKeurst has "been there and done that," and she wants to share the truth God taught her in her journey of dealing with rejection with you! In the six session series Uninvited you will journey with Lysa to the land of the Bible, Israel, and as you walk the steps of Jesus you will study his truth on rejection and love. Some of these locations include Mount of Beatitudes, Caiaphas' House, Cave of Adullum, Tel Shiloh, Mount Arabel, and the Garden of Gethsemane where you will study the lives of individuals from the Bible such as Hannah, David, Peter, and more. As you journey to the places where Jesus walked, you will experience his truth like never before. Lysa's story, honest vulnerability, and humor will encourage and move you to learn what life would look like if you lived like you were loved. Whether you walk Lysa's journey Uninvited by yourself or with a group of women, Lysa will help you walk into healing and gain a new, Biblical perspective on rejection and the roots it holds in our lives.
A fresh, fun, and Biblically grounded reminder that we are all "good enough," we are all recipients of a love that can never grow small, walk away, or give up, Uninvited will encourage and remind you that you can live free, you can live loved.̴Ì_
Lysa Terkeurst & Proverbs 31 Ministries
From a young age Lysa TerKeurst struggled with not being "good enough." A difficult childhood left her making "deals" with God, and several tradgedies in her college years left her wanted nothing more to do with him. But God never uninvited her from his love.
Now a happily married mother of five, Lysa Terkerust serves as president of Proverbs 31 Ministries, and organization dedicated to helping women on their daily walk with God, reminding them that they are loved by him. A well-known speaker, New York Times best-selling author (The Best Yes, Unglued, Made to Crave, and many other books), and featured author in publications such as Focus on the Family. Lysa had helped thousands of women learn how to rejoice in who God has made them to be.
Lysa's DVD study Uninvited comes from her personal struggle to feel "good enough." As you journey with her to some of her favorite places in the Holy Land, you will be inspired by her passion for helping women see that God is a god who always accepts and always loves.
What It Includes
Lysa Terkeurst's wonderful DVD study guide Uninvited is filled with encouraging, challenging, Biblically grounded teaching. The DVD includes six sessions on rejection and claiming Jesus' love:
Session 1: Living Loved (25 minutes)
Session 2: Empty or Full? (15 minutes)
Session 3: The Yoke of God is Freedom (16 minutes)
Session 4: Set Apart (13 minutes)
Session 5: Remembering God's Presence (24 minutes)
Session 6: Lessons from the Olive (15 minutes)
In addition, the study DVD Uninvited includes guided video notes, group discussion questions and personal studies to use in between sessions. An easy to use group or personal study, Lysa Terkeurst's Uninvited will change your relationships and your heart.
Perfect Group Study
With each of the six lessons in Lysa TerKerust's DVD study Uninvited ranging in time under half an hour, you can easily walk through this study in no time. Perfect for individual study or with a spouse or group, Uninvited will strengthen your faith and relationships. As you walk the paths that Jesus walked and hear from Lysa TerKerust's own journey of faith, struggles, and freedom you will learn what it means to live loved. The studies from Uninvited will spark meaningful conversations with individuals in your life, and inspire you to dig further into God's word for the truth of his unconditional love for you.
Conclusion
The six lessons in Lysa TerKerust's DVD study Uninvited short yet meaningful. Whether you walk with Lisa alone or with a group you will be encouraged that your creator made you and he loves you with an unconditional love. As you study the stories of individuals from the Bible, Lysa's own journey and perhaps come to understand the struggles of those around you, you will be reminded that you are not alone in feeling alone, but that you do not have to stay in the lies Satan wants you to believe. You are invited by your creator and loving savior. Dig deep into God's Word as you travel to the places he lived and walked and be reminded of his truth; you are loved with a love that will never diminish or reject. You are not, and never will be, "uninvited" by God.
Uninvited a study by Lysa TerKeurst has not been rated by the Motion Picture Association of America and may include topics and issues not suitable for all viewers. As always, it is recommend that parents preview all content to determine what is suitable for their children, but the DVD study Uninvited is generally considered appropriate for most older audiences.