---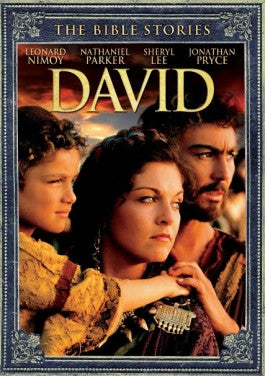 Sale
The Bible Stories: David DVD
Additional Information
Cast: Nathaniel Parker, Jonathan Pryce, Leonard Nimoy, Sheryl Lee
Director: Robert Markowitz
Languages: English
Dove Approved: Dove Family Approved
Release Date: 4/11/12
Run Time: 190 minutes
Screen Format: WS

See More
Sale price $13.75 Regular price $14.99 You save 8%
Estimated arrival between and for USA.

---
You might also like
Sale price $32.99
Regular price
$54.98
Sale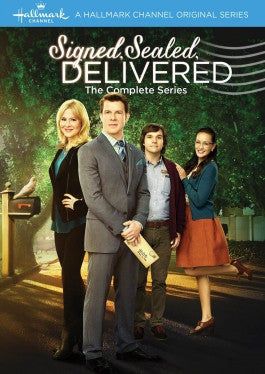 Sale price $24.95
Regular price
$29.99
Sale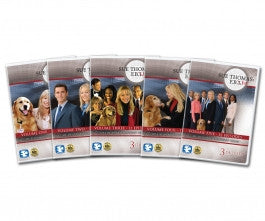 Sale price $95.99
Regular price
$119.99
Sale
—
Sold Out
The Bible Stories: David DVD
The Bible Stories: David is another film in The Bible Stories series that tells the complete story of David from the Old Testament. Chronicling the entire life of David from start to finish, you will witness as David is called by Samuel to lead the people of Israel. While they already had a king, King Saul, Samuel chose David to be his successor. In this film, you will see as David rises in power from a simple shepherd boy all the way to the king of a nation. After his incredible underdog victory over the giant Goliath, David became very famous and well-known for his remarkable battle skills and unshakable bravery.
As David becomes king, you will see his struggles and learn about all he did when he was king, both the good and the bad. This film attempts to summarize the entire life of David and simultaneously show God's divine hand in his life. You will see David's highest points and his lowest points in The Bible Stories: David. He was an incredible man that was known for being a man after God's own heart, but this movie does not attempt to hide his faults and failures. With a star-studded cast featuring Nathaniel Parker, Jonathan Pryce, Leonard Nimoy and Sheryl Lee, this 3-hour Biblical epic will excite and amaze you while also informing you about one of the most incredible men of the Old Testament.
Original Release
Originally released in 1997, this is a unique film as it tries to capture the whole of David's life. While there have been a numerous amount of films that chronicle one specific story about David (such as his battle with Goliath), very few films attempt to summarize the entire life of David. Because David's life spans multiple books of the Bible and includes many different events at all different stages of his life, this is an ambitious task, and one that was readily accepted by director Robert Markowitz
David's Call to be King
In the true Biblical account, David started out as a normal shepherd, one of the lowest of the low. Son to Jesse, he was the youngest and was normally left behind and left out. One day, a prophet by the name of Samuel came to Jesse and informed him that one of his sons was to be chosen by God as the next king. Jesse rounded up all of his sons and set them before Samuel. Samuel passed over them one by one, but was not told by God to choose any of them. He then asked Jesse if he had any other sons. Jesse informed him that there was one more, the youngest, by the name of David out tending the flocks. David was sent for and when he returned, he was the one chosen to be king over the nation of Israel.
How this would all play out remained to be seen, as David was not an heir to the throne, and Saul was not known for sharing power. However, it was only a short time later that the Philistines attacked and they sent out their giant to do battle with anyone brave enough to fight him. This giant, by the name of Goliath, challenged the Israelite army to send out their bravest fighter to do battle in a one-on-one fight. When not a single member of the army would dare face him, the young shepherd boy David stepped up to perform the task. Taking only a sling and a few stones, David challenged Goliath. With one stone, he slung it toward Goliath, hit him in the center of his head, and knocked him over dead.
Saul's Attempt on David's Life
After this miraculous event, David became world-renowned for his impressive and unbelievable victory over one of the greatest warriors to ever live. David was showered with praises and blessings and eventually even became a music player for Saul in his courtroom. Saul grew to love David, but over time began to feel a certain envy for him. Saul began to speculate that David was after his throne, and so Saul made several attempts to kill David. Eventually, on the run, David took his best men and fled, hoping to save his life.
Saul would continue to pursue David, but would eventually kill himself in a battle. Once Saul had passed away and his son Jonathan with him, David became the king and ruler over Israel. Despite all of the good that David had done as a young man and his committed attitude to God, he was still human and still had several issues he needed to work through. Once he became king, he ended up having an affair with a woman named Bathsheba, even killing her husband in the process. God punished David for his actions and even sent a prophet by the name of Nathan to chastise him for his despicable actions.
Once David discovered his faults, he repented and begged God for forgiveness. Although it was given to him, there were still consequences, and David's newborn son died. After this, David continued to serve the nation of Israel and was considered to be a great leader by all. David's story is a wonderful rags-to-riches tale but also a tale of pride going before a fall and ultimate forgiveness. Although David had his ups and downs throughout his life, he was called a man after God's own heart and became well-known for his beautiful psalms and praises written to God. David would eventually pass away, leaving the kingdom to his son Solomon.
Conclusion
The Bible Stories: David is a gripping narrative that chronicles the complete life of David, from beginning to end. It is an inspiring tale of how God can use anyone to accomplish his purpose and that He will always forgive us despite out worst mistakes and faults. This is an epic Biblical drama with an incredibly wide scope. Starring big-name actors and with a high level of production quality, this 1997 film is a powerful classic worth adding to your collection.