---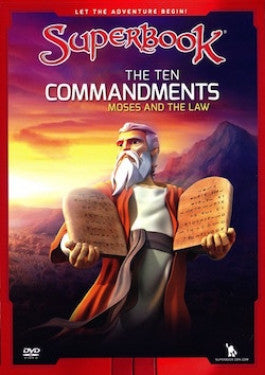 Sale
Superbook: The Ten Commandments DVD
Additional Information
Director: Bryant Paul Richardson
Producer: Sean Roche, John Schafer
Languages: Spanish, English
Release Date: 1/4/12
Run Time: 25 min
Subtitles: Spanish, English
Closed Captioning: Yes

See More
Sale price $11.98 Regular price $15.99 You save 25%
Estimated arrival between and for USA.

---
You might also like
Sale price $32.99
Regular price
$54.98
Sale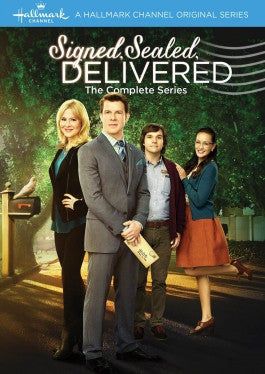 Sale price $24.95
Regular price
$29.99
Sale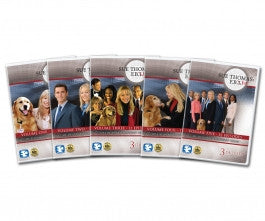 Sale price $95.99
Regular price
$119.99
Sale
—
Sold Out
Superbook: The Ten Commandments DVD
Superbook: The Ten Commandments is the fifth episode of Season 1 of the newly re-launched Superbook show. In this fun and educational Children's show, follow Chris Quantum and Joy Pepper as they take a family camping trip and end up on a much bigger journey as they venture back to the time of Moses and watch as he is given the Ten Commandments by God. However, as Moses returns from meeting with God on the top of Mount Sinai, he finds that all is not well in the Israelite camp. In Moses' absence, the people have turned to worshipping idols and serving other gods in lieu of serving the one true God.
It's up to Chris, Joy, and Gizmo to journey back in time through the Superbook and help Moses set the people straight. On the way, they both learn an important lesson about following the rules and how important they are to everyday life. Moses receives the Ten Commandments in this video and Chris and Joy learn that God has established rules for us to follow. What's even more amazing is just how dramatically our lives are changed for the better when we simply choose to follow the rules that God has designed for us. This entertaining children's movie is sure to inspire your children but also teach them an important lesson about the importance of obeying the rules.
Chris and Joy originally find themselves in this predicament when Chris' family decides to take a camping trip. While the trip is in the beginning fun and exciting, Chris Joy, and Gizmo end up wandering off on their own and find themselves lost and trying to find their way around. After some close and even dangerous encounters, Chris eventually finds a cave. He wants to go in the cave because he knows there may be interesting things inside, but Joy reminds him that his parents had told him not to go into any caves. These were the rules that Chris' parents had set before him. However, he decides that he's going to enter the cave anyway, citing that "rules were made to be broken."
Once inside the cave, Chris and Joy end up taking the Superbook and traveling back in time to when Moses receives the Ten Commandments. This takes place in time directly after the Exodus (which you can learn about in another episode, Superbook: Let My People Go), when the Israelites were wandering in the desert for 40 years. At this time Moses went up atop Mount Sinai to meet with God. God had very special instructions for Moses, and while they were meeting on top of this mountain, God gave Moses ten rules for the Israelite people to follow; the Ten Commandments. Moses wrote these commands on two tablets, five rules on each tablet and descended from the mountain in order to tell all of this news to the Israelites.
When he returned, however, he found that the people had already forgotten God and had chosen to melt down their earrings and other jewelry to construct a golden calf. When Moses returned from the mountain, he found that his people were worshipping this calf, dancing to it and bowing down before it. In a rage at what he had seen, Moses threw the stone tablets to the ground and shattered them. Through these experiences, Chris begins to understand that rules have a purpose and that God gave us very specific rules for us to follow. As he sees the Israelite people unravel and only finally be brought back together once rules are again established, he realizes that the rules he thought were meant to be broken are actually extremely important. Chris eventually comes to find that these rules are ultimate to our benefit, even if we may not enjoy following them at the time.
This is an important lesson for children to learn, and Superbook does a wonderful job of showing these true-life events that really happened in the Bible and communicating them effectively to young kids. Children will be engaged in the fun and exciting 3D CGI visuals, and they're sure to not only be entertained but educated by this well put together series.
Superbook: The Ten Commandments features several main biblical characters in addition to Chris, Joy, and Gizmo. Along the way in this story, you'll meet Moses, the man chosen by God not only to receive the Ten Commandments but also to lead the Israelites out of Egypt in the first place. After escaping from the Egyptians through the parting of the Red Sea, Moses continued to lead the people of Israel. He taught them to trust God and allow Him to provide for all their needs. Because his people were so numerous, it would have been impossible to guarantee that they all received necessary water and food provisions. Fortunately, God took care of them by providing them with manna and quail to eat every day without fail.
In Superbook: The Ten Commandments, you will also meet the character of Aaron, who was Moses' brother. When Moses was called by God to lead the people out of Egypt, God made Aaron Moses' spokesman. Moses was terrified of public speaking and he appointed Aaron to be his spokesman when working with Pharaoh to free the Israelites from captivity. After the Exodus, Aaron ended up becoming the first high priest to the Israelites. Unfortunately, Aaron also helped to build the Golden calf and succumbed to the people's demand for a new god. Finally in this Christian children's movie you will meet Zechariah, a fictional character that becomes a friend to Chris, Joy, and Gizmo. He helps them and becomes friends with them quickly. He also is the one to first discover the manna from heaven.
After having aired on television for several decades, this new rebooted fully CGI Superbook series is a terrific video adventure for your children to enjoy. They are sure to watch these films many times and gain new insights into these true bible stories. Each film is designed to teach moral lessons and Bible stories. They will also spark conversations among your family and encourage you to discuss the Bible and God's law together.