---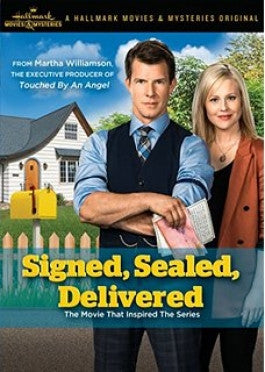 Sale
Signed, Sealed, Delivered Original Movie DVD
Additional Information
Languages: English
Release Date: 9/28/11
Screen Format: WS
Sale price $12.99 Regular price $14.99 You save 13%
Estimated arrival between and for USA.

---
You might also like
Sale price $32.99
Regular price
$54.98
Sale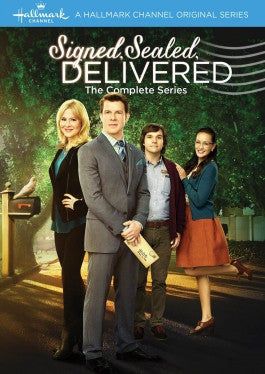 Sale price $24.95
Regular price
$29.99
Sale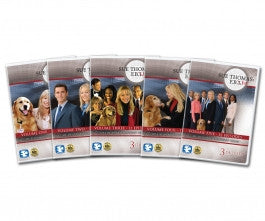 Sale price $95.99
Regular price
$119.99
Sale
—
Sold Out
Signed, Sealed, Delivered: The Original Movie
Signed, Sealed, Delivered, a popular TV show on the Hallmark Channel, was inspired by this film. This movie follows four postal workers on their amazing journey to deliver mail previously considered "undeliverable". They start a postal investigation team in order to track down the recipients of packages and letters. Their journey seems simple enough, but it will lead them on a magnificent adventure filled with love, loss, and renewal. Hearts will be reconnected, love will be rekindled, and mysteries will even be solved. Filled with comedy and touching life lessons, this film is a unique treasure that is not to be missed. Family friendly humor is skillfully blended with deep and emotional themes, making this film a masterpiece. Signed, Sealed, Delivered: The Movie is a heartwarming adventure that will enrapture viewers and warm their hearts.
Synopsisí«ÌÎ_
Signed Sealed, Delivered: The Movie follows the adventures of a postal investigation team, made up of four committed postal workers. The Signed, Sealed, Deliveredí«ÌÎ_ team started out with three dedicated workers; Norman, Oliver, and Rita. Their jobs were simple enough"ÌÎÌ_ÌÎ_ÌÎÌ_?sort through the mail and make sure everyone receives their packages and letters. However, their comfortable workplace is thrown aside when a woman named Shane comes to work them.
Shane is beautiful, practical, and doesn't take nonsense from anyone. She is extremely gifted with technology and believes in logic and progress above all things. Her transfer to the postal department is actually a mistake, but there appears to be a divine purpose behind her arrival. The three postal workers have become very comfortable in their mundane jobs, but Shane encourages them to try something different and exciting.
As she befriends Rita, Oliver, and Norman, they start to find another purpose for working at the post office. The four of them together have an amazing variety of talents and abilities, and they all seem to work quite well together. In their daily routine, they notice more and more undeliverable mail piling up and decide that they want to work as hard as they can to deliver this mail.
Together, they form a postal investigation team. Their job is to track down the intended recipients of these long-lost letters and packages. It seems simple enough at first, but it is a task that proves to be much harder than any of them ever expected.
Oliver is a man who likes to do things in a very traditional manner. He still believes that sending letters through the mail is the best form of communication, and refuses to accept the fact that there are more efficient ways to communicate in the modern age. Shane, on the other hand, believes that everything can be made better with technology. She and Oliver butt heads a few times as they disagree on what methods to use in order to track down the recipients of undeliverable mail. Rita and Norman's help temper their two strong personalities and they all eventually learn to work together. Each of the four members has an incredible gift that proves to be vital to the team's mission.
Tracking down those who are meant to receive the mail is difficult, but rewarding in the end. The most unexpected part of the workers' journey is the amazing stories that they become a part of. As they deliver this mail, they realize that a simple letter contains much more than they ever thought possible. For instance, one letter contains a note from a ten-year-old boy who is alerting his grandmother that he is running away. This letter was never delivered, and when it finally is, havoc ensues.
Shane discovers that this boy's life may be in great danger, and the team scrambles to save his life. As the group of four become involved in other's stories, they start to realize that reconciliation is a beautiful and wonderful thing. This constant search for reconciliation leads them to evaluate their own lives and relationships.
One day, Norman finds out that he has a grandmother that he did not know existed. He is able to track her down and form a new, tender relationship with her. Oliver has become estranged from his wife and does not know how to reconcile that relationship. Though they do not always get along, Shane counsels Oliver to seek restoration with his wife, and their friendship grows from there.
The beautiful stories and adventures presented in Signed, Sealed, Delivered: The Movie are heartwarming and touching. Filled with reconciliation, joyous moments, and some heartbreak, this film is a beautiful testament to the power of restored relationships.
Family Friendly Entertainment
Perhaps the best part of Signed, Sealed, Delivered: The Movie is the fact that it is extremely family friendly. Produced by the Hallmark Channel, this film is an enjoyable story that children and adults can both enjoy. Not only is it hilarious and entertaining, but it is also filled with rich themes of reconciliation and the pain of the past. Characters receive consequences for their actions, which teaches the realistic side of relationships.í«ÌÎ_
Though not marketed as a Christian film, Signed, Sealed, Delivered: The Movie contains themes present in the Bible, such as restoration and forgiveness. There are many complicated situations throughout the film, such as long-held grudges and the power of an apology. After watching this film, parents will be able to talk with their children about the themes and ideas presented. It is a great conversation starter for anyone wanting to have a deeper discussion. This film is a masterful blend of deep themes, important lessons, and touching entertainment. It is unique and full of comedy, sure to please every member of the family.
Signed, Sealed, Delivered: The Movie is not rated by the Motion Picture Association of America, but is considered suitable for all ages. It has been approved for families and all ages by the Dove Foundation. However, it is always encouraged that parents preview all content to determine what is suitable for their family to watch together.