---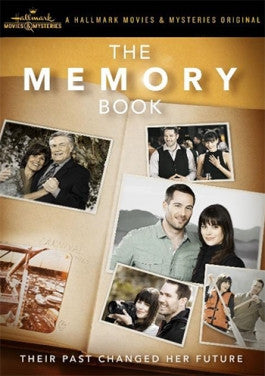 Sale
The Memory Book DVD
Additional Information
Languages: English
Release Date: 4/18/12
Run Time: 90 minutes
Sale price $13.73 Regular price $14.99 You save 8%
Estimated arrival between and for USA.

---
You might also like
Sale price $32.99
Regular price
$54.98
Sale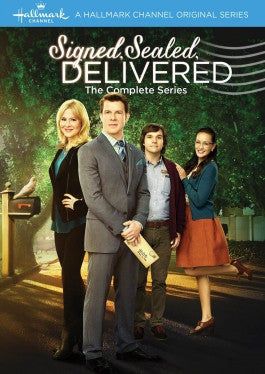 Sale price $24.95
Regular price
$29.99
Sale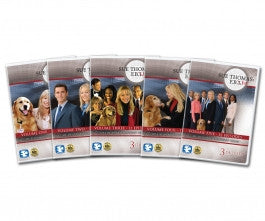 Sale price $95.99
Regular price
$119.99
Sale
—
Sold Out
The Memory Book
The Memory Book is a Hallmark Movies & Mysteries film written by Duane Poole and directed by Paul A. Kaufman. In this film, budding photographer Chloe stumbles upon an old photo album from the 1970s while browsing through a flea market one day. Having come from a broken family full of broken romances and relationships, she is intrigued by the couple in the album that seem to have had a perfect relationship. Inspired by the idea of a real-life example of true love, she sets out to find this couple and talk to them. Excited about the prospect of a mystery to solve, Chloe continues on her quest, even meeting a companion by the name of Gabe.
Gabe Sinclair is an unusual yet handsome bartender who is instantly attracted to Chloe. With her needing help on her "mystery", he instantly signs up to help her on her journey, with the hopes of also forming a relationship. While at first she keeps her distance and does her best to avoid forming any kind of a relationship with Gabe, Chloe eventually finds herself inexplicably taken with this man. Refusing to get too close to him, but also unable to stay too far away, will Chloe ever be able to accept the idea of love and give into happiness?
Meet the Cast
In The Memory Book, the main character of Chloe is played by Meghan Ory, who from the very young age of 5 aspired to be an actor. After pursuing her dream through dancing, singing, and acting, he began auditioning for roles more formally at the age of 15. A few months later, she found a lead role playing a character on a popular Fox Family Channel show. From there, she would continue on into becoming Red Riding Hood on the extremely popular ABC show Once Upon a Time.
Luke Macfarlane plays the role of Gabe in this film, and he is known for various parts on television, movies, and even some theater. A graduate from The Juilliard Drama Division, Macfarlane starred in a number of productions there, including "The School of Night", "Blue Window", and "As You Like It". He later went on to become better known for his roles on television shows, including guest appearances on "Smash"ÌÎ_̴Ìà?, "Person of Interest", and "Beauty and the Beast". He played opposite Liam Neeson in the feature film "Kinsey" and continues to work on film and television. Hailing from London, Ontario, he is now currently residing in Los Angeles, California.
Adrienne Barbeau, who takes on the role of Sarah in this film has been an actor for over 50 years, starting off in a musical comedy revue, and now appearing in films, television, and even video games. During her career she has appeared in over 450 roles and has even appeared in such popular works as the award-winning Argo and as a guest star in the television show Criminal Minds. Besides her work on film, she also does voice work for cartoons and other shows. She is certainly a woman of many talents, also having appeared in over 25 musicals and plays.
Finally, Art Hindle who plays the role of Jonathan (or Jack) is a Canadian actor who originally began his career as a stockbroker. Shortly thereafter, in 1971, he landed a role in the big-budget Canadian film "Faceoff". After working in Canada for a time, he moved his family of four kids down to Los Angeles, where he continued to work for many years. Returning to Canada in 2004, he chose to relax a little more, taking some time off to enjoy life and spend more time with his grandchildren. He still does acting work from time to time, like for The Memory Book.
The Story
In The Memory Book, novice photographer Chloe leads a simple life. She has a rough background, however, having come from a family of broken relationships and unfulfilled promises. This has left her with a skewed view of the world, as she imagines true love as just a myth, and not something that could ever truly be achieved. To her, life is meant to be lived alone, free of attachments or relationships.
One day while perusing a flea market, she stumbles across a fascinating photo album that seems to document the lives a young couple who meet, fall in love, and eventually marry. This whole concept intrigues Chloe as she has never before seen a true example of everlasting love. To her, love has always been a temporary thing that eventually goes away when two people begin to realize they no longer like each other. Fascinated and curious about these two people, Choe decides to make it her goal to meet this couple and find out their whole story. Using clues from inside the photo album, she begins to piece her way back to the couple.
Shortly after setting out on her new endeavor, she meets Gabe Sinclair, a bartender that is very interested in spending time with her. While Chloe wants no part in starting a relationship with him, she does appreciate his willingness to help her on her search. Taking up his offer for help on the mystery, Chloe and Gabe begin working together. As they spend more time together, though, they begin to consider each other as more than just fellow detectives or partners. Chloe begins to see him in a new light. But as she begins to fall in love, she tries to pull herself out of her state. Always resolute in her beliefs about the uselessness of love and relationships, Chloe does her very best to keep from falling in love. But as she tries to pull away and keep herself away from him romantically, the more she finds herself to desiring to give into these newfound feelings.
Conclusion
The Memory Book is an enjoyable and romantic film about two lost and young people looking for love. This Hallmark drama is an intriguing mystery that will keep you engaged as you follow the state of Chloe's mystery, and the state of their relationship!