---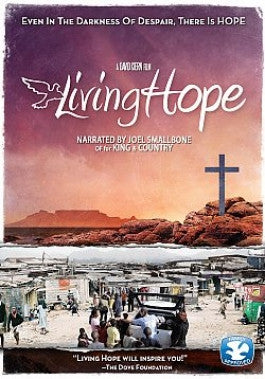 Sale
Living Hope DVD
Additional Information
Cast: 93 Minutes
Director: David Kiern
Producer: Mitchell Galin, David Kiern, Scott Harris
Languages: English
Release Date: 2/29/12
Run Time: David Kiern
Closed Captioning: No
Region Code: 1

See More
Sale price $12.50 Regular price $14.99 You save 17%
Estimated arrival between and for USA.

---
You might also like
Sale price $32.99
Regular price
$54.98
Sale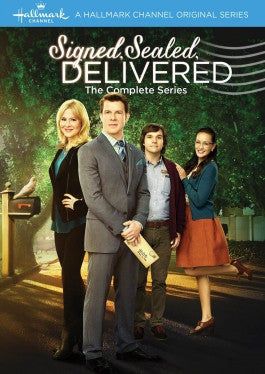 Sale price $24.95
Regular price
$29.99
Sale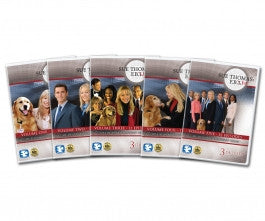 Sale price $95.99
Regular price
$119.99
Sale
—
Sold Out
Living Hope DVD
Living Hope is a powerful story about three incredible people who chose to give up all of the creature comforts of their home and journey to South Africa to help and serve the poor and the sick. Following the lives of John Thomas, Leonie Rustin, and Joey Lankford, you will see the absolutely devastating state of places in Africa and see how these people are using their skills and abilities to help serve these people with their medical needs. They realize that it is God's call on their life to go to these places and help the people who are sick and dying. These people have no way out of their incredible struggle for survival, and they hope to help them with their medical skills and efforts.
Through their service, they are also able to communicate the importance of Jesus and tell them about His amazing sacrifice on the cross for their very lives. While their main purpose is a medical effort, they are able to use this unique situation to spread the love of God to those who may have never even heard His name spoken before. In Living Hope, you will learn about their story and see how three Christians have accepted God's call in their life and are using their abilities to serve in far-off countries and make His name known.
Meet the Cast
John Thomas is a pastor who through his actions, hopes to motivate his church to serve the sick and hungry in the surrounding communities. John has come to the realization that serving others is part of our call as Christians and critical to our lives. John has worked hard to make a stand for the poor, and is always working to serve the communities around him. He and his church are helping to make a stand for the poor. Following the example of Jesus, he is helping to serve the poor and needy in the communities surrounding him.
Leonie Rustin is a single mom and nursing assistant. Her life has undergone incredible change that could only truly be brought about by God Himself. Formerly a drug addict, she turned from her strong addictions and gave up her old life to follow God wholeheartedly. Leonie has chosen to help other in her situation and teach them what she has learned. Helping to break the shackles of prostitution in the communities around her, she shows those trapped in the sinful bondage a way out and a way to forgiveness. Helping put an end to prostitution and drug addiction, Leonie hopes to pass on what she has learned and help a new generation find forgiveness and redemption.
Joey Lankford is a businessman and father to four children. When his family was young, he moved them from the United States to Capte Town. Here, Joey and his wife help to equip men and women with occupational skills, so they can find a way out of their poverty. Joey helps people escape their homelessness and teaches them marketable skills so they can find jobs and be able to support themselves.
David Kiern and Mitchell Galin are the producers behind Living Hope with many different film and TV credits to their names. Kiern has worked on dozens of films, music videos, and documentaries. He has worked for several larger companies including Hallmark Channel, World Vision, the NFL, and Big Idea. Mitchell Galin has produced multiple films and series including Hallmark Channel's The Shunning and Stephen King's The Stand. He uses his knowledge and skills in this film to co-produce an incredible documentary with filmmaker David Kiern. Between their combined skills and abilities, they work together a masterful documentary that tells a powerful story of service and selflessness.
How You Can Help
One of the purposes of this movie is to ask for help. Living Hope is an amazing ministry that is making a difference in the world, but they can't do it alone. They need support, supplies, and even people to help them accomplish their goals. They want to grow and continue to do whatever God calls them to. They have a website devoted to their various projects and ministries and there you can find out how you can get involved as well.
Their ministry has five main areas in which you can help in the lives of others. First of all is volunteering. They are always accepting applications for people to come help them and volunteer to work with them. They always need prayer as well. Prayer is a key tool in any venture or ministry and is vital to the success of any operation. They ask that you help them in their endeavor by praying to God for their blessing and ability to support the people around them. They will also always accept financial donations. Like any other operation, they have costs and they need help to stay afloat so they can continue to do what they do.
Living Hope ministries sends out mission teams as well to various parts of the continent of Africa and you can get involved in this ministry as well. If you feel called to serve on a mission team, you can be very effective in this area. Finally, they offer a variety of careers for people looking to make this ministry a full-time job. These are all important parts of running a ministry and in this movie, you will see how several lives have been impacted and called by God to devote their lives to helping others.
Conclusion
Living Hope is an exciting film that documents very real things that are happening in our world today. While it's easy to be discouraged by the lack of missions work or our seeming ineffectiveness in reaching the world at large with our message of Christianity. But Living Hope is a wonderful reminder that there truly are people making a difference in the world today. This inspiring movie will not only encourage you, but hopefully motivate you to find ways that you can serve as well in your own community or in another part of the world.