---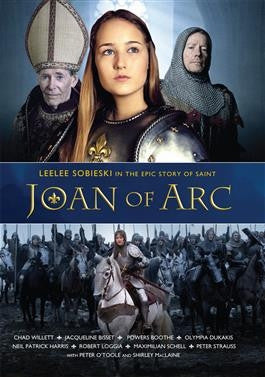 Sale
Joan Of Arc - with Special Features DVD
Additional Information
Cast: Leelee Sobieski, Neil Patrick Harris
Languages: English
Run Time: 180 Minutes
Sale price $14.97 Regular price $19.99 You save 25%
Estimated arrival between and for USA.

---
You might also like
Sale price $32.99
Regular price
$54.98
Sale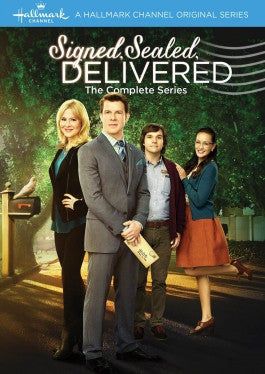 Sale price $24.95
Regular price
$29.99
Sale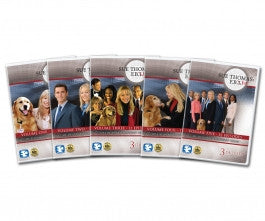 Sale price $95.99
Regular price
$119.99
Sale
—
Sold Out
Joan of Arc - with Special Features
At the young age of 19, she was killed for her beliefs. And now, 500 years later, Joan of Arc has become a legend and a legacy for her incredible faith and willingness to fight in the face of adversity. Played by Leelee Sobieski, Joan of Arc led one of the greatest military campaigns the world has ever witnessed, fighting for freedom, Joan of Arc led an army to unite France and bring freedom. Featuring an all-star cast, impressive cinematography, beautiful scenery, and incredible music, this film is truly an impressive feat on multiple levels. This film is truly an epic full of faith, victory, glory, and heartbreak. Retelling the incredible story of Joan of Arc and her incredible leadership and eventual martyrdom, this is an impressive adventure with an epic true story.
This film stars several notable actors, including Peter O'Toole, Robert Loggia, Jacqueline Bisset, Peter Strauss, Maximillian Schell, Olympia Dukakis, Powers Boothe, Shirley MacLaine, and Neil Patrick Harris. The Joan of Arc DVD also features a variety of bonus features, including a special documentary that gives a behind the scenes "Making of" look at the film and how it was produced, a detailed cast & crew information guide, production notes, and a special collector's booklet.
The Story of Joan of Arc
Joan of Arc, or as she was also known, the "Maid of Orleans"ÌÎ_̴Ìà? is a popular heroine and martyr from 15th century French history. She played a considerable part in the Lancastrian phase of the Hundred Years' War, and fought bravely for what she believed in. Because of her incredible service and sacrifice, she has been canonized as a saint in the Roman Catholic church. Joan was born to a peasant family at Domremy in north-east France. Joan of Arc was famous for her beliefs that she saw visions of several saints, including the Archangel Michael, Saint Margaret, and Saint Catherine. She said the visions appeared to her and instructed her to support Charles VII and recover France from the grasp of England.
Charles VII met Joan and commissioned her to battle at the siege of Orleans in a relief effort to help some of the fighters in that area. The siege lifted only nine days later, and Joan was often credited for having a big part in that happening. She helped achieve several additional victories after this, which led her to great fame. This also helped Charles VII to gain his kingdom and he was eventually coronated at Reims. This gave a much-needed boost to the French morale, paving the way for them to achieve final victory.
In 1430, at the young age of 18, however, she was captured by the Burgundian faction, a sect that was allied with the English people. Because she had become a prominent figure in the war, she held great value to their side and they eventually handed her over to the English for them to do with her as they pleased. They put her on trial by the Bishop of Beauvais Pierre Cauchon on a variety of war-related crimes and charges. The Bishop also sided with the English, and so he quickly sentenced her as guilty of all crimes. And so, despite her young age and despite everything she had fought for, she was burnt at the stake for her beliefs. At the very young age of 19, Joan of Arc was burned at the stake for her part in the war and her beliefs in God. At the time, she wasn't recognized as a martyr. She was merely another casualty of war.
It wouldn't be until approximately 26 years later that an inquisitorial court led by Pope Callixtus III would examine the charges brought against Joan of Arc. He looked through the case and the whole situation and eventually ruled that Joan was guilty of all charges and had been wrongly murdered. Shortly after, he was able to declare her as a martyr for her faith, making her a well-known figure in Catholic and French History. In the 16th century, she rose to popularity when the Catholic League made her an official symbol of their organization. Several hundred years after her death, she would also be made a national symbol of the country of France by Napolean Bonaparte himself. She has also maintained a well-respected place in the Catholic church thanks to her being beatified in 1909 and canonized in 1920. Joan of Arc is one of only nine secondary patron saints of France.
Joan of Arc has always been a well-known figure, not only in French and Catholic history, but in world history everywhere. Although she died at a young age, and didn't even live to see her 20th birthday, she made an incredible impact in what time she did have on earth. She has become an absolute legend and is known the world over for her incredible sacrifices and willingness to do whatever to bring freedom to France. Joan of Arc was truly a visionary for the French people and was able to use her faith to find a resolution for freedom. The Joan of Arc movie is a fantastic reenactment of her life and events and Leelee Sobieski portrays the character of Joan absolutely terrifically. While some believed her to be a war criminal and deserving of death, time has shown her to be what she truly was: a martyr with a cause for Christ and for freedom.
Conclusion
This Joan of Arc may be the most powerful and faithful adaptation of the Joan of Arc story, featuring a variety of high-profile actors, an incredible lead role, and beautiful cinematography and music. Leelee Sobieski does a magnificent job at leading the way in her role of Joan of Arc, and she provides the main sustenance of this beautiful film. Joan of Arc was properly portrayed as an inspiring and motivated character, and the movie does a magnificent job at remaining faithful to its source material. This incredible true story is brought to life like never before in this stunning film retelling of Joan of Arc.