---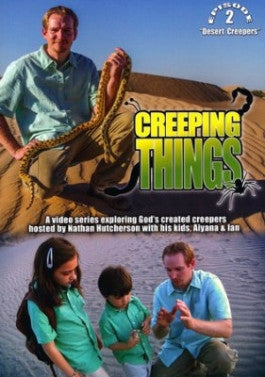 Sale
Creeping Things Episode 2 DVD
Additional Information
Director: Kyle Justice
Producer: Kyle Justice
Languages: English
Release Date: 10/14/11
Run Time: 43 Minutes
Closed Captioning: No
Region Code: 0

See More
Sale price $10.99 Regular price $14.99 You save 27%
Estimated arrival between and for USA.

---
You might also like
Sale price $32.99
Regular price
$54.98
Sale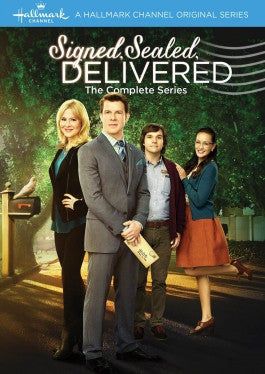 Sale price $24.95
Regular price
$29.99
Sale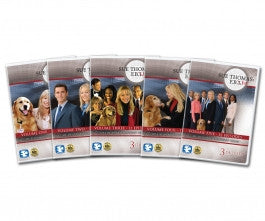 Sale price $95.99
Regular price
$119.99
Sale
—
Sold Out
Creeping Things: Desert Creepers
In the second installment of the Creeping Things series, our host Nathan Hutcherson takes us on a journey into the desert to explore some of the most amazing creepy creatures ever! In this episode, entitled Creeping Things: Desert Creepers, Nathan and his two children travel deep into the desert to look for and study four different types of snakes, a gecko, an iguana, a vinegaroon, a Chuckwalla lizard, and even a tortoise. As they show you these creatures and study their incredible designs, they'll begin to show you how their designs give evidence for a Creator. This Christian-based series designed especially for kids will help them to have an understanding of the world around them and show them how God made our world beautiful, and incredible!
As you journey out into the desert with the Hutcherson family in Creeping Things: Desert Creepers, Nathan will show you how these incredibly designed creatures are able to survive the hot and dry climates of the desert and how they are even able to thrive in this normally brutal environment. As they go hunting across dunes, rocky basins, and more, they will explain to you the intricacies of these creatures and how they give all the more evidence for a supreme Creator overall of them.
Designed specifically for children, this series not only entertains, but educates children on incredible desert creatures, helping them to build their knowledge and understanding. Unlike a lot of television made for children today that gives very superficial and basic lessons, if any lessons at all, this show goes deep, helping children to learn more and to even enjoy learning! Because of the fast-pace and adventurous nature of this DVD series, children will be enraptured as they get to see all kinds of exciting and weird creatures out in the hot, dry desert. The series is divided up into 16 chapters, making it easy to scroll through and learn about specific animals. Great for homeschooling, Sunday school, and just general education, this is a series that will keep your children entertained and informed.
Bonus Features
In addition the easy to navigate chapters and 40 minutes long episode, Creeping Things: Desert Creepers also contains a variety of bonus features. If your kids are interested in filmmaking or want to know more about the behind the scenes of Creeping Things, there is a special behind the scenes documentary in the bonus features that gives an inside look at Awesome Science Media and all that goes into making an episode of Creeping Things. The movie also features an outtake reel full of hilarious bloopers and outtakes from the filming of the show. Finally, there is an interview with the host Nathan Hutcherson which gives more insight into his background and work on the Creeping Things series.
Creeping Things Series
Creeping Things: Desert Creepers is part two in a three part series hosted by Nathan Hutcherson that explores some of the creepiest and coolest creatures found throughout our world. While this episode focuses on desert creatures and all of the exciting living beings we can find in the desert, two other DVDs focus on other different types of creatures. In the first episode, entitled "Underappreciated Creepers", explores some of the little known and unknown creatures found throughout our world. And in the third installment, "California Creepers", Nathan Hutcherson takes his two kids on a journey through California to see some unusual and exciting creepy creatures in the area. The series is designed to teach kids all about creepy creatures in our world and showing them how their intricate designs give evidence for a Creator. As you discover how intricate and incredibly designed all of these creatures are, you will inevitably come to the conclusion that only God could have created all that we see here.
The Gospel Message for Kids
Learning about God's design and his amazing works all over the world is important, but the series also realizes that none of this matters if kids don't come to accept Christ for themselves. Because of this, each episode in the Creeping Things series ends with a simple explanation of the gospel message. Because they realize the importance of explaining to kids what Jesus did when he died on the cross, they always end their episodes with a powerful message for Jesus. This helps brings the message around for kids and shows them the importance of following Christ for themselves.
Hosted by Nathan Hutcherson
Creeping Things: Desert Creepers and the entire Creeping Things series is hosted by Nathan Hutcherson, a herpetologist who has always loved studying creepy and crawly creatures throughout our world. From a very young age he discovered a love for these creatures and realized he wanted to find a career where he could study them more. And so he pursued his dream, and is now able to pass down his love for these creatures to his two children. He also realizes the importance of putting his faith in Jesus Christ and so everything he does reflects his faith in Christ. Because of this faith, he is able to show how all of this incredible detail in the creatures he sees points back to a single Creator who created everything. Today, Nathan runs Creeping Things ministries, and continues to write books and articles about the creeping things he discovers around the world. He also manages to run live animal shows, showing more and more people the incredible abilities of these beautifully designed creatures.
Conclusion
Produced by award-winning producer Kyle Justice and hosted by the charismatic and energetic Nathan Hutcherson, Creeping Things: Desert Creepers takes you and your children on an incredible journey into the desert to discover some incredible creatures and learn about their beautiful designs. This series will help your kids to have an understanding of creatures and inspire them to learn more for themselves about God's amazing creatures. Rather than being a mindless entertainment for kids, this show helps kids to think for themselves while teaching them about the incredible works of God. This is a terrific film for the whole family to watch!