---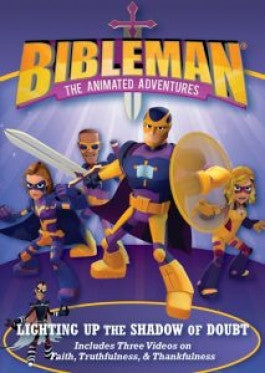 Sale
Bibleman Lighting Up the Shadow of Doubt DVD
Additional Information
Languages: English
Release Date: 3/6/13
Region Code: 1
Sale price $14.65 Regular price $15.99 You save 8%
Estimated arrival between and for USA.

---
You might also like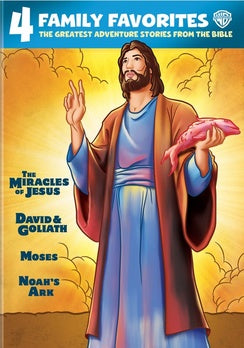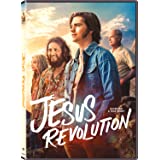 Sale price $15.99
Regular price
$29.95
Sale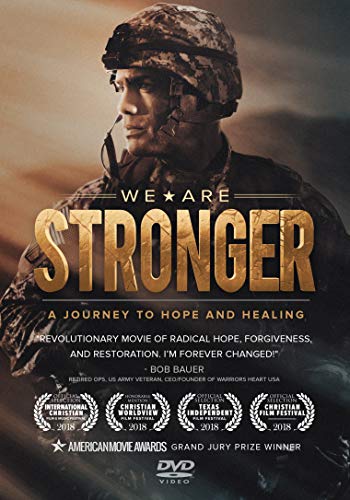 Sale price $9.99
Regular price
$14.99
Sale
Bibleman DVD
Come along with Bibleman and his friends on these animated fun adventures!
1: Lighting up the Shadow of Doubt (An Adventure in Faith)
Jail? For Cypher and Bibleman? Cypher and Bibleman decide they are going to visit some of the young people in the local juvenile detention center. Pastor Lewis brings Logan on Bible Study day to see his brother and to meet Bibleman. But they encounter a shadowy man in the waiting room. Who could he be? Based on Jesus and Peter walking on the water. John 8:12̴Ì_̴Ì_
2: Fracturing the Falsehoods of the Fibber (An Adventure in Truthfulness)
There is a new kid at school and he isn't fitting in. Some of the other students start making fun of her, and her words begin hurting everyone around! The Bible team gets an alarm, but this little girl is just standing up to bullies. Go along with the Bible Team as they try to understand what is going on. Based on Ananias and Sapphira. John 3:21
3: Wiping out the Whiner Brothers (An adventure in Thankfulness)
The Whiner boys complain about EVERYTHING. Junior and Biggie find something to complain about all the time, except when it comes to money. They love money and will do anything to get rich. They want to uncover a huge treasure - the Bible team headquarters! They're using a newly-adopted boy from Africa to bring them there. Based on Jesus healing the ten lepers. I Thessalonians 5:18
The Original 
Bibleman 
series
Bibleman is a live-action series, which ran from 1995 to 2011. The series starring originally Willie Aames had the goal to reach children and encourage them to apply Christian values and morals into their everyday lives. Just like in Bibleman Lighting up the Shadow of Doubt DVD, Bibleman presents a normal man named Miles Peterson. He has everything a man would need but reaches God in a difficult time. From that moment on he promises to take down wickedness with the Bible. He wears the armor of the Lord, becomes Bibleman the superhero and recites Scripture that are needed in different situations he encounters The Bibleman show had three different series, The Bibleman Show (1995-1996), The Bibleman Adventure (1998 - 2006) and Bibleman Powersource (2006 - 2010). From 1995 to 2003 the role of Bibleman was played by the series creator, Willie Aames (Charles in Charge) and from 2003 to 2011 the role was played by Robert Schlipp.
The Reinvention of 
Bibleman 
In the summer of 2015 it was announced that a new look of the Bibleman series was arriving in 2016. For over 20 years Bibleman had been an important part of thousands of children's lives and different Christian merchandising. When the re-launch occurred in 2016, the Bibleman series like Bibleman Lighting up the Shadow of Doubt DVD not only would arrive for children's televisions but in books, action figures and for the first time, a comic book. Originally being a live-action series beloved by children from all over the U.S., it became an animated series with realistic animations, original scripts and with proper good fun. Made to appeal to a new generation of children whose parents who grew up watching the original Bibleman can sit down and share it with them.
Willie 
Aames 
as the Superhero 
Bibleman
From being a triumphant̴ young actor, director and screenwriter Willie Aames found himself many times in such low moments throughout his life. Now having found Christ he looks back at how he overcome those low moments in his life. All his life he had considered himself strong and a hard worker. That if someone would tell him he couldn't realize something he would find a way to realize it. To this day people would tell him to give up and not pursue more but all his life he's always strived for more and to continue on no matter the obstacles that would come his way. When he came to Jesus, he realized that his strength came from his faith. And that he wants to continue to use that to inspire and assure others.
To Willie Aames being̴ Bibleman wasn't always in his mind to do. Till that point he had been a believer for a few years and his focus had been to read the Word of God and delve into that. Working with children wasn't in his mind whatsoever since being around them wasn't one of his favorite things. But when the project was offered to him he tried to put it away and not accept. Nonetheless he felt that God was calling him to do the project even though it wasn't what he wanted to do at the time. But in that moment he knew he had to obey God and what He was putting in his heart. By doing the project it was possible to influence children like never before.
Although he took the part of playing Bibleman, it was quite hard for him for the time he was in the project. Most days he didn't want to continue on with the project and since he had to be far from his family it made the experience even harder. But since he felt God had called him to do it, he kept on going for almost 10 years. Because of the impact made to over a million kids throughout every year, Willie was glad he had agreed to do the project and become Bibleman. The impact made on the lives of those children made him feel very blessed.
Due to hurting himself while touring and having surgery, the company that possessed the rights to the show made the decision to find another person to play the role of Bibleman.
Bibleman
: Lighting up the Shadow of Doubt DVD Features
Bibleman: Lighting up the Shadow of Doubt DVD̴Ì_has the English language available and the DVD includes bonus materials in addition to the three episodes available. Offering their voices to these characters are Josh Snethlage (Bibleman), J.J. Gerber (Cypher), Nicole Bauman (Biblegirl) and Kylie Mccullough, (Mel Oshea).