---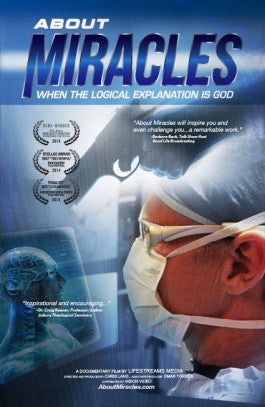 Sale
About Miracles DVD
Additional Information
Director: Chris Lang
Producer: Chris Lang
Languages: English
Release Date: 11/4/09
Run Time: 59 minutes
Subtitles: English
Closed Captioning: Yes
Region Code: 0

See More
Sale price $10.00 Regular price $14.99 You save 33%
Estimated arrival between and for USA.

---
You might also like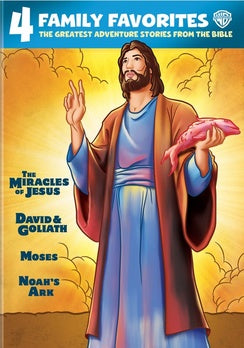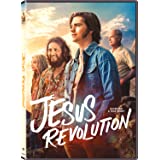 Sale price $15.99
Regular price
$29.95
Sale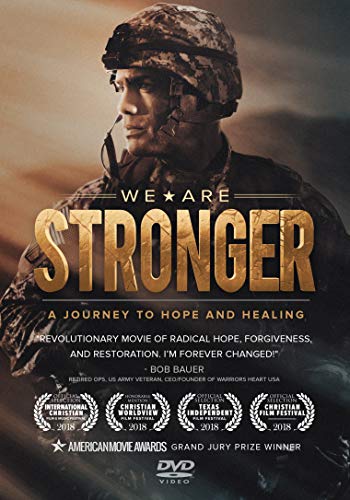 Sale price $9.99
Regular price
$14.99
Sale
About Miracles
Sometimes the only logical explanation is not science. It is not fate, or luck, or karma. It is God. From Life Streams Media comes a documentary film featuring four true life stories of unexpected, unexplained miracles About Miracles. This documentary film will strengthen your faith in a God who works in unexpected ways, it will remind you that God is a God who is capable of the explainable he is capable of working miracles.
Unexplainable Stories
What if you went to work one day, the sun was shining, the grass was green. Everything was as it should be, everything seemed normal. But, everything was not normal, nor would it be for a long time. You show up for work. Just doing your job. But then some men show up. They rob the store. They shoot you point blank in the head and leave you to die. And you should die. You should be dead. No life, no breath. But for some unexplainable reason it puzzles doctors you do not die. This is the first true story that is part of the film About Miracles.
Imagine being a healthy woman. Nothing wrong with you, not even a cold. You are fit, you have never been sick in your life. No red flags, no symptoms, nothing. Then one day you hear a voice telling you to get the Emergency Room. . . fast. So you go. You are puzzled, but you go. No sooner do you get there than your brain goes out. Things go wrong fast. But you are at the emergency room. For some unexplainable reason you are there. This is the beginning of the second miraculous story that is part of the film About Miracles
The third story in the film About Miracles begins with a young student who has a week to raise one thousand dollars. One thousand dollars to go on a mission trip. One thousand dollars that she certainly does not have. One thousand dollars that she is nowhere close to having. Yet, through some unexplainable means God provides. God provides not one dollar, or a hundred, but one thousand. Every single dollar she needed.
The final story in the documentary film About Miracles is the story of a baby. A baby who is tragically injured in a car accident. Not only injured, but quickly losing sight and going blind. Yet, the family is not willing to give up, so they start praying. Praying for miraculous healing.
The four unexplainable stories of miracles that are featured in the documentary film About Miracles are told by the very people who were actually involved. The stories are told using dramatic, vivid reenactments that will leave you marveling at God‰ۡó»s power and love.
When The Only Answer Is God
In our twenty-first century world we can be so tempted to believe that everything has an understandable explanation. Science is the foundation for everything, and if it cannot be proven one hundred percent by science then we simply dismiss it as untrue. But it is important to remember that some things cannot be explained. And we should not dismiss them as luck either. Sometimes in life the only logical, yes logical, explanation is God. The stories in the documentary film About Miracles will challenge you to remember that God is not only powerful enough to work miracles, but that he still does. Miracles were and are not something confined to Jesus life on earth, or the early church. They can and still do happen today. The stories in the documentary film About Miracles will remind viewers of all ages that God is powerful, God is loving, and God is active in their world. It is a vivid, powerful reminder that miracles happen and God is working in our world.
Life Streams Media
In 2005 an unlikely group of volunteers launched a small radio talk show for young adults called "Hope on Fire." Hope on Fire began as a way to help young adults find practical ways to find God in their everyday lives including family, health, relationships, careers, and more. The show quickly grew and a television version soon launched on various networks. One of the volunteers was Chris Lang. While Chris had a wonderful education and business background, his love for media and God led him to found Life Streams media. Life Streams began producing documentary films that share the stories of ordinary people who believe in an extraordinary God. Their films include Single Creek, When Mourning Breaks, and Beware of Angels in addition to the documentary film About Miracles.
Conclusion
Four stories of unexpected encounters with a God of power, a God of miracles the stories in the documentary film About Miracles will encourage and strengthen the faith of viewers of all ages. As viewers watch the unexplainable stories that are part of About Miracles they will be challenged to believe in a God who is powerful, a God who is loving, and a God who is capable of doing the unexpected. They will be reminded that sometimes the only answer is not science, it is not luck, it is not fate, but the only answer is God.
About Miracles has not been rated by the Motion Picture Association of America and may include topics, issues, and scenes not suitable for younger viewers. This film received the Faith Friendly award for all ages from the Dove Foundation. As always, it is recommended that parents preview all content to determine what is suitable for their children, but the film About Miracles is generally considered appropriate for most audiences.
If you and your family enjoyed this film, you may also enjoy some of these other films based on real life miracles: Miracles from Heaven; the story of Anna Beam's miraculous healing, Heaven Is For Real; four year old Colton Burpo's story, 90 Minutes In Heaven; the incredible true story of Pastor Don Piper the man who went to heaven after a horrific truck accident. . .and came back.