---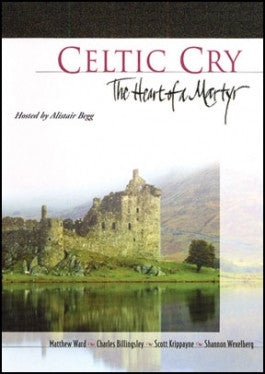 Sale
Celtic Cry: The Heart of a Martyr DVD
Additional Information
Languages: English
Run Time: 50 minutes
Sale price $17.99 Regular price $19.99 You save 10%
Estimated arrival between and for USA.

---
You might also like
Sale price $32.99
Regular price
$54.98
Sale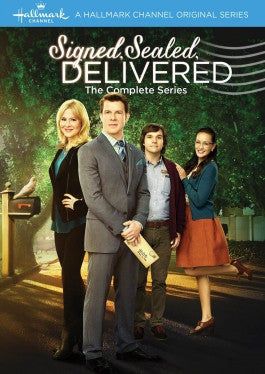 Sale price $24.95
Regular price
$29.99
Sale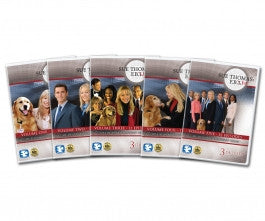 Sale price $95.99
Regular price
$119.99
Sale
—
Sold Out
Celtic Cry: The Heart of a Martyr DVD
Celtic Cry: The Heart of a Martyr is a 50 minute DVD hosted by Pastor Alistair Begg as he journeys through Scotland to discover the history of the Scottish Covenanters. As you follow him on this incredible journey, you will discover the rich legacy of the Scottish Covenanters through beautiful photography, narrative, and music as you learn about their stories and their eventual martyrdom. Our host, Alistair Begg will take you on a magnificent journey as you learn about these men and women of faith and experience their incredible lives, and eventual deaths. Taped in Scotland, Celtic Cry features ten wonderful Scottish songs to help the experience along. The series features a number of well-known singers, including Matthew Ward, Shannon Wexelberg, Scott Krippayne, and Charles Billingsley.
Alistair Begg
Celtic Cry: The Heart of a Martyr is hosted by Alistair Begg, the senior pastor of Cleveland's Parkside Church in Bainbridge, Ohio. He has held this position since 1983, and has grown to be a well-loved pastor at the church. He has been voicing for the Truth for Life Christian radio series, and his teachings are broadcast daily to radio stations across the United States. He has authored numerous books and has dabbled briefly in films as well.
Alistair Begg is a believer in the historic theology of Protestant Evangelicalism. He puts a special emphasis on the importance of belief in the Bible and he believes it to be the complete and authoritative word of God. He believes in the importance of using your mind to know and explore God's word and come to know God through it. He believes salvation can be found through knowing God through repentance and faith in Jesus Christ. He was born in 1952 and is married to Susan Begg.
Born in Glasgow, Scotland, Begg has always embraced his Scottish roots and even continues to have a very notable Scottish accent even after 30 years of ministry here in the United States. After the difficult death of his mother at age 20, Begg was able to move on and continue to abound in spiritual progress after this difficult tragedy. Begg graduated from the London School of Theology shortly after in 1975. After his graduation, he served for eight years in Scotland, first at the Charlotte Chapel, found in Edinburgh. And he then later served in the Hamilton Baptist Church found in Lanarkshire. Begg became a big part of the Alliance of Confessing Evangelicals, later having a role as a council member. He also became a student at Trent University and Westminster Seminary.
Alistair Begg has been married to his wife Susan for over thirty years and they now have three grown children. His wife is American by birth and Begg became a U.S. citizen in 2004. Besides appearing in Celtic Cry: The Heart of a Martyr, he also landed one other small part in the film Bobby Jones: Stroke of Genius.
The Scottish Covenanters
Celtic Cry: The Heart of a Martyr focuses on the lives of the Scottish Covenanters, a group of Scottish Presbyterians that played an important part in Scottish history, helping establish the nation and even playing a part in English and Irish history as well during the 17th century. Presbyterian denominations can trace their history back to the Covenanters and often incorporating their name in who they are today. They even try to keep the ideas and traditions of the Scottish Covenanters in their own practices.
The name comes from the term Covenant, after the important agreements that God would make with the Israelites in the Old Testament. Two important covenants took place in Scottish history, the National Covenant and the Solemn League and Covenant. The Covenanters became known for binding themselves to maintaining the Presbyterian doctrine. They attempted to make the Presbyterian doctrine the sole form of religion in their country. They wanted to make themselves known as the first "godly band" of the Lords of the Congregation and in 1581 they drew up a covenant, initiated by John Craig. They attempted to take back their nation, which was beginning to become overwhelmed with Roman Catholic influence. With Roman Catholicism becoming a driving force in their religion, the Covenanters worked to bring their nation back to its Presbyterian roots. This Confession was called the King's Confession or the Negative Confession. Based on the Scots Confession of Faith of 1560, it was document that denounced the pope and all the doctrines associated with the Roman Catholic Church. It was shortly after adopted by the General Assembly of the Church of Scotland and was signed by King James VI and his household.
By the year 1637, Scotland was in a state of complete havoc and chaos. King Charles I and William Laud, the Archbishop of Canterbury met together to impose a new liturgy upon the people of Scotland. They hoped to bring Roman Catholicism back more strongly to the people of Scotland, but this was met with riots and protest. This ended up eventually leading to the Wars of the Three Kingdoms, which became a series of civil wars in Scotland for religious control of the country. The fight between Presbyterianism and Catholicism would rage on, ending in many instances of martyrdom and people dying for what they believed to be right. With different member in power over time and many different people all trying to instill their own doctrine, it became an absolute mess of warring ideas, theologies and religion. Celtic Cry: The Heart of a Martyr is an incredible look at the lives of some of the Covenanters who fought for what they believed in this time of persecution and difficulty.
Conclusion
Celtic Cry: The Heart of a Martyr is a powerful movie accompanied with beautiful songs, images and stories that explore both the good and the bad of Scotland's rich heritage. Led by Alistair Begg, this 50-minute DVD features powerful stories of martyrs who stood up for what they believed and were willing to do anything to see their country establish religious freedom. This is an encouraging movie to always stand up for our beliefs, and never back down even when we're pressured to stand down. This is an important movie with beautiful testimonies and a thrilling plot.