---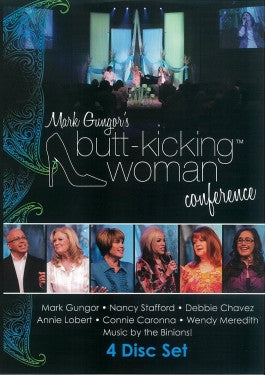 Sale
Butt-Kicking Woman Conference with Mark Gungor 4 Disc DVD
Watch Trailer
Additional Information
Cast: Mark Gungor, Nancy Stafford, Debbie Chavez, Annie Lobert, Connie Caronna and Wendy Meredith
Run Time: 422 minutes
Screen Format: FS
Closed Captioning: Yes

See More
Sale price $44.99 Regular price $59.99 You save 25%
Estimated arrival between and for USA.

---
You might also like
Sale price $32.99
Regular price
$54.98
Sale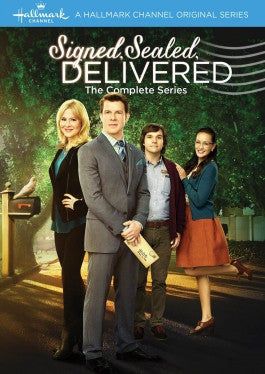 Sale price $24.95
Regular price
$29.99
Sale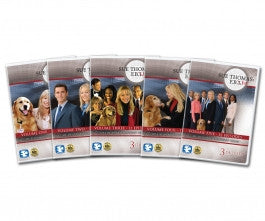 Sale price $95.99
Regular price
$119.99
Sale
—
Sold Out
Butt-Kicking Woman Conference with Mark Gungor
Women are confronted day in and day out by conflicting cultural messages about what being a "butt-kicking" woman is. Their role in life, society, marriage, and family has changed dramatically over the last fifty years, and it is time to rediscover what God considers a "butt-kicking" woman. Join well known Christian speakers Mark Gungor, Nacy Stafford, Annie Lobert and many more as they redefine what a real woman is in this four disc collection of Butt-Kicking Woman Conference.
Confidently Crushing Today's Culture
Crushed and confused by culture's conflicting expectations the messages from the Butt-Kicking Woman Conference totaling over seven hours are meant to inspire hope, confidence, and knowledge of what God's word says about becoming a "butt-kicking woman." The messages in Butt-Kicking Woman Conference are all about teaching women to see themselves as valuable, worthy, and loved by God. It focuses on helping women take a strong and confident stand for what is right in their lives, faith, marriages, and families while being women of faith, respectable and respectful. Women will learn how to save their marriages and families by honoring God and becoming the women he desires them to be. Full of truths and lessons that will challenge, convict, and crush cultures lives about femininity, marriage, family, and womanhood without feeling preachy, the messages from Butt-Kicking Woman Conference will help women of all ages and walks of life discover what God's word says about becoming a "butt-kicking woman".
Mark Gungor
Senior pastor of a multi-site church in Wisconsin, Mark Gungor the brains behind Butt-Kicking Woman Conference has his hands full without the many conferences he helps guide and oversee. Besides pastoring, Mark dedicates his time to his "Laugh Your Way To A Better Marriage Conferences," and his Butt-Kicking Woman Conference. Mark's philosophy is "There are a lot of performers that make people laugh, and there are a lot of speakers who give solid principles for living. I want to do both," and he lives by it. Mark's marriage conferences are about helping couples laugh, get along, have fun, and achieve successful marriages through knowledge of each other and God's word. Today Mark is one of the most popular international speakers on marriage and family and is one of the most requested speakers for the U.S. Army. He has been featured on national broadcasts including Focus on the Family, Life Today, and ABC News. Married for over forty years to his high school sweetheart Debbie, Mark and his wife continue to impart wisdom and humor to thousands of couples and women through his conferences including his Butt-Kicking Woman Conference.
Nancy Stafford
Well known actress, wife, and mother for over twenty-five years Nancy Stafford imparts her wisdom in a series of messages included on the Butt-Kicking Woman Conference DVD collection. Raised in Ft. Lauderdale, Florida Nancy never dreamed she would one day be an actress and well known Christian speaker, but God had different plans for her. Her acting career includes many Christian films including I Am Not Ashamed (a true story about courage and faith based on the Columbine shooting), Christmas Oranges (a holiday story about hope and friendship), and Christmas With A Capital C (an inspiring film about defending the gospel). Nancy has published several Christian books specifically addressing society's misconceptions of womanhood including "Beauty By The Book: Seeing Yourself As God Sees You" her own story about trading her own insecurities and unworthiness for God's wholeness and acceptance and learning to see her beauty and value that is found in God; and "The Wonder of His Love: A Journey Into The Heart of God" which takes a refreshing glimpse into God's heart and his wonderful love. In addition to her acting and writing, Nancy is a popular speaker. She speaks at many conferences including Mark Gungor's Butt-Kicking Woman Conference, speaking with transparency and passion, motivating and inspiring women across the country to pursue God's heart and live as women of the light. When not working Nancy enjoys spending time with her husband of more than twenty-five years Larry Myers, a pastor and worship leader at Vineyard Church.
The Butt-Kicking Woman Conference is more than just learning about how to be a powerful, confident woman. It is about learning how to be a woman who finds her confidence and power in Christ. About a woman who recognizes her importance in marriage and family. A woman who desires to know and pursue the heart of God. The messages that fill the Butt-Kicking Woman Conference collection will inspire, challenge, remind, and convict women of all ages and walks of life that true femininity and "butt-kicking" power can only be found in God's Word. The Butt-Kicking Woman Conference seeks to help women see past society's twisted and crushing norms and expectations and see into God's heart and desire for their lives. It seeks to equip them to be wives and mothers who strive to build and protect their marriages and families. To be women who stand confident, and strong yet respectful and respected. Through speakers such as Mark Gungor and Nancy Stafford, women will be encouraged to understand Gods design for womanhood, they will be inspired to pursue his heart and plan for their lives, they will be reminded of their utmost value and worthiness in Gods eyes, and they will be reminded of Gods never-ending love for them. The Butt-Kicking Woman Conference will inspire viewers everywhere to not become just a "butt-kicking woman," but a "butt-kicking woman" who knows and loves her Savior.
The collection of messages in the Butt-Kicking Woman Conference have not been rated by the Motion Picture Association of America and they may include topics and issues not suitable for younger viewers. This film received the "Faith Friendly" award for ages twelve and up from the Dove Foundation and four out of five review from Focus on the Family's "Plugged In". As always, it is recommend that parents preview all content to determine what is suitable for their children, but the film 90 Minutes In Heaven is generally considered appropriate for most older audiences.