---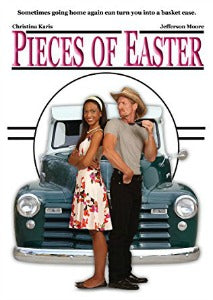 Sale
Pieces of Easter
Additional Information
Director: Jefferson Moore
Producer: Kelly Worthington
Languages: English
Dove Approved: Dove Family Approved
Run Time: 97 min
Subtitles: English
Closed Captioning: Yes
Region Code: 1

See More
Sale price $15.99 Regular price $19.99 You save 20%
Estimated arrival between and for USA.

---
You might also like
Sale price $32.99
Regular price
$54.98
Sale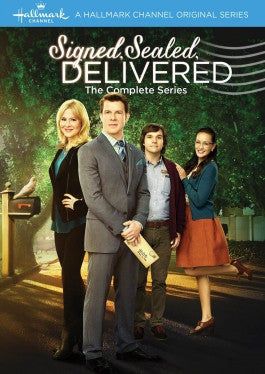 Sale price $24.95
Regular price
$29.99
Sale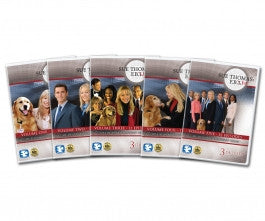 Sale price $95.99
Regular price
$119.99
Sale
—
Sold Out
Pieces of Easter DVD
"Pieces of Easter" is delightful family friendly comedy that will tug at your heart strings and leave you with an ache in your stomach from laughing so hard. Loosely based on the Bible story of the prodigal son, this hilarious film adds a unique twist of humor to the beloved story. In the beginning, the only thing Alza Reese Bennett wants to do is get home to her family in time to spend the Easter holiday with them. Unfortunately, a car accident leaves the nervous executive more than 700 miles away from her hometown. She is left stranded on the porch of a grizzled, reclusive farmer named Lincoln. The two could not be more different. Alza is a rich woman, used to living in the lap of luxury. Lincoln, on the other hand, is used to living away from people in very primitive conditions. In order to get Alza home, the two strike an unusual deal. Together, they set out on a three day journey full of hilarity and misadventures. Along the highways and backroads of America, they encounter hotels crawling with rats, convenience store stick ups, small town rabbit trackers, and a star struck couple from a local trailer park. In a hilarious clash of worlds, the princess and the hermit collide at every turn. This fun filled comedy is sure to make you laugh and leave you wanting more.
Life's Greatest Adventure
This film is a terrific example of the hilarious bumps along the road of life. It contains great messages about discovering new things and adapting to new environments. The clash of the two very different main character is amusing, yet full of important life lessons. Pieces of Easter manages to be extremely hilarious while still making dramatic points.
Though they could not be more different, Alza and Lincoln manage to bring out the best in each other. At first, it seems like all they are doing are bringing out the worst in each other, but this is in fact, not the case. Together they learn to become better people and adapt to other's lifestyles.
For instance, Alza is used to being pampered and spoiled, while Lincoln is used to having nothing. He makes no effort in life, and she makes every effort to make things perfect. She is an over achiever and he would rather not do anything. Alza is outgoing and friendly and loves to socialize, whereas Lincoln prefers staying home and talking to no one. Together, they point out each other's flaws and help each other become better versions of themselves. This unlikely duo encounters many adventures and speed bumps along their journey.
Their adventures include a dead cell phone, car trouble, a chocolate rabbit being stolen, and hilarious comic pratfalls, such as when Lincoln's hand gets shut in the tailgate of the truck. Though many things keep going wrong, Alza and Lincoln are able to keep each other calm and level headed. Reluctant at first to embark on this journey together, they end up becoming good friends.
This film contains references to the Bible and Lincoln's background. He grew up doing immoral things and was a wild child. Alza, it seems, has always been the perfect example of a go-getter and a good girl. Lincoln eventually found God when he decided to read the Bible one day. He experienced Christ in a way that he never had before. Alza was raised in the church, but has become somewhat estranged from her family.
The main message throughout the film is that everyone needs God. Though they came from entirely different backgrounds, Alza and Lincoln both have come to find God and come to rely on him. Lincoln made a conversion from being a "bad" teenager to a Christian man. Alza, on the other hand, was raised in the church and was surrounded by religion, but never truly experienced Jesus until she was older. Though her family did everything religiously right, she had to find out what it truly meant to be a Christian and share Christ with others.
The two are united by their common love for Christ and, in the end, find themselves in a church on Easter morning. Throughout their adventure, it is revealed that God orchestrated their meeting and was working for good all along. Though Alza's plan to return home for Easter did not go as planned, she learned a valuable lesson along the way. And Lincoln, who just wanted to stay home and not communicate with anyone else, was introduced to Alza and was brought out into the world once more. Because of God's divine plan, the two were able to work out their differences and overcome the challenge in front of them.
Pieces of Easter stresses the importance of overcoming your differences to be united in Christ. It is important to remember that, no matter how different you may be from another Christian, you are united through the blood and the love of Christ. Though your lives may be extremely different, you all have the same basic need. Each and every one of us needs Christ and needs salvation. This is the common thread that unites us, stronger than anything ever could be.
Pieces of Easter was produced by Kelly's Filmworks and was directed and written by Jefferson Moore. It is associated with Bridgestone Multimedia Group. Christina Karis stars as Alza Reese Bennett, and Jefferson Moore stars as Lincoln James. This film was awarded the highest award by the Dove Foundation and is considered "Faith and Family friendly" for all audiences. It was released direct to DVD on March 11th, 2013.
Pieces of Easter is not rated by the Motion Picture Association of America, but is considered appropriate for all audiences. It does contain minor alcohol references, one character is seen chewing tobacco, and has brief scenes of minor violence. It is always recommended that parents preview all content to determine what is suitable for their family to view.