---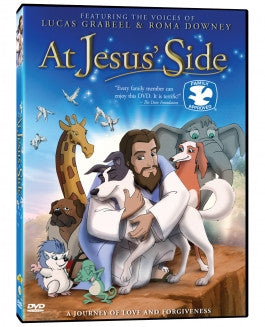 Sale
At Jesus Side DVD
Watch Trailer
Additional Information
Dove Approved: Dove Family Approved
Run Time: 82
Sale price $11.67 Regular price $19.98 You save 42%
Estimated arrival between and for USA.

---
You might also like
Sale price $32.99
Regular price
$54.98
Sale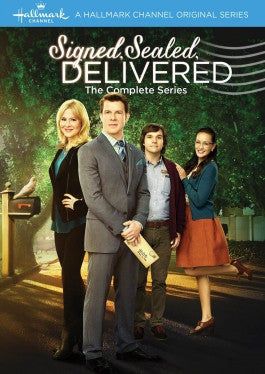 Sale price $24.95
Regular price
$29.99
Sale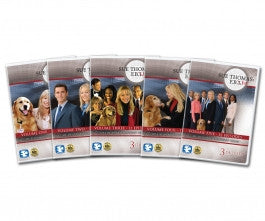 Sale price $95.99
Regular price
$119.99
Sale
—
Sold Out
At Jesus' Side DVD
At Jesus' Side is a touching animated film that illustrates the life and teachings of Jesus Christ. His teachings are brought to life through the story of five misfit animals, all on a journey to love and forgiveness. These animals include a stray dog named Jericho, who follows Jesus through the last week of his life. After Jesus is arrested at Gethsemane, Jericho bravely rallies an epic charge of animals to save Jesus from being crucified. After Jesus is crucified, Jericho is filled with unfathomable grief. However, this grief quickly turns to joy when Jesus is resurrected. Featuring the voices of Lucas Grabeel (High School Musical) and Roma Downey (Touched by an Angel), At Jesus' Side is a beautiful journey of love and forgiveness, presented in a fun animated manner that children will enjoy.
The Portrayal of Jesus
Though some of the events in this film are obviously fictional, the producers of At Jesus' Side did a phenomenal job staying true to the events of the Bible as they happened and the character of Jesus. This film includes the Triumphal Entry, overturning of the money changers' tables, Jesus' false arrest, trial, crucifixion, and resurrection. All of these events are portrayed accurately to the Bible, with the exception of additional characters.
This story is imaginative and fun, while still teaching truth and important lessons from the life of Jesus. It is full of animal characters, including Miguel the chameleon, dogs Jericho, Ulysses, Ariana, and a puppy, Dim Sum. Other characters include Petra and an evil character named Sykosus. This character is known for killing and selling local dogs in Jerusalem. His goal is to put an end to Jericho's life. This causes Jericho to harbor feelings of hatred toward Sykosus.
Through the life of Jesus, Jericho slowly learns what it means to forgive. Sykosus wants nothing but Jericho's death, causing a bitter hatred to arise in the dog's heart. This situation is much like the one that Jesus himself is being faced with. Though he has done nothing wrong, there are people who desire his death and are trying to crucify him. Jericho sees that Jesus harbors no hatred in his heart and even forgives those who are trying to kill him.
This grace and mercy shown through the actions of Jesus presents an important lesson for children. No matter how our enemies wrong us, we must live by the example of Jesus and forgive them. This is extremely hard and requires great strength and bravery. It is altogether too easy to harbor hatred and bitterness toward our enemies. It is much harder to forgive them than it is to hold a grudge. Jericho learns this and is eventually faced with a huge decision. Should he hate Sykosus for all the bad things he has done, or should he choose to give up on hating him and forgive him, like Jesus would want him to do?
At Jesus' Side also teaches the important lesson of having hope. Though things seemed extremely bleak after the death of Jesus, Jericho held on to hope that God was working things together for good. He trusted that God knew what he was doing, and this eventually led to the resurrection of Christ. Though Jericho was shocked, he knew all along that God would provide and he need not worry about the future. God holds us all in his hands, and he knows the plans he has for us. He has designed our lives to be special and we must trust that he is doing what is best for us.
Lucas Grabeel
At Jesus' Side features the amazing vocal talent of actor Lucas Grabeel. Known for playing Ryan Evans in the popular High School Musical films, Lucas plays the voice of Jericho in this film. He is very well known for his singing, dancing, and acting skills.
He grew up attending church and often played drums for the worship band. He has stated that hymns hold a special place in his heart, and he enjoys working in the Christian film industry. He regularly attended Harmony Baptist Church as a teenager, which gave him a heart produce wholesome content and be a part of family friendly films.
His role in At Jesus' Side was one of many voice acting roles for him. In 2007, he decided to start his own production company, 14341 Productions. His role involves him overseeing various projects, including writing, directing, and executive producing. This company has produced various short films and music videos, as well as a TV pilot, which served as Lucas' directing debut. Their work was showcased and debuted at the Sundance Film Festival in 2009.
Overall, Lucas has incredible talent. He has many different skills from singing, to dancing, to acting, to producing, to directing. His heart for wholesome entertainment is incredible and his genuine desire to produce quality content is inspiring.
At Jesus' Side caused him to think about what truly made him happy, and he revealed that singing hymns makes him feel joy deep in his bones. His favorite hymn is "It is Well," written by Horatio Spafford. In a special interview for the producers of At Jesus' Side, Lucas sang this song for them. He remarked that he remembers singing it as a child in church, and it always stuck with him. The words "it is well" gave him peace and hope, knowing that everything would be all right because it was in God's hands. This film taught him a lot about trusting in God and having hope that things will work out according to God's plan. This delightful animated film is sure to please the whole family, as it contains Biblical messages and is entertaining for children.
At Jesus' Side is rated PG by the Motion Picture Association of America for some menace. The Dove Foundation awarded it the "Family Friendly" seal, considering it suitable for all audiences. As always, it is recommended that parents preview all content to determine what is suitable for their family.