---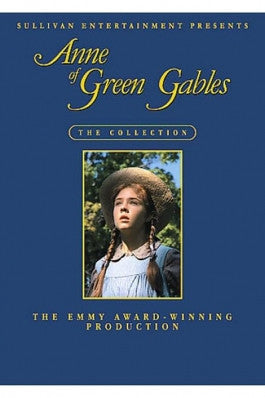 Sale
Sale price $49.95 Regular price $70.99 You save 30%
Estimated arrival between and for USA.

---
You might also like
Sale price $32.99
Regular price
$54.98
Sale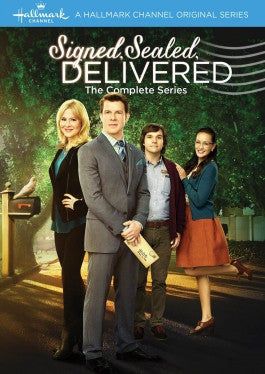 Sale price $24.95
Regular price
$29.99
Sale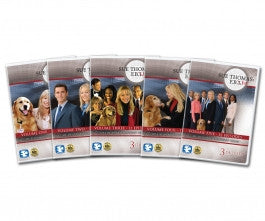 Sale price $95.99
Regular price
$119.99
Sale
—
Sold Out
Anne of Green Gables: The Trilogy DVD Box Set
From Sullivan Entertainment comes the timeless classic of L.M. Montgomery Anne of Green Gables, with the beloved saga continuing in Anne of Green Gables-The Sequel and Anne of Green Gables The Continuing Story. Travel with the loved, dramatic, feisty, imaginative, red headed Anne Shirley (Megan Follows) as she discovers the joys, triumphs, and sorrows that growing up on Prince Edward Island can bring. These are stories that are sure to delight the entire family.
Anne of Green Gables Synopsis
Anne Shirley was an orphan who needed a home. Matthew and Marilla Cuthbert, two elderly siblings, had an extra room and needed some help. It seemed like a match made in heaven, but when a miscommunication occurs and scrawny, red headed Anne arrives at Green Gables instead of the strapping young man they were looking for Marilla is determined to send her straight back to the orphanage. It takes all of Matthew's efforts, as well as a little charm from the peculiarly mannered Anne to convince her otherwise. Within a few days Anne (spelled with an "e") has managed to insult the town gossip Rachel Lynde (Patricia Hamilton), smash a slate over Gilbert Blythe's head, and dye her hair a peculiar shade of green, all because of what she considers to be her deepest sorrow- her carrot colored hair. Marrilla is beside herself to know what to do with the headstrong Anne, but quiet Matthew soon finds a way into the longing orphan's heart. Anne's life, always seems coupled for disaster, however, and she always seems to pull her new found "bosom" friend Dianna Barry along with her. She accidentally gets Diana drunk on Currant Wine instead of the Raspberry Cordial they were supposedly sipping; falls from the roof of a house when dared to walk the ridge line; almost drowns in the pond, only to be rescued (much to her chagrin) by Gilbert Blythe; the list of her disasters (or adventures) goes on and on. After smashing his head with a slate on the first day of school, Anne and Gilbert soon become arch opponents, competing for the highest academic honors. This rivalry will soon secretly blossom into affection for one another, but headstrong Anne is determined not to admit it. When Matthew unexpectedly dies, forcing Marilla to consider selling Green Gables, Gilbert will give Anne his teaching post in Avonlea so she can continue to support Marilla.
Anne of Green Gables-The Sequel Synopsis
(Note: it is important to clarify that this movie is also known as "Anne of Avonlea")
This film resumes the story of Anne Shirley, who, at the end of the first film, had just decided to complete her college courses via correspondence so she could teach school in nearby Avonlea in order to support Marilla. Now teaching full time at the Avonlea school, Anne also fills her days by writing, dreaming someday to publish a book, article, story, anything at all! Gilbert Blythe, who has spent the last several years teaching in order to gain enough money to attend medical school, has become a dear friend of Anne's and, after running into him at the post office, he delivers the news that Dianna Barry, Anne's dearest friend, has just become engaged to Fred Wright (Bruce McCulloch). Anne is shocked at Diana's decision, and still has not reconciled herself to the idea when she attends Fred and Diana's engagement party a few nights later. After wandering off to the bridge together, Gilbert proposes to Anne who refuses saying they would be unhappy. Anne, who has been avoiding Gilbert, sees him again several months later with a young woman named Christine. Anne suspects Gilbert has fallen in love with Christine, but he later catches her and asks if there is any hope Anne will change her mind. Anne replies that there is not, and Gilbert suspects there is someone else, despite Anne's assurances that there isn't anyone. The miserable Anne then decides to accept a teaching post offered to her by a ladies' college in Nova Scotia. At first the job is very difficult. Anne is snubbed by most members of the town, and upon investigation discovers that the wealthy Pringle family owns almost everyone and everything and that a young Pringle girl applied for the same position Anne now holds. In addition, the head of school Katherine Brooke (Rosemary Dunsmore) has a special hatred towards her, making her teaching position very difficult. Anne soon works her way into the hearts of the town's citizens and will later even convince Katherine to spend her summer at Green Gables for a much needed rest. During her time at the ladies' college, Anne befriends a young girl, Emmeline Harris, who is living with her overly controlling grandmother, and equally controlled Aunt Pauline. Anne is able to work magic even in such a gloomy house, however, cheering Mrs. Harris and succeeding in allowing Pauline to take a much deserved trip. After seeing how much Emmeline loves Anne, and falling in love with her himself, Morgan Harris (Emmeline's father) proposes to her, but Anne refuses and returns to Green Gables. Anne soon discovers that Gilbert Blythe has contracted a deadly case of scarlet fever in medical school, and is lying extremely ill nearby. After realizing how close she was to losing him, Anne realizes she really does love Gilbert, and, after his recovery, she tells him she will marry him.
Anne of Green Gables: The Continuing Story Synopsis
This movie borrows the characters from L.M. Montgomery's works, but not plot lines, instead placing Anne and Gilbert in an original story about WWI. The diehard L.M. Montgomery reader should be advised that the events in this movie do not line up in any way with those in the book, but if removed from that context, this film is still a wonderful story. This film picks up a supposed five years after the end of the sequel. Anne has spent these years teaching, while Gilbert finishes medical school. After returning to P.E. Island
Anne visits Green Gables and is horrified to discover how badly it has fallen apart during the years after Marilla's death. Gilbert and Anne are soon reunited, but instead of settling down, Gilbert asks Anne to move to New York with him as he has just been offered a position at a prestigious medical institution there. Anne agrees, with the condition that they will return to P.E. Island to raise their family. In New York, after renting separate apartments as they are still not married, both Anne and Gilbert face trying times. Anne, is tricked into co-writing a book with a famous author, who subsequently steals her work and publishes it as his own. Gilbert discovers that most of the doctors he works with are more interested in advancement than good medical practices. A disillusioned Anne and Gilbert return home. Gilbert buys Green Gables with the hope of repairing it, but is soon pressured into joining the medical corps as WWI is now in full swing. Anne agrees to marry him before he leaves, and the couple celebrate a quiet, somewhat sad wedding. He is soon declared missing in action, and headstrong Anne enlists in the Red Cross with the hopes of finding him in Europe. As Anne desperately searches the war zone she runs into Jack Garrison (the writer who stole her work) along with his French lover Colette and infant son Dominic. Garrison, who is involved in dangerous espionage asks Anne to take Colette and Dominic to London. Colette is soon killed in an explosion, and Anne is left to care for Dominic, as well as an injured Fred Wright. The three leave for London in the hope of finding Garrison. After connecting briefly with Garrison he asks Anne to care for his son if anything should happen, and then departs for France once more. After considering traveling with Fred back to Canada, Anne decides to return with Dominic to the France to renew her search for Gilbert. After several adventures Anne manages to deliver Dominic to his aunt, where she finds Garrison and enlists his help in finding Gilbert. After several months of fruitless searching Garrison asks Anne to give up, marry him, and move to the U.S. with Dominic. Anne refuses, and continues to look for Gilbert. At last Gilbert and Anne are reunited, and Garrison arranges for their immediate departure for Canada. In a tragic plot twist Garrison is shot, and he leaves Anne in charge of Dominic. Anne and Gilbert desperately try to locate Dominic, but the search comes up empty, and they are forced to return to Canada. After a year, they finally locate Dominic, and they adopt him finally starting a family with lots of "scope for the imagination."
The beloved story of Anne Shirley is sure to be enjoyed by viewers of all ages. With plenty of moments to cry, laugh, and sigh over there is a reason they continue to be a favorite of thousands.
Anne of Green Gables, an Emmy Award winner,is not rated by the Motion Picture Association of America, but is considered suitable for all audiences.
Anne of Green Gables-The Sequel is rated G by the Motion Picture Association of America, considered family friendly for all ages.
Anne of Green Gables: The Continuing Story is rated G by the Motion Picture Association of America, but may contain themes too strong for young children.
Each picture received the "family approved" seal by the Dove Foundation for ages twelve and up. As always, it is recommended that parents preview all content to determine what is considered suitable for their children.
̴Ì_