---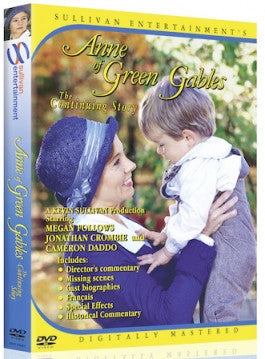 Sale
Anne Of Green Gables: The Continuing Story DVD
Watch Trailer
Additional Information
Cast: Megan Follows, Jonathan Crombie, Cameron Daddo
Run Time: 185 minutes
Sale price $17.08 Regular price $22.99 You save 26%
Estimated arrival between and for USA.

---
You might also like
Sale price $32.99
Regular price
$54.98
Sale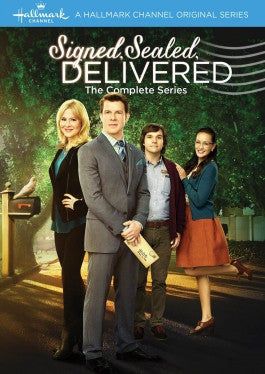 Sale price $24.95
Regular price
$29.99
Sale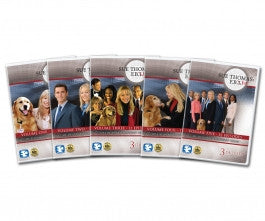 Sale price $95.99
Regular price
$119.99
Sale
—
Sold Out
Anne of Green Gables: The Continuing Story DVD
Anne of Green Gables: The Continuing Story is the third and final installment in the Anne of Green Gables movie trilogy. It focuses on the same character present in L.M. Montgomery's novel, but is a completely original movie. The plot line of the film is not what happens in the book series, making it the most largely criticized film in the series.
Now in her twenties, Anne returns to Avonlea for the very first time since the death of Marilla. Her husband, Gilbert Blythe, has been offered a job in a hospital in New York. He persuades Anne to move to New York and finds her a position at a large publishing house. Life in the big city is nothing compared to life in Avonlea. Anne and Gilbert experience many things that shock them. For instance, Anne's manuscript is stolen by a dashing young writer, Jack Garrison, something that would never have taken place in quaint Avonlea. From the big city to the front lines of the war and finally back to Prince Edward Island, Anne of Green Gables: The Continuing Story is a delightful final installment.
Synopsis
After teaching in Nova Scotia for five years, Anne returns home to Avonlea. After seeing old friends, she decides to go visit Green Gables. Unfortunately, the new owners have let it fall to pieces, greatly distressing Anne. While in Avonlea, she is reunited with her fiance Gilbert Blythe, as he returns from medical school. Before settling down, Gilbert convinces her to move to New York with him because he has been offered a new job. Anne agrees and is given a job at a publishing house.
While in New York, Anne meets Jack Garrison, a fellow writer. Seeing her potential, Jack offers to help edit and publish her manuscript, as long as it will be published under his name too. Anne agrees, not realizing that he is attempting to scam her. After the manuscript is accepted, she learns that Jack presented as entirely his own and she is completely left out of the equation. Anne decides to break off contact with Jack, who later informs her that he has fallen in love with her.
Gilbert faces struggles in his new hospital job as well. Most of the doctors are not interested in saving lives, but are focused on prestige and money. He is sickened by their lack of integrity and becomes restless. Disillusioned with life in New York, Anne and Gilbert return to Avonlea to settle down at last.
Gilbert decides to buy Green Gables from the new owners and fix it up for him and Anne. While planning their marriage and their future, the threat of war is looming. Diana's husband, Fred Wright, enlists in the army, easing a strained family life at home. Gilbert decides to enlist as a medical officer as well. However, before he leaves, he convinces Anne to marry him. When he is declared missing in action, Anne immediately enlists as a Red Cross volunteer, hoping that maybe she will find Gilbert.
Her search for Gilbert leads her to finding Jack Garrison, his lover, and their infant son. Jack is involved in dangerous espionage activities that will most likely get him into trouble. Before quickly departing, he asks Anne to take care of Collette and their son, Dominic. Anne agrees to see them safely to London, but Collette is killed before they arrive. Distraught, she takes the infant and resides in Jack's apartment until she can return to Avonlea.
However, a new lead on Gilbert's whereabouts send her to Paris. Here, she disguises herself as a nun. Jack is reunited with Anne and Dominic and he attempts to persuade her to return with him to the US and start a family. She vehemently declines, and continues on her search for Gilbert.
At last, Anne sees Gilbert in a crowd of soldiers and the two are reunited. Jack arranges a way for them to return home, but is shot on the train after making these plans. His dangerous activities caught up with him, resulting in his death. He begs Anne to take care of Dominic, and she promises to raise him as her own.
Returning home at last, Anne and Gilbert decide to adopt Dominic and call him their son. They sell Green Gables to Fred and Diana, declaring that they want a fresh start. They are determined to make a new life, but built on the old foundations.
Deviation from the Books
Kevin Sullivan, writer and producer of the Anne of Green Gables movies, decided to make the final installment one with an original plot line. The reason he decided to deviate from Montgomery's stories was that it allowed them to set up for a spin off series. Road to Avonlea, the spin off TV series, had a largely different timeline than Montgomery's books. In order to set up for that, Sullivan decided to change the final movie.
Because of this skewed timeline, there was a twenty year difference between the books and the movies. In Montgomery's original stories, it is not Anne and Gilbert at the battle lines of war, but their sons. Sullivan decided that putting Anne and Gilbert in the midst of battle would sync up better with the TV series.
Many fans of the books were greatly outraged because of this decision, but Sullivan stuck by his original ideas. Road to Avonlea was extremely successful, resulting in seven seasons. In the end, Sullivan's decision to make Anne of Green Gables: The Continuing Story was a smart one, because it set them up for their largely popular TV series.
Anne of Green Gables: The Continuing Story is not rated by the Motion Picture Association of America, but is considered appropriate for most audiences. It does contain some violent scenes, intense themes, and may not be suitable for all children. It is strongly recommended that parents preview all content to determine what is suitable for their family.