---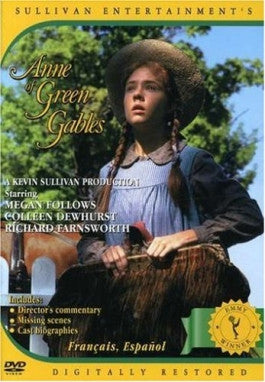 Sale
Anne of Green Gables DVD
Watch Trailer
Additional Information
Cast: Megan Follows, Colleen Dewhurst, Richard Farnsworth
Director: Kevin Sullivan
Producer: Kevin Sullivan, Ian Mcdougall
Run Time: 195 minutes

See More
Sale price $17.08 Regular price $22.99 You save 26%
Estimated arrival between and for USA.

---
You might also like
Sale price $32.99
Regular price
$54.98
Sale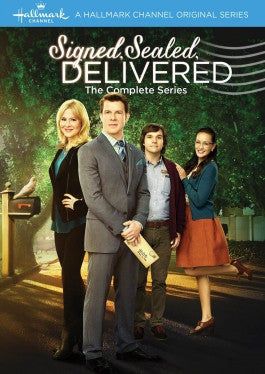 Sale price $24.95
Regular price
$29.99
Sale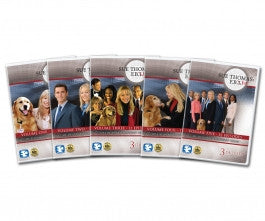 Sale price $95.99
Regular price
$119.99
Sale
—
Sold Out
Anne of Green Gables DVD
Based on L.M. Montgomery's story of the same name, Anne of Green Gables is an inspiring film that chronicle the journey of young Anne Shirley. Anne, an orphan, is adopted by a brother and sister, Matthew and Marilla. When she arrives at their house, it is made apparent to her that they meant to adopt a boy, not a girl. She is greatly distraught as she realizes that she is not wanted. Her dreams of a new life are shattered, and she believes that hope is gone. However, Anne makes quite the impression upon Matthew and Marilla and is allowed to stay at Green Gables and begin her life anew in the town of Avonlea. Here she encounters new friends, new enemies, and creates a few catastrophes along the way. Anne is full of questions and a love for life that is contagious. Her vivacious attitude begins to affect others and show them the world through new eyes. Anne's story is a timeless one of growing up and the challenges that come with this. The problems she encounters are both amusing and heartbreaking, making this film extremely enjoyable. Her story is realistic and touching, impacting viewers strongly. This film will stand out to viewers and allow them to experience L.M. Montgomery's story in a way they never have before.
Positive Messages
Anne of Green Gables, though not explicitly marketed as a Christian film, is full of positive messages and important lessons. It is fun for the whole family and is both entertaining and educational. Anne's story is not just a fun and romantic story; it is also packed with valuable lessons. Montgomery's books teach faith-based values, and these are all presented in the film.
The character of Anne Shirley is one that viewers can easily relate to. Her story is felt very strongly and the emotions that she experiences are also experienced by the audience. Before coming to Green Gables, Anne lived with a family that had many children and not enough money to support them all. She was cruelly treated as a servant instead of part of the family, and had to endure much verbal and emotional abuse. The mother of the family blamed her for most everything that went wrong, causing Anne to become extremely insecure. She does not believe that she could ever amount to something, and is left feeling unwanted.
When Anne arrives in Avonlea, she is cautiously optimistic. She wants so badly to believe that this new world is going to be a fresh start for her. She dreams of having a family to love her and friends to go on adventures with. When she embarks from the train station to Green Gables with Matthew, she sees so much beauty in the world around her. Her mind is overwhelmed, dreaming of this new, beautiful world. Matthew becomes rather fond of her and doesn't want to shatter her hopes by informing her that they meant to adopt a boy. His kind and caring heart sees the brokenness in Anne and does not wish to harm her.
Marilla, on the other hand, is stern and practical. She sees the situation as extremely black and white. They asked for a boy orphan so that they could have some help around the farm, and they received a girl. Anne is not what they expected or believed they needed, so Marilla quickly decides that Anne must return to the orphanage.
When she begins to weep, Marilla sees the vulnerable little girl inside. All her life, Anne has been passed from one home to another, never truly finding her place and never being accepted by any one. Though she does not want to commit to keeping her indefinitely, Marilla allows Anne to remain at Green Gables until they can figure the situation out.
Anne is deeply wounded once again as she realizes that she is not wanted. Her hopes for a better life are dashed, and she does not know what to do. When Marilla lets her stay, Anne is greatly determined to prove herself worthy. She tries to be extremely careful and always do what is pleasing to Marilla. However, she is quite passionate, and this leads to a great argument with Rachel Lynde, an outspoken neighbor. Rachel criticizes Anne's appearance, remarking on her red hair. Anne is extremely insecure about her hair, and lashes out at Rachel for being rude.
Marilla is greatly embarrassed by Anne's outburst, and scolds her for being so impertinent to her elder. The feelings of insecurity well up in the young girl's heart again, filling her with a great sadness. She believes that Marilla will send her away and her life at Green Gables will come to a bitter end.
However, Marilla sees that she and Matthew have an opportunity to influence Anne for the better, and she agrees to let the girl stay. Though she is not providing the help around the farm that they had originally needed, Anne is providing emotional help to Avonlea that they didn't know they needed. She brings light and laughter to them all and changes Marilla for the better. Quite hard and callous before Anne's arrival, Marilla begins to soften up a bit and realize the importance of second chances in life.
Anne of Green Gables is full of positive themes, such as forgiveness, love, hope, pride, and the importance of family. This timeless story is enjoyable and can be used to reinforce positive messages. Adults and children alike will want to know more about Anne Shirley. Her fun-loving and passionate nature is an excellent representation of humanity that will appeal to all viewers. The lessons presented in her story teach everyone something about life, and serve as wholesome entertainment for families to enjoy.
Anne of Green Gables is not rated by the Motion Picture Association of America, but is considered suitable for all audiences. As always, it is recommend that parents preview all content to determine what is considered suitable for their children.