---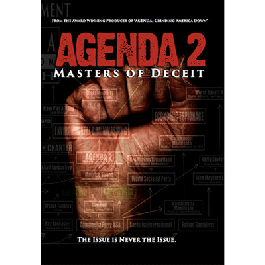 Sale
Agenda 2: Masters Of Deceit DVD
Additional Information
Cast: Curtis Bowers
Languages: English
Release Date: 11/8/11
Run Time: 87 minutes
Screen Format: WS
Region Code: 1

See More
Sale price $9.99 Regular price $19.99 You save 50%
Estimated arrival between and for USA.

---
You might also like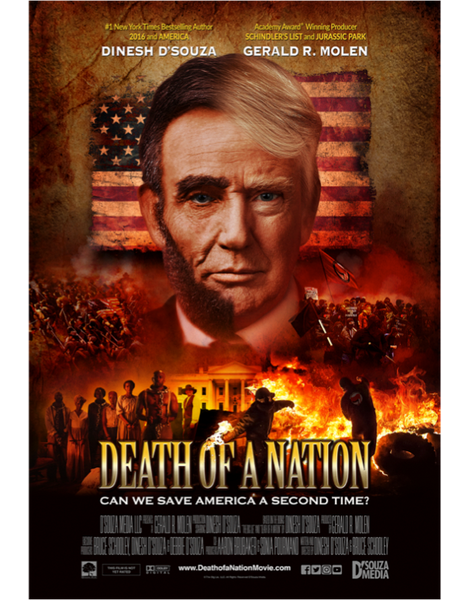 Sale price $19.99
Regular price
$24.99
Sale
—
Sold Out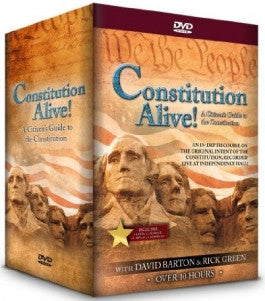 Sale price $39.97
Regular price
$79.99
Sale
—
Sold Out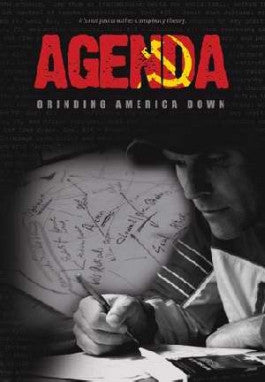 Sale price $9.99
Regular price
$19.99
Sale
—
Sold Out
Agenda 2: Masters of Deceit DVD, by Curtis Bowers
Agenda 2: Masters of Deceit is an incredible documentary spotlighting some frightening issues that are going on now in America. This film follows the story of Legislator Curtis Bowers and his startling realizations about the direction our country is headed. He recalls a meeting he was in over 20 years ago when he heard an agenda laid out for how communism would work in America. After realizing how similarly this agenda aligned with what is going on in our country today, he wrote a letter to the Editor. It ended up becoming a feature story on the nightly news and people even went so far as to protest at the capitol. For the next several weeks, the newspaper was flooded with responses.
It was at this point that Curtis realized he had hit on something very big here. This was more than just a conspiracy theory or something to make fun of; this was a serious issue about something that was actually happening. He realized he needed to help point out this issue and wake people up to what was going on in America. He knew he needed to get his message out to the public, and this led him to creating his first feature-length documentary, entitled Agenda. Agenda was a very successful film and this led him to create a sequel, further expanding his ideas. This is what would become Agenda 2: Masters of Deceit.
Our Freedom is at Risk
Curtis Bowers has come to the conclusion in this documentary that our freedom is at risk. If we don't wake up and put a stop to what is going on, we're going to lose our freedom and become just another communist country. He makes the point that most people would proudly proclaim that Communism is dead. When the Berlin Wall came down, Communism died, most people reason. And even though we may not use the word "Communism" anymore, it's still an issue that is alive and well. In Agenda 2: Masters of Deceit, you will take a fascinating look at the issue and follow Bowers on an incredible journey to discover what's really going on behind the scenes in America.
The Original Agenda Film
The original Agenda Documentary was released in 2010 and ended up being an incredible hit. This documentary impacted many lives and encouraged, those who watched it,̴Ì_to stand up for their faith and fight back against some of the horrific events that are transpiring right now in America. It was also a big winner at the San Antonio Independent Christian Film Festival, winning the $101,000 Jubilee grand prize for best film. This terrific prequel film to Agenda 2: Masters of Deceit will wake you up and make you realize the hidden agenda that has been hidden from us for a very long time.
Agenda 2: Master of Deceit
From the promotion of Islam to the propaganda of climate change, there are hundreds of different agendas that we are presented with every day. We are bombarded with so many different ideas and ideals every day it can be hard to distinguish the truth from the lie and determine what is a hidden agenda and what is simply truth being spoken. Add to this the deceptive Common Core Curriculum the manufactured economic crisis, the manipulation of churches and the inconceivably large national debt, the hundreds and hundreds of agendas can seem to be in competition with each other. But the truth is, they're not fighting for your attention. They're all working together. Agenda 2: Masters of Deceit is a revealing look at how these agendas are all purposeful and premeditated; and designed to bring an end to faith and freedom worldwide.
About Curtis Bowers
Curtis Bowers is the creator of Agenda and the sequel, Agenda 2: Masters of Deceit. He decided to put these films together after discovering terrifying evidence that all of these agendas were working together to destroy faith and freedom in this country. Back in 1992, he attended a communist strategy meeting at the University of California, Berkley. Going in disguise just out of mere curiosity, he was shocked to learn about the communist agenda and their plan to change America and make it more in line with their views.
Bowers was a representative in Idaho, but came under fire after having written his article. He had people on both sides of the issue. Some came to support and defend him, while others rose up to challenge him on his beliefs. This has created a lot of tension between the two parties, and this is what prompted him to create the film Agenda to help better explain his views. He knew he could more successfully explain his argument in an hour and a half documentary, instead of just a short letter to the editor article.
After the success of Agenda, he created Agenda 2: Masters of Deceit to further explain his point. He is still traveling and speaking out on this issue, trying to build a movement of people who love America and don't want to see the great country brought down by communistic ideals and principles. He hopes to continue this project, building more and more people who understand and agree with his ideas.
Conclusion
This is an important documentary with an important message for all. If you're looking for a film that will tell the truth about the state of our country unashamedly, then you need to see Agenda 2: Masters of Deceit. This film will wake you up and expose the truth about communism in our government. If this is a subject simply blow off or make fun of, we are only allowing those in power to win and continue pushing their agenda. This is a critical film to watch and discuss. And more importantly, we must take action, fighting for what we believe in. If we watch this film and vow to help Curtis Bowers on his quest to help America again, we can turn our country back. Agenda 2: Masters of Deceit is a must-see film for all American Christians.