---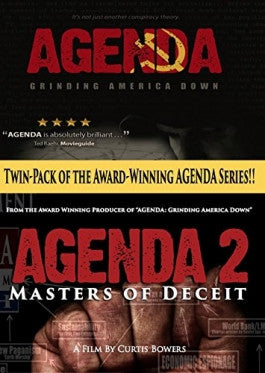 Sale
Agenda/Agenda 2: Masters of Deceit 2 DVD Set
Additional Information
Cast: Curtis Bowers
Languages: English
Release Date: 11/8/11
Screen Format: WS
Region Code: 1

See More
Sale price $26.60 Regular price $29.99 You save 11%
Estimated arrival between and for USA.

---
You might also like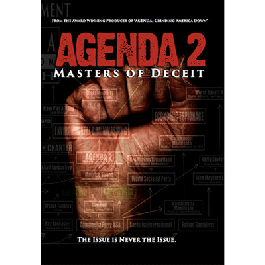 Sale price $9.99
Regular price
$19.99
Sale
—
Sold Out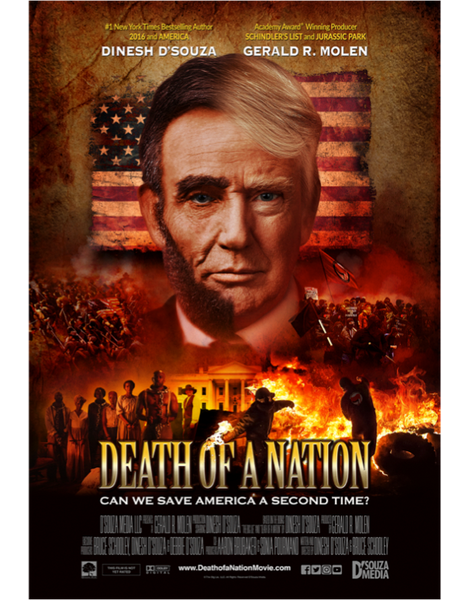 Sale price $19.99
Regular price
$24.99
Sale
—
Sold Out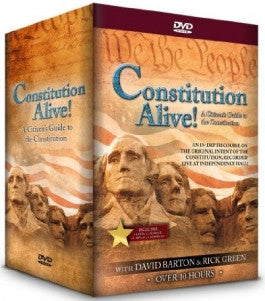 Sale price $39.97
Regular price
$79.99
Sale
—
Sold Out
Agenda: Grinding America Down/Agenda 2: Masters of Deceit
Agenda/Agenda 2: Masters of Deceit 2 DVD Set is a collection of two of the most compelling documentaries you will ever watch. These two films are designed to show you some of the very real issues facing America today and will hopefully encourage you to take a stand against some of the frightening things that are going on in our country today. Led by former legislator Curtis Bowers, this film will show you an in-depth look at communism and how it's beginning to once again seep back into our society. If you ask most anyone they will tell you point-blank that communism is dead. Since the Berlin Wall fell, many people reason, communism has been gone and couldn't ever return.
However, in this insightful 2 DVD set, these two documentaries will show you a very real truth about how there is a very purposeful agenda in our society today and America is beginning to be grinded down. Prepare to see America like you've never seen it before as Curtis Bowers shines a light on some of the horrible tragedies and agendas taking place in our country right at this very moment. While it's easy for us to proclaim communism is dead and that America will be fine, we're just going through a rough patch, Bowers creates a compelling case for why we need to do something about it now. This is a very real issue and if we don't act now, when will we be able to? Agenda/Agenda 2: Masters of Deceit 2 DVD Set is a compelling duet of insightful documentaries.
Agenda: Grinding America Down
In the original film, Agenda: Grinding America Down, Curtis Bowers begins to lay down a plan for what the future of America could look like and how we need to act fast. The entire premise for this movie came when Bowers submitted a later to the editor in 2008. Then a legislator, he submitted an article stating that there was a startling decline in American and that there was a very specific agenda going on right under our noses to promote communism in our country. Outlining how our country has changed and how things are about to take a dramatic turn for the worse, his article became an incredibly popular piece. Making the evening news that night, he received an unprecedented amount of feedback, both through letters to the editor and in people protesting outside of the capitol.
As his articles and insights began to pick up steam, Bowers began to realize he had hit on something really important here. He knew this wasn't something he could ignore anymore. People were beginning to see the truth about our government and he needed to step up to get the message out and tell anyone who would listen. He believed that freedom and morality in America was slowly being "grinded down" by people with a very specific agenda. As he began to realize that what was happening was not accidental, he began to see the hidden agenda that's been hidden under our noses this entire time.
With his knowledge and incredible insight, he was able to produce this first film, Agenda: Grinding America Down. This film was able to reach many who had never heard or thought about these issues before. As he exposed some serious conspiracies going on in America, his film began to pick up steam and popularity. Agenda: Grinding America Down was even entered into the 2010 San Antonio Independent Christian Film Festival, where it went on to win the grand prize of $100,000. After this, Bowers began to realize that he could do more with this and there was more of his message. This led him to create a sequel to his original film.
Agenda 2: Masters of Deceit
And so a few years later, Curtis Bowers would release a follow-up film, spotlighting some of the people behind this incredible scheme that's been going on for a lot longer than people realize. In this film, Bowers explains that we are bombarded with different agendas every day. Every television show we watch, every movie we see, every book we read; everything has an agenda and is trying to sell us something. One of the biggest agendas has been going on for decades, and it's one that could very well change the face of America. With all of these agendas presented all the time, how are we to distinguish what's true from what's a lie or made up propaganda?
Bowers explains all of this, and also remarks on an important meeting he attended all the way back in 1992. Out of pure curiosity, he decided to attend a strategy session for a group of communists at the University of California. While he was there, he saw them lay out a very straightforward plan about how they could slowly begin to push their agenda and little by little introduce communism into the American culture, without anyone even realizing it!
Agenda 2: Masters of Deceit is an excellent follow-up to the previous film with new thoughts and realizations that will provoke you to action. One of the things many people say is that we can just wait for the pendulum swing to take its course. We can simply wait out this spiral it will all come back in time. But Bowers reasons that if we don't act now, while we still have freedom and the ability to change the government, it will be too late very, very soon.
Conclusion
The Agenda/Agenda 2: Masters of Deceit 2 DVD Set is a fascinating look at some very real issues facing America right now. Through these two documentaries, Bowers will lay out a very clear understanding of what's really going on behind the mask and what jeopardy our nation is currently facing. If we don't act now, it may be too late later, making this a pressing film to watch as soon as possible. With a stunning documentary style, former legislator Curtis Bowers presents a powerful, and shocking, case.