---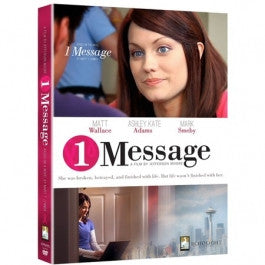 Sale
1 Message DVD
Watch Trailer
Additional Information
Release Date: 9/24/08
Run Time: 152 Minutes
Screen Format: WS
Region Code: 1

See More
Sale price $21.65 Regular price $22.95 You save 6%
Estimated arrival between and for USA.

---
You might also like
Sale price $32.99
Regular price
$54.98
Sale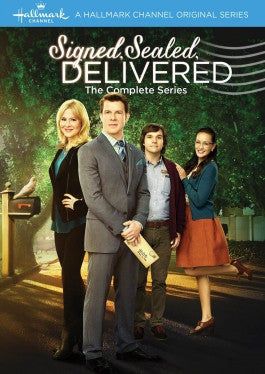 Sale price $24.95
Regular price
$29.99
Sale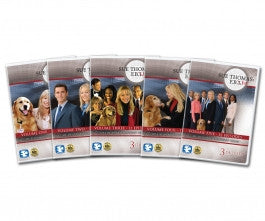 Sale price $95.99
Regular price
$119.99
Sale
—
Sold Out
1 Message
Becca had everything-- perfect job, perfect looks, perfect fiance, perfect life. One day, however, her life changed forever. Struggling to find a will to live, a single email message changes her life forever once again-- this time could it be for the better? Starring Ashley Kate Adams, Matt Wallace, and Ruby Marie Wallace, and based on the book by Mary T. Lennox, 1 Message is a film about courage, hope, and true beauty.
The Story
For Becca Norris (played by Ashley Kate Adams) life could not have been better. She had the job of her dreams, a handsome (and wealthy) fiancee, and perfect looks. She was on the road to success. One day, however, the perfect world of Becca from 1 Message came crashing down.
Unexpectedly Becca Norris-- the girl with the perfect life-- was diagnosed with breast cancer. In the course of a few days the course of her life was changed forever. Shattered Becca looses her job. Her fiancee runs off. Forced to do a mastectomy to stop the cancer Becca looses the only thing she thinks she has left her "perfect" looks. The "perfect" world, of the "perfect" girl in 1 Message is suddenly in pieces about her feet.
Broken, and afraid to let people see the "new" her, Becca retreats into her house. She does not talk to anyone, she does not see anyone, she does not leave. Her house becomes her life-- and a sad life at that. Depressed, fat, unhealthy, and without a purpose Becca refuses to respond to her friends numerous attempts to intervene. She becomes isolated and pessimistic. She has nothing left to live for.
Then one day, an unexpected thing happens. Becca receives a single email (1 Message) from Dean (played by Mark Smeby). As the two begin exchanging messages Dean begins speaking life, hope, and a purpose into Becca's life. As she struggles to find a new purpose she struggles to find a new identity. Will she be able to turn her life around, or will she only sink further into the hole she has created.
True Beauty
A touching story 1 Message also holds meaningful and valuable lessons for viewers of all backgrounds and ages. Perhaps one of the most important lessons Becca learns from Dean, is what true beauty actually is. After a surgery that alters her body, and leaves her less of a woman in the world's eyes, Becca falls into thinking she is less beautiful. As Dean reminds her in 1 Message, however, beauty is not found on the outside, but on the inside. As Dean calls it, our bodies are just "gift wrapping," the inside is what counts. As Becca wrestles with this new idea, she finds herself beginning to believe that kindness, courage, and other character qualities are what creates a beautiful woman, not her appearance. A valuable reminder to viewers everywhere, 1 Message sinks home the powerful, thought changing idea that beauty comes from within, not without.
Courage
Another lesson Becca learns from Dean over the course of the film 1 Message is courage. Afraid to be judged, afraid to be seen, afraid to be pushed away once again, afraid to leave her home Becca has only fallen into a sad, depressed life. She is terrified to change her life or leave her protected bubble she has created for herself. Dean reminds her, however, that courage is simply doing what you are afraid to do. He reminds her courage can only exist if there is fear. He challenges her to face those fears, whether it be as small as doing a sit up, or as big as walking through her front door to face the world. Becca and Dean are reminders to viewers everywhere that courage is found within, that courage comes from faith, and that good things will come if we are only courageous.
Faith And Love
Pushed away by many people she thought she was loved by (her fiancee, her coworkers) Becca is afraid to love or be loved by anyone ever again. The girl from 1 Message pushes away everyone's attempts to love and help her-- from her family and her friends. Dean reminds her, however, that true love does not judge based on outward appearance, it does not leave when times get tough, and that it never fails. He shows her that this kind of love can only be found in God and he helps her open her heart and life back up to the people who have always been there for her. He reminds her (and viewers everywhere) that our families are our biggest earthly allies, and that God is our biggest support.
A film about struggles, about fears, about hurts 1 Message is also a film about hope, about healing, about courage, about faith, and about the true beauty found within. A single event changed Becca's life forever, but a single message of kindness helped pull her up. As viewers watch 1 Message they will be reminded of the love that never fails, inspired to be courages, and encouraged to remember that true beauty lies within he heart.
1 Message has not been rated by the Motion Picture Association of America and may include topics and issues not suitable for younger viewers. As always, it is recommend that parents preview all content to determine what is suitable for their children, but the film 1 Message is generally considered appropriate for most older audiences.
If you enjoyed the film 1 Message you might enjoy some of the following films by the same creators. Clancy tells the story of a young girl from an abusive home who runs away to avoid the social workers, but her will to live and her inspiring faith have an unexpected effect on everyone involved. A friendly but mysterious drifter named Jess holds a valuable lesson about the meaning of Christmas in The Perfect Gift. Nikki Cominsky is a successful attorney, but one mysterious invitation shakes up her entire world in The Perfect Stranger