---
Sale
When Calls the Heart DVD
Watch Trailer
Additional Information
Cast: Maggie Grace, Stephen Amell
Director: Micheal Landon JR
Languages: English
Dove Approved: Dove Family Approved
Release Date: 12/9/09
Run Time: 89 Minutes
Subtitles: English, Spanish
Closed Captioning: Yes
Region Code: 1

See More
Sale price $5.00 Regular price $19.99 You save 75%
Estimated arrival between and for USA.

---
You might also like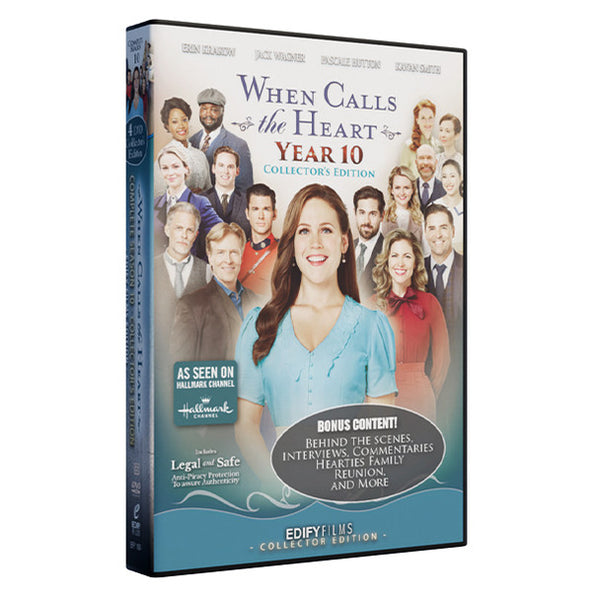 Sale price $39.95
Regular price
$39.99
Sale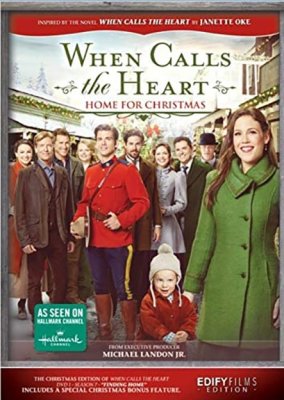 Sale price $8.95
Regular price
$14.99
Sale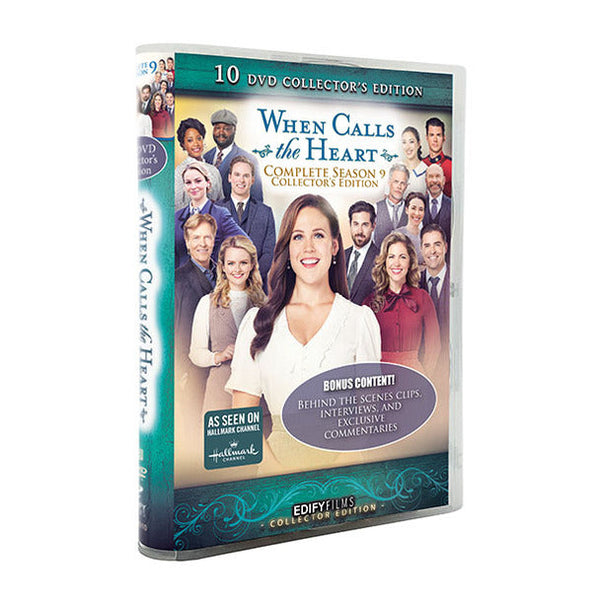 Sale price $35.98
Regular price
$49.99
Sale
—
Sold Out
When Calls the Heart
Based on the book series by Janette Oke, When Calls the Heart, focuses on Elizabeth Thatcher, a young educator, exchanges wealthy and influential living for a teaching position in the frontier, adamant in demonstrating that she is capable of looking after herself. As she finds her aunt's journal about her life as a frontierswoman, Elizabeth utilizes it as a model to start her own journey.
In Depth
When Calls the Heart has two individual narratives and two separate moments in time. The first one is established in 1910. There we see Elizabeth Thatcher (Poppy Drayton), recently graduated from teacher's college. Originally her goal was to teach in the city but she gets an offer of an educating post out West in a small mining town called Coal Valley. She would be away from all the sheltered high society living that she's been used to her whole life. Elizabeth finds opposition from her loved ones but she wants to prove to everyone that she could fend for herself even though her privileged upbringing would say otherwise. She finds herself doubtful to be willing to encounter the challenges of the frontier. But Elizabeth finds her aunt's diary about her personal knowledge of being a teacher in the west. After these different events she's convinced that God is calling her out west.
Then we jump to the second narrative of When Calls the Heart. From Elizabeth in 1910 we meet her aunt with the same name, Elizabeth Thatcher (Maggie Grace). Aunt Elizabeth is doubtful of her decision to teach in the west as well after a scary encounter with wolves in the very beginning of her journey. There she meets Wynn (Stephen Amell) who is quickly charmed by her. Elizabeth finds to love the residents of Coal Valley & her students.
Back to 1910 Elizabeth from When Calls the Heart, she decides to embark the journey to her offered post in Coal Valley while she keeps her aunt Elizabeth's diary close for guidance. For their reassurance, her parents send Edward (Daniel Sharman), a family friend and Mountie, to keep an eye on her and make sure no harm comes her way. He accompanies Elizabeth to Coal Valley but on their way they encounter some challenges like an attack to her stagecoach which leaves them to get to the town by foot. After arriving in the small town, she immediately hears about the tragedy that affected Coal Valley. A mine explosion that killed many men and left most of the women widowed. The town is trying to mend and recover as Elizabeth tries to take up being the new teacher of the town.
The story in the When Calls the Heart movie doesn't have an official ending due to it was originally planned for it to have a sequel. But after the movie was released the TV Series When Calls the Heart was in the process of its realization.
Janette Oke and When Calls the Heart
After Michael Landon Jr. was finished with When Calls the Heart he went to Janette Oke and mentioned to her that it would be a good chance to write another series. Janette had some hesitation since she had retired some years before and didn't know if she wanted to go back dive into that. Michael mentions to her the possibility of a co-write. She thinks of her daughter Laurel Oke-Logan who had previously published written projects. Her daughter agrees and they co-write the new When Calls the Heart series "Where Courage Calls". The series includes characters seen in the film but also some new characters. Going in depth in their lives and emotions.
When Calls the Heart for society today
To have something like the film When Calls the Heart and the TV Series of the same name in society today is meaningful. With all the wounds and darkness that's out in our world even so in movies and television, When Calls the Heart glows with values, love and role models that are needed today. It is a positive influence especially for the younger generation that is coming up. That generation has been growing up with many negative influences around them like humiliation, harassment, no thought in other people's sentiments. So with this movie and the TV series, they learn that there's a contrasting way of livelihood. Entertainment like this is something that the whole family can watch without worrying that something inappropriate will come up. To have a wonderful example of humanity onscreen. Not perfect people but people who are dependent on God and show mercy and love to others.
When Calls the Heart reminds people to go back to the virtues and values that are needed to make our surroundings better. It shows the great importance of community. For example, even though the community of Coal Valley was suffering through a tremendous loss and were adjusting to the new life that was their new reality, they were trying to keep on going together as a community. This movie clearly shows how much of an influence we can be in our own community for good or bad. And that support and a helping hand to others in our surroundings is what makes us go forward.
Film Info
Starring in When Calls the Heart is Maggie Grace (known for the Taken franchise), Stephen Amell (known for playing the hooded superhero in Arrow), Poppy Drayton (known for The Shannara Chronicles) and Lori Loughlin (known for starring in the Hallmark Channel series When Calls the Heart). The movie is produced by Laurette Bourassa and David Kappes (Jaws 3-D). Executive producing the film is Brad Krevoy (Dumb & Dumber), Brian Bird (Touched By an Angel), Michael Landon Jr. (Love Comes Softly), Roman Viaris (Rambo), Francisco Gonzalez (All Yours) and James Townsend (High Strung). The film is directed by veteran director and producer, Michael Landon Jr.
When Calls the Heart runs for 89 minutes and was released in October 2013 in the Hallmark Channel. Closed captions are available in English and Spanish.