---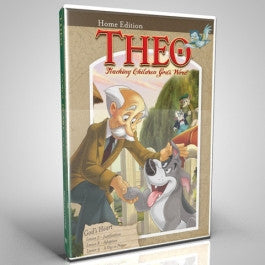 Sale
Theo Vol 3: Gods Heart DVD
Additional Information
Languages: Spanish, Portuguese, Hindi, Mandarin, Korean, and Japanese
Dove Approved: Dove Family Approved
Run Time: 77 min
Sale price $11.23 Regular price $14.99 You save 25%
Estimated arrival between and for USA.

---
You might also like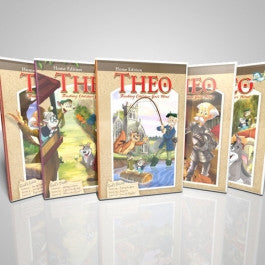 Sale price $42.99
Regular price
$74.95
Sale
—
Sold Out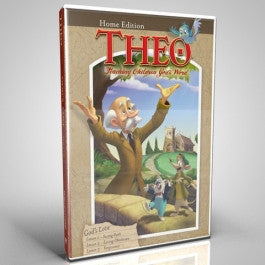 Sale price $9.99
Regular price
$14.99
Sale
—
Sold Out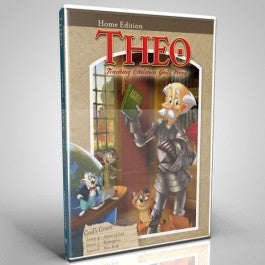 Sale price $11.23
Regular price
$14.99
Sale
—
Sold Out
Theo Vol 3: Gods Heart DVD
Kids and parents alike will enjoy Theo, an entertaining animated series that helps all of us have a better understanding of God. In Theo Vol 3: Gods Heart, Theo, a student of God's word, helps kids understand God's love while tackling the theological topics of justification, adoption, and prayer.
Fun and Educational
In the spirit of excellent animation that inspired classic Disney movies, Theo is a beautifully animated series introducing kids to theological topics in a way that they can understand, enjoy, and grow from. Every lesson in the video series, soft-spoken theologian Theo and his two mice friends learn important Bible lessons and walk out aspects of the Christian faith. In the Theo Vol 3: Gods Heart DVD, kids learn some deeper theological concepts, including how we are justified by faith, how we are adopted into God's family, and about the nature of prayer.
The term "justification" seems like a hefty theological concept to ask children to understand, but Theo does a terrific job of breaking down this complicated idea into a concept that even young children can understand. In less than seven of the Theo Vol 3: Gods Heart DVD, Theo helps his two young church mice, and the children watching, to understand how even the thief next to Jesus on the cross could be justified by his faith. Is it about what we've done or what Jesus has done that justifies us to God? Kids will find out.
In lesson eight of the Theo Vol 3: Gods Heart DVD, Theo and his friends talk about adoption. When an orphaned dog enters the home, belfry and Luther aren't so sure they like the new visitor. Theo takes the opportunity to explain concept of adoption and how God has adopted us into his family to teach the mice how important it is that we have been welcomed and should be open to welcoming others in turn. All Christians have been welcomed into God's family, and that adoption lets us cry out "Abba, Father" a term of great intimacy we can only know when we know the love of our Father.
In the final lesson of Theo Vol 3: Gods Heart DVD, kids have a chance to see their friend Theo as he prays. Using some fun examples, video shows kids how to pray, just as Jesus taught his disciples. Kids learn how prayer is simply talking to God and biblical truths about prayer and receiving. Jesus taught us how to pray in the Bible, but it can be difficult for kids to grasp what this means in everyday life. Learn with them as Theo teaches about prayer.
Perfect for Sunday school for homeschoolers or anyone else who wants their kids to learn more about God, the Theo series of DVDs, including the Theo Vol 3: Gods Heart DVD, offers parents and children terrific way to learn. Study God's Word in a fun and entertaining way with Theo!
Theology Made Simple
Breaking down the details of Christian theology can be difficult for children understand but with Theo Vol 3: Gods Heart, parents and Sunday school teachers have a new resource. Each lesson contains a parent's guide to facilitate Bible studies with children. Scripture references, activities, questions for discussions, and even devotional topics will help you make the most use of these fine and educational DVDs.
Your kids will love the heartwarming characters and rich, quality animation, but parents and teachers will love the way Theo tackles intimidating words and topics and makes them easy to understand. Children will grow in their faith as they become more comfortable with some of the phrases and ideas that set Christianity apart. Best of all, each volume includes a bonus, The Good News.
Theo and his two friends, church mice who live with him in a quiet English village, encounter colorful animated characters that come to life with excellent animation and heartwarming characterization. All of this sugar makes the truth of doctrine and theology quite palatable for kids and teachers alike; a great way to learn about topics that could be considered dry and boring if they were presented in such a warm and friendly way.
Kids will love the applicable illustrations and analogies that help them understand more about God's Word, the Bible, and living as Christians in today's world. Parents will enjoy the quality and skill with which the Theo Vol 3: Gods Heart DVD is made and will never feel as though they have to give their kids something second rate in order for it to be good, Christian content.
Created for Families Just Like Yours
Theo's creator, Mike Joens, loves families being able to learn the Bible together and enjoy quality time with one another. In the Theo Vol 3: Gods Heart DVD, ten minute animated videos teach important biblical concepts that both educate and entertain. After watching that night topic, parents can refer to the parent guide, which is included, to help them have great conversations with their kids. Questions will inspire discussion, and family activities give families fun ideas of other things they can do together. In addition, Scriptures for suggested reading help take the topics from the video and make them relevant to the Bible's everyone has in the family so they can see these things come to life in their own copies of the word of God, not just on the screen. Each Bible study wraps up with a closing prayer families can follow to help cap off their time together learning about God. One of the best aspects, though, are the devotionals that help make the topic relevant through the week.
Theo makes it easier to help children understand the Bible and their Christian faith. We do not all have to be teachers of God's word in order to share with our kids what's important to know as a Christian. With his warm, inviting manner, Theo takes the part of children's theology instructor to be the entertaining, ultimate Sunday school teacher, available any time on DVD! Enjoy Theo Vol 3: Gods Heart DVD with your family today.