---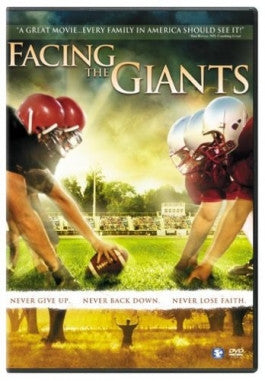 Sale
Facing the Giants DVD
Watch Trailer
Additional Information
Languages: French, English, Spanish, Portuguese, Thai
Run Time: 111 min
Subtitles: English, Spanish, French, Chinese, Portuguese, Thai
Sale price $5.99 Regular price $14.99 You save 60%
Estimated arrival between and for USA.

---
You might also like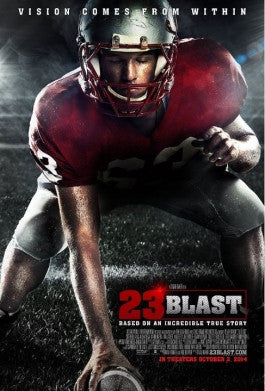 Sale price $13.95
Regular price
$19.99
Sale
—
Sold Out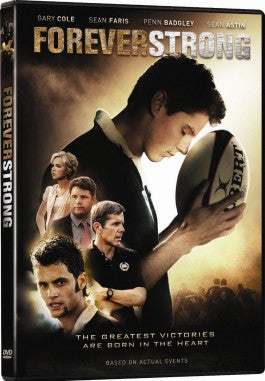 Sale price $5.99
Regular price
$19.95
Sale
—
Sold Out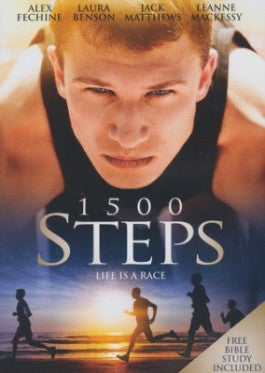 Sale price $5.99
Regular price
$19.99
Sale
Facing the Giants DVD
From the producers of Flywheel, Fireproof, Courageous, and War Room, comes a football film that is a must-add to your collection. Facing the Giants is a sports drama about high school football coach, Grant Taylor, who struggles to keep his team, and his job, afloat. Grant Taylor is the coach of the Shiloh Christian Academy Eagles, and after years of disappointing seasons, he knows that it won't be long before he's targeted as the weak link. In addition to problems on the field, he faces financial stress and failure as he and his wife deal with infertility.
Coach Taylor Calls out to God
Desperate, and with nowhere else to turn, he cries out to God, asking Him for a way out of his failure. That's when the miracles begin to happen. Once Grant gives up all he has to serve God, he finds everything in his life turning around, from his life at home to the way he coaches his football team. He soon challenges his players to make the same commitment that he's made and encourages them to turn their lives over to God as well. The result is an incredible team bond as the Shiloh Eagles begin to work together and let their faith motivate them before anything else.
Fatherhood and other Themes
Meanwhile, high-schooler David struggles to find his place and is motivated by his father to join the Eagles football team. After some convincing, David is able to join the team as a kicker and hone his skills through teamwork and perseverance. In the end, the team must come together to face their greatest football rivals in a stunning and thrilling conclusion.
Early Start for the Kendrick Brothers
Back in 2003, the Kendrick Brothers were just a couple of brothers trying to make a movie with their church, Sherwood Baptist Church. With a small budget and one camera, they were able to produce their very first film, Flywheel. Much to their surprise, this film was able to do well in theaters and ended up being held over for several weeks due to its theatrical success. After their success, they knew they had found their calling and started working hard on producing a second film.
That film would be none other than this movie, Facing the Giants. Due to the popularity of their first film, they were able to once again have a theatrical release for this movie. So, on September 29th, 2006, Facing the Giants came to multiple theaters, grossing over $1.3 Million dollars on opening weekend.
Over a Decade of Quality Christian Films
The Kendrick brothers would continue on from this success to create three more films. Fireproof (starring Kirk Cameron) would release in 2008, communicating the important message, "never leave your partner behind." 2011 would see the release of Courageous, a thrilling movie about the importance of fatherhood. And finally, in 2015 was the release of War Room, the Kendrick Brothers biggest movie to date, which focused on the importance of prayer.
Through their films, the Kendrick brothers have been able to reach an incredibly large audience and influence many people's lives. It's clear that they want nothing more than to spread the word of God and His teachings to as many people as possible. They've definitely found their niche through filmmaking and have been able to communicate these ideas and concepts through this medium.
The Kendrick Brothers have also played a large part in being a driving force behind the Christian Film Industry today. They are always working to prepare the next generation to take on the role of producing future Christian movies. Through their work at intensives, camps, and conferences, they are always trying to inspire the younger generation to work hard and help make the Christian film industry even better in the next generation.
Setting the Example for other Filmmakers
In one of the most poignant scenes in the film, Coach Grant Taylor makes one of the football players do the "death crawl", which involves carrying another player on their back and crawling dozens of yards across the field. As an added challenge, Grant adds a blindfold to the man, so he has no idea how far he has crawled. Grant continues to motivate the player to move farther and crawl harder, all the while motivating him not to quit, but to keep fighting. In the end, when the player has exhausted his resources, he asks the coach how far he went; 40 yards, 50 yards? When he takes the blindfold off, however, he discovers that he has journeyed the entire way from one end of the field to the other.
Whether the filmmakers meant it this way or not, they have certainly lived out this same principle, running the race to the best of their ability, even to the point of complete and total exhaustion. But the end result is that they have become one of the biggest names in the Christian movie industry and have become role models to everyone else on how to live out the Christian faith and make good Christian movies. They've faced trials and limitations (such as only having one camera to shoot an entire movie on), but they've never let anything like that stop them from pressing on in the direction God has called them. And because of their motivation and perseverance, they have brought many to Christ and become an incredible example for anyone in the Christian movie industry.
This Facing the Giants DVD is presented in Widescreen format and has a run-time of 111 minutes. It is rated PG by the MPAA and was rated "Faith-friendly" for all ages by the Dove Foundation. The DVD features language tracks and subtitles for English, French, Spanish, Portuguese, and Thai. This Christian movie also features the following bonus material:
-"With You" Musical Tribute to the Volunteers
-Behind the Scenes Facing the Giants (13 Deleted Scenes)
-Filmmaker Commentary
-Fumbles, Funnies, and other Fun Stuff,
-Interview with Mark Richt: University of Georgia Bulldogs Football Coach
Facing the Giants is sure to inspire families of all ages to have faith and never give up. In the words of Coach Grant Taylor in one of the most impacting scenes of the movie, "Don't quit! Don't quit!"