---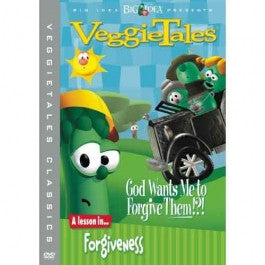 Sale
Sale price $5.99 Regular price $14.99 You save 60%
Estimated arrival between and for USA.

---
You might also like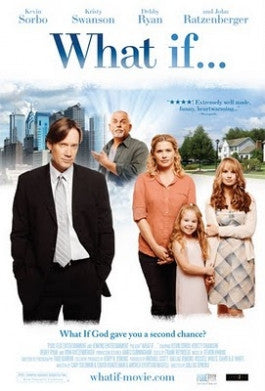 Sale price $8.99
Regular price
$9.99
Sale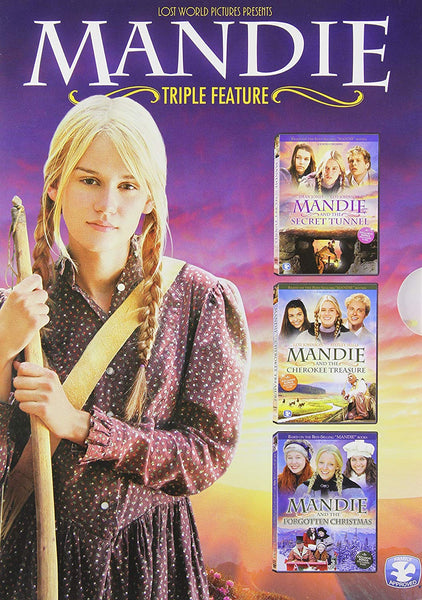 Sale price $9.99
Regular price
$19.99
Sale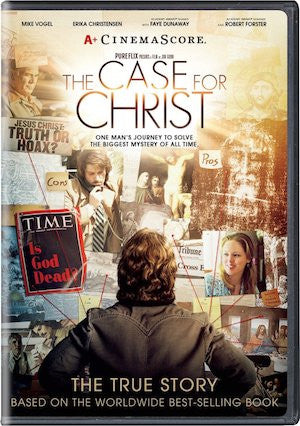 Sale price $14.99
Regular price
$24.99
Sale
—
Sold Out
Veggie Tales: God Wants Me to Forgive Them? DVD
Veggie Tales: God Wants Me to Forgive Them? is an animated children's story about the importance of forgiveness and loving your enemies. Done in the popular Veggie Tales style of story-telling vegetables, this film is delightful and fun for the whole family. Targeted toward kids, Veggie Tales retells stories from the Bible, putting a humorous and fun twist on themes and lessons taught in the Bible. This film teaches Biblical values and wholesome lessons, but is also great fun and entertainment. Veggie Tales: God Wants Me to Forgive Them? is vibrant and colorful and will appeal to kids of all ages.
Synopsis
Veggie Tales: God Wants Me to Forgive Them? is made up of two short stories, each teaching the lesson of forgiveness.
The first story opens with Pa Grape and the Grapes of Wrath. Pa Grape is their father, and they are a large family who does not know how to be nice to each other. The grapes regularly insult each other and like to call people names. They are rude and obnoxious, and decide that they don't want to change their behavior. They are driving down the road in their car, singing a rather loud song about how cranky and mean they are all the time. As they are driving, they crash into a tree stump.
Beside the scene of their car crash is Junior Asparagus. He sees them crash and comes over to see what he can do to help. However, as soon as he approaches him, the grapes ridicule him and call him names. They question what he is, since he is not a grape and make fun of his being an asparagus. Junior's father comes over and explains to the grapes that it is not nice to call people names and that they shouldn't make fun of someone for being different than they are. He points out their bad attitude and tries to get them to apologize. Junior decides to forgive them, despite their mean and obnoxious behavior.
The story is interrupted by Bob and Larry wanting to share their thoughts on forgiveness. They pose the question of how many times one must forgive. It is decided that they will look up Bible verses about forgiveness on Qwerty, their computer. Looking at Matthew 18:22, they determine that Jesus said to forgive seventy times seven times.
Veggie Tales: God Wants Me to Forgive Them? continues on with the story of the Grapes of Wrath, who realize the importance of forgiveness. They apologize for their behavior and promise to change their ways. They then decide to rename themselves "The Grapes of Math", choosing to move on from their previous behavior. They get in their car and drive away, singing a new song about math.
The second part of this film is a segment entitled "Larry's Lagoon". This is a parody on the popular TV show "Gilligan's Island". It opens on a tourist boat currently being driven by Larry the Cucumber. Unfortunately, while he is supposed to be steering the boat, he becomes very caught up in a daydream. This causes him to crash and sink the boat, leaving all the passengers and crew stranded on a deserted island.
Larry apologizes profusely for his carelessness, but the passengers refuse to forgive him. They are angry for the way that he acted without thinking and start being quite mean to him. Weighed down by guilt and sadness, Larry runs away from the rest of the people on the island. He decides that they do not want him there and he would be better off alone. Bob the Tomato sees the way that their words hurt Larry, and feels extremely guilty. He talks to all the passengers and tries to make them see how their words affected poor Larry.
After much discussion, they all decide to seek out Larry and apologize to him for their ways and ask for his forgiveness. They find him and inform him that they forgive him for his actions and ask for his forgiveness for the way they treated him. He gratefully accepts and the crew and passengers rejoice. Suddenly, a palm tree named Palmy appears and sings a song called "The Forgiveness Song". This musical number teaches the importance of forgiveness and the rewards that come from not holding grudges.
In the end, the Professor reveals a helicopter that he made out of bamboo the night before and everyone is able to hop on it and escape. Had they not been able to work together, they might not have ever gotten off the island.
Veggie Tales: God Wants Me to Forgive Them? teaches the importance of forgiveness. It is often hard to forgive our enemies, but the Bible commands us to love them and pray for them. If we do not forgive them, we will maintain a heart full of bitterness toward them and this will prevent us from having good relationships. This film teaches these deep lessons about restoring relationships, apologizing, and asking for forgiveness to children. Parents can use this film as a teaching tool as well as for wholesome entertainment. Each part of this DVD is dedicated to instilling principles and lessons of forgiveness in children. Veggie Tales DVDs are priceless resources for parents and churches to use in ministering to children. Not only is each one of these stories humorous and playful, they teach important messages and topics found in the Bible. Children will be captivated by the fun style of Veggie Tales and taught priceless lessons that are often hard for them to grasp through adult material. Geared toward kids, Veggie Tales: God Wants Me to Forgive Them? is a DVD you will not want to miss out on.
Veggie Tales: God Wants Me to Forgive Them? is not rated by the Motion Picture of Association. It is, however, considered suitable for all audiences. It is always recommended that parents preview all content to determine what is suitable for their family.
---
DVD Features:
Rated: G
Region: Region 1 (USA, Canada)
Languages: English
Format: Full Screen
Bonus Material:
Over two hours of family fun!Special Bonus Feature! The Forgive-o-Matic! Audio Commentary - Behind the Scenes - Family Activity - How to Draw Palmy and the Grapes Car - Veggie Karaoke - Concept Art - Word Find Game - Interactive Storybook - PLUS ... Hidden "Easter Egg" features!
Time: 83 minutes
Release: 1994