---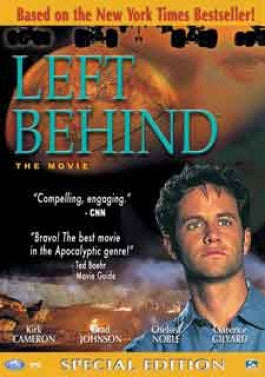 Sale
Left Behind the Movie DVD
Watch Trailer
Additional Information
Cast: Kirk Cameron, Gordon Currie, Tony de Santis, Colin Fox, Jr. Clarence Gilyard
Director: Vic Sarin
Producer: Peter Lalonde
Languages: English, Spanish
Release Date: 4/28/04
Run Time: 95 minutes
Screen Format: FS
Subtitles: English
Closed Captioning: Yes
Region Code: 1

See More
Sale price $6.99 Regular price $7.98 You save 12%
Estimated arrival between and for USA.

---
You might also like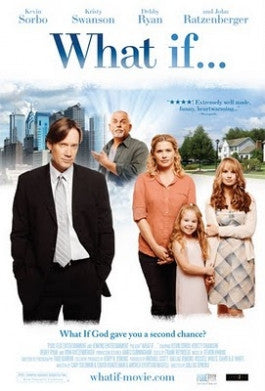 Sale price $8.99
Regular price
$9.99
Sale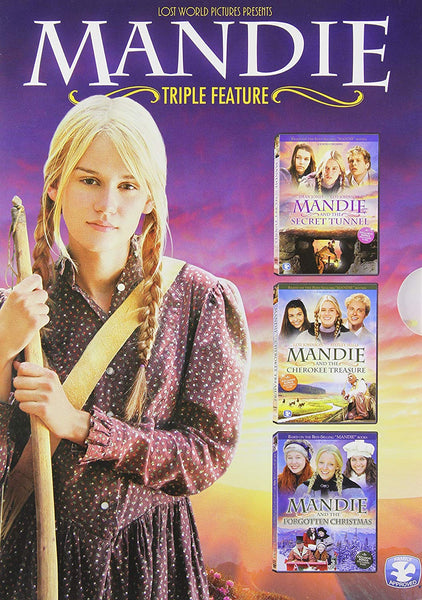 Sale price $9.99
Regular price
$19.99
Sale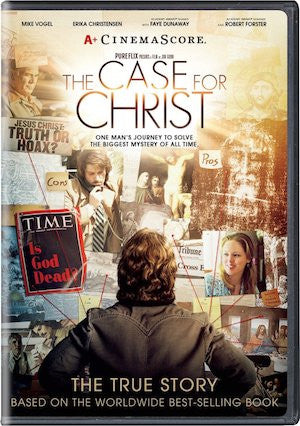 Sale price $14.99
Regular price
$24.99
Sale
—
Sold Out
Left Behind The Movie
When journalist Buck Williams and airline pilot Ray Steele are faced with the mysterious disappearance of thousands of people, including their own families, they both decide the truth to their unexpected disappearance must be discovered. But as the world plunges into chaos they are not quite prepared for the dangerous journey that lies ahead. When their only link to the truth, a man by the name Dirk Burton, is mysteriously murdered they must risk everything or face never knowing the truth. Based on the best selling book series comes a story of mystery, deceit, betrayal, and a quest that will change the course of lives forever: Left Behind The Movie. Starring Kirk Cameron (Fireproof), Brad Johnson, Chelsea Noble, and Clarence Gilyard Jr.(A Matter of Faith).
The Story
Buck Williams (played by Kirk Cameron) has spent his entire life wandering the world in search of that one Pulitzer prize winning story. From California to Cape Town and back again he has seen it all. . . all that is except the ever elusive story. This time, however, he knows he is on to something. Something big. A series of strange events starting in Israel have begun to unfold, and it all started the moment millions of people vanished from the earth without a trace, and without an explanation. As chaotic and fearsome events seem to escalate across the earth Buck stumbles upon a possible answer, in the film Left Behind The Movie. It seems Buck's eccentric friend Dirk Burton (played by Jack Langedijk) holds a micro-disk containing secret files. When Dirk is unexpectedly murdered along with another journalist working on the story, things take a jarring turn. Hoping to unlock the secret to the vanishing people Buck takes the micro-disk and sets off on an adventure.
Meanwhile, pilot Ray Steele (played by Brad Johnson) is struggling with his own mystery in the film Left Behind The Movie. When his wife and son vanish like millions of other people Ray is left with only his energetic daughter Chloe (played by Janaya Stephens). Struggling to find answers, the two set off to find and rescue their missing family members at any cost. When Ray and Buck are drawn together in an unexplainable web of events they meet a man who could hold the answers they have been seeking. But others stand in their way, an attractive flight attendant named Hattie Durham (played by Chelsea Noble) for one. Will Ray and Buck find the answer to the mysterious vanishment or will their quest for truth only end in disaster?
Kirk Cameron
One of the men behind the film Left Behind The Movie is the well-known Christian actor Kirk Cameron. Born and raised in a suburb of Los Angeles Kirk entered the world of media from a young age, starting his acting career at the age of nine. An atheist growing up, Kirk became a Christian at the age of seventeen while starring in the popular television show "Growing Pains." It soon became clear that his life had been radically changed, as he quickly clashed with the show's producers over immoral story lines. After the series ended Kirk starred in a few more movies before mostly disappearing from the mainstream world of entertainment. Instead, Kirk dedicated his time and talents to the world of Christian media starring in Fireproof and other films such as Monumental and Unstoppable. In addition, Kirk works with fellow Christian Ray Comfort to train and equip evangelists and the two co-founded the ministry Way of the Master. Kirk's heartfelt commitment to quality Christian films is reflected in his acting in the film Left Behind The Movie.
Important Messages
Filled with action, adventure, mystery, betrayal, and peril the film Left Behind The Movie will keep viewers of all ages on the edge of their seats. It is more than an exciting film, however, it is a film with important messages. Woven into the story is a powerful reminder that no matter what happens, no matter what goes wrong, no matter what choices we make or do not make, God is ultimately in charge. An amazing reminder of the power and might of God, Left Behind The Movie will encourage believers of all ages with the message that God holds the past, present, and future securely in his hands, and that nothing can happen without his knowledge or permission. Also contained in amongst the adventure and action of Left Behind The Movie is a message that the only way to salvation is through Jesus Christ. No hope, works, or effort on our own part can earn us a place in heaven, only by accepting God's free gift of grace through Jesus' death on the cross can a man be saved. A powerful reminder of the goodness of God's grace, the might of his hand, and the salvation of the gospel Left Behind The Movie will encourage, challenge and remind viewers as Buck and Ray struggle to find their own answers in an increasingly chaotic world.
Conclusion
Journey with Buck and Ray as they set of on their own unique adventures to find the truth behind a mysterious disappearance. As you see their stories draw together you will come to see God's mighty hand in the workings of time, place, and history. You will be encouraged by the reminder of God's salvation, and challenged to live a life changed by his grace. With enough action, adventure, and peril to keep viewers on the edge of their seats, the film Left Behind The Movie is a movie with mystery and a message.
Left Behind The Movie has been rated PG-13 by the Motion Picture Association of America for violence. This film received the "Faith Friendly" award for ages twelve and up from the Dove Foundation and is recommended for older viewers by Focus on the Family's "Plugged In". As always, it is recommended that parents preview all content to determine what is suitable for their children, but the film Left Behind The Movie is generally considered appropriate for most older audiences.