---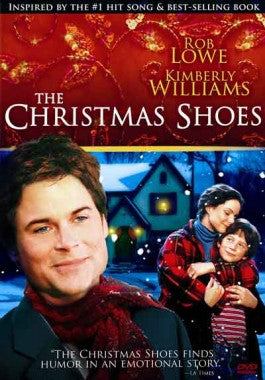 Sale
The Christmas Shoes DVD
Watch Trailer
Additional Information
Languages: English
Run Time: 94 minutes
Screen Format: FS
Region Code: 1

See More
Sale price $9.99 Regular price $14.98 You save 33%
Estimated arrival between and for USA.

---
You might also like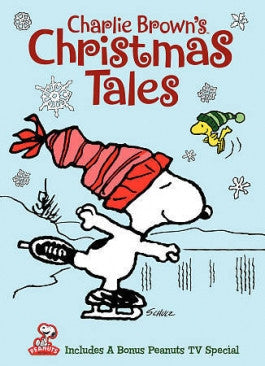 Sale price $13.99
Regular price
$14.97
Sale
Sale price $5.99
Regular price
$14.94
Sale
—
Sold Out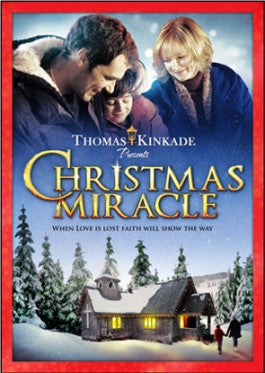 Sale price $5.00
Regular price
$8.99
Sale
—
Sold Out
The Christmas Shoes DVD
Inspired by the hit song and popular novel, The Christmas Shoes is the film adaptation of one of the most touching Christmas stories ever. This 2002 made-for-TV movie features Rob Lowe and Kimberly Williams in a timeless Christmas story of a little boy on a quest to buy his mother some special shoes for Christmas. When a young boy by the name of Nathan learns that his mother is ill and may not have long to live, he sets out to buy her the ultimate Christmas gift. A pair of special dancing shoes that hold a lot of significance for his mother.
Scraping for the money, Nathan finds himself simply unable to gather enough funds to give his mother a Christmas present. When he arrives at the store to try and haggle for the shoes, still short of the necessary cash, the clerk tells him he simply cannot have the shoes and he'll have to come back after New Year's. Another man, by the name of Robert (played by Rob Lowe) overhears the conversation and decides then to help Nathan and provide the rest of the money needed for Nathan to get the shoes. The Christmas Shoes is a touching story that reminds us of the importance of the Christmas spirit and how we should always be willing to give and help others.
Based on the Song and Book
The Christmas Shoes was originally a song released in 2000 by the Christian vocal band NewSong. It was released as a bonus track on their 2000 album Sheltering Tree. It became a popular song very quickly and is now considered to be one of the most well-known contemporary Christmas songs. It can be heard every year playing on the radio and is still considered as a wonderful song to reflect the true meaning of the Christmas season.
The very next year, the song had hit its peak and had become so popular a book was written inspired by the song entitled "The Christmas Shoes". Written by Donna VanLiere, this book ended up launching an entire series of Christmas-themed books, all written by VanLiere. The book expanded on the original idea of the song and provided more context and story to the powerful song. The very next year, following the release of the song and the book, The Christmas Shoes would become a made-for-TV movie, starring Rob Lowe and Kimberly Williams. This film brought to life the story and heart of both the book and the song in an inspiring way.
The Story
The Christmas Shoes features several intertwining plots. In the beginning of the movie, while they can initially feel disconnected and like separate stories, as the movie progresses you begin to see how they all line up and affect each other. At its heart, The Christmas Shoes is all about bringing storylines together to show how one small good deed can provoke a variety of miracles and inspiring events. It's designed to encourage you to exhibit the Christmas spirit in your own life, not only during the Christmas season, but all year long.
In the beginning of the Christmas Shoes, we learn about Robert Layton, a lawyer who has become so focused on his job for so long that he has neglected his family and home life. Because of his long hours and intense focus on his work exclusively, he has lost touch with his family, and worries he may never be able to restore their once-great relationship. In another storyline, we learn about Nathan, a young boy with a terminally ill mother and a father who runs a small business. The film focuses on Nathan and his father and how they prepare to deal with the loss of Nathan's mother Maggie.
One day as Robert is walking home from work, he sees a delivery truck drop a pair of red shoes onto the ground. Robert picks them up, and after forgetting several times, he finally returns them to the store. We later learn that the young boy Nathan overhears his mother talking about the days when she used to dance. She met her husband Jack at a dance studio and every year they would go dancing on their anniversary. Nathan decides to get his mother one Christmas present before she passes away; a very special pair of Christmas dancing shoes that she can wear. Nathan soon realizes that he needs to get the shoes fast. AS his mother deteriorates, he realizes that this is her last Christmas and he needs to hurry about and get the shoes as fast as possible.
Nathan runs into trouble when he realizes he doesn't have the means to pay for these shoes. But, out of love for his mother and determination, he works hard collecting bottles to save up the money. Scavenging the town, he is able to collect money selling the used bottles for a nickel a piece. When his mother begins to deteriorate again, he rushes to the store to pay for the shoes, only to find it closed. After eventually working with the employee, they are able to open it up and let him in. When he goes to pay for the shoes, however, he finds he doesn't have enough money. The clerk refuses to help and tells Nathan to come back after the new year when they will most likely be on sale. Nathan knows that his mother won't be able to last that long, however, and pleads for help. Robert, who was standing behind Nathan at the time, decides to help Nathan and pays for the rest of the shoes. The Christmas Shoes is a touching reminder to help others during the Christmas season and communicates the same inspiring message found in the original song.
Conclusion
This inspiring Christian movie is a powerful reminder to look out for others and help them with their needs. The story of Nathan is a heartbreaking one as we see him on a fervent quest to find enough money to buy his mom her very own pair of special Christmas shoes. If you enjoy Christmas movies with heartfelt messages or like films like you might find on the Hallmark Channel, Christmas Shoes is an enjoyable movie based off the equally touching song and book.