---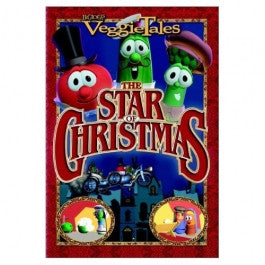 Sale
VeggieTales: The Star of Christmas DVD
Watch Trailer
Additional Information
Subtitles: English and Spanish
Closed Captioning: Yes
Sale price $9.17 Regular price $9.99 You save 8%
Estimated arrival between and for USA.

---
You might also like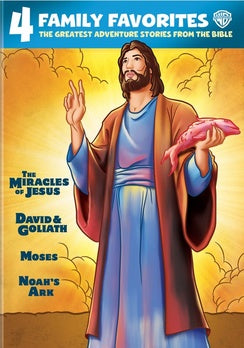 Regular price

$14.95
—
Sold Out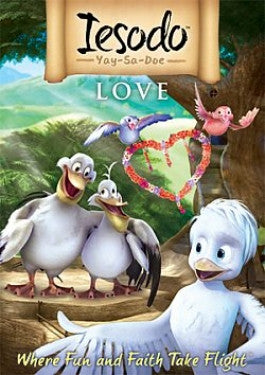 Sale price $9.17
Regular price
$9.99
Sale
—
Sold Out
Sale price $5.99
Regular price
$14.94
Sale
—
Sold Out
VeggieTales: The Star of Christmas
It's another exciting Veggietales Christmas special in VeggieTales: The Star of Christmas! This fantastic Christmas special from Big Idea and the VeggieTales crew tells the story of Cavis and Milward too bumbling characters played by Bob and Larry who are determined to create a Christmas spectacle like London has never seen before. Cavis is overcome with depression about how many people are down and full of hate in the city of London. It seems like everywhere you look there's people fighting, arguing and complaining. All of this motivates Cavis to write a musical, one bigger than London has ever seen. It's a true story of never-ending love, it's the play The Princess and The Plumber! Cavis is determined that this play is going to single-handedly save London. It's such a wonderful love story that if people saw it they would be transformed by it. But, how do they get them to the theater? That is the problem that Cavis finds himself dealing with. And so, he comes up with a solution, in the form of not only stealing the Star of Christmas, a famed artifact to put in the play, but also adding light bulbs to every square inch of the stage. Not only will this modern technology be present on the scenery, it's going to be on the people! VeggieTales: The Star of Christmas is 45 minutes of fun and excitement as you follow along with Cavis and Milward as they attempt to save London through an exciting play that explores the power of love. But, when they get so motivated on getting people to come to the play, they begin to lose sight of what's important and they start stealing, thieving and getting careless all in the name of saving London. Will they ever realize what Christmas is truly about and who is the One who can really teach us how to love? Or will they spend their Christmas in jail? Find out in VeggieTales: The Star of Christmas!
Another Big Idea Production
VeggieTales: The Star of Christmas is the second Christmas special to be released by Big Idea Productions, following up their original hit The Toy that Saved Christmas. This film is unique to the Veggietales series in a variety of ways. Not only was it packaged and distributed in a more feature-length style way, it was presented more like a feature-length film as well. It had an increased runtime of around 45 minutes and took on a more cinematic perspective, focusing on one longer storyline as opposed to the usual two different stories one episode, and they even eschewed a Silly Song with Larry in order to tell a more cohesive story sans interruption. All of this combined to make a fantastic Christmas special perfect to share with your kids of all ages this Holiday season. Whether they're huge VeggieTales fans or have never seen an episode, this is a show that will inspire them and have them laughing themselves silly. It's got true moments of learning and good hearts and other moments that are just laugh out loud silly. VeggieTales delivers their classic blend of humor and education in this series as they create a wonderful Christmas special for kids of all ages. VeggieTales is a timeless series that transcends age barriers, creating a show that is welcoming not only to young and older children, but to adults as well! If you put this film on for your child, you may very quickly find yourself intrigued in the story and laughing out loud at the humor as well!
Teach London to Love; WIth Lightbulbs?
Cavis (played by Bob the Tomato) has a grandiose idea this Christmas season. He knows that the season is fast approaching and he knows that London has very little Christmas spirit or cheer. Everywhere he looks he just sees people caught up in themselves or full of hate. Wanting to change this, he becomes inspired to write a play, an exciting and grand musical that will completely change the way the entire town of London thinks and feels! At least, that's what Cavis' plan is. But as the musical quickly approaches, they suddenly find out that a Christmas pageant is also taking place that same night (Christmas Eve). They wander over to the local church to investigate and find that a group of kids are putting on a Christmas pageant that explains the story of Jesus. It's also revealed that they're going to put the Star of Christmas on display, a relic from the 16th century that hasn't been publicly displayed in centuries. This seems to be the main draw of the pageant, and people from all over the town are coming to watch it -- including the prince himself!
In VeggieTales: The Star of Christmas, Cavis begins to realize that this is stealing away business from his play, and far fewer people are going to see his musical because everyone wants to go to the pageant. And so, Cavis decides that he needs to get the Star of Christmas and put it in their show. Then, he realizes, everyone will go to their musical instead of the pageant. However, Cavis quickly realizes there's only one way to get the Star of Christmas, and that's to steal it from the church! So, Cavis and Milward sneak into the church late one night and sneak out with the Star of Christmas (after a long and dangerous chase with former wrestler and current pastor Moyer the Destroyer). But after a series of horrific events, not only do they burn down the theater, they get caught and find themselves in jail, just hours before their musical was supposed to take place. It's only then that they learn the true meaning of love, thanks to a friend who reaches out to them and bails them out of jail. They soon realize in VeggieTales: The Star of Christmas that the true meaning of Christmas is love and friendship, and the one who brings us true love is none other than Jesus Christ. We can't teach people love by having massive extravagant musicals and plays. We just need to show them Jesus and show them how he loved us first! VeggieTales: The Star of Christmas is a wonderful film for youngsters of all ages and it is sure to be a hit in your home this Christmas season.