---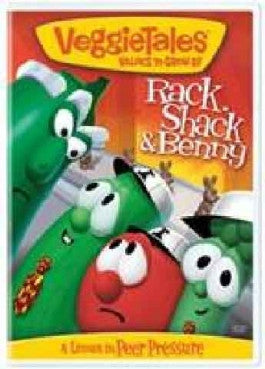 Sale
VeggieTales: Rack, Shack, and Benny DVD
Watch Trailer
Additional Information
Director: Phil Vischer
Producer: Phil Vischer
Languages: English
Run Time: 30 minutes
Subtitles: English, Spanish
Closed Captioning: Yes
Region Code: 1

See More
Sale price $9.17 Regular price $9.99 You save 8%
Estimated arrival between and for USA.

---
You might also like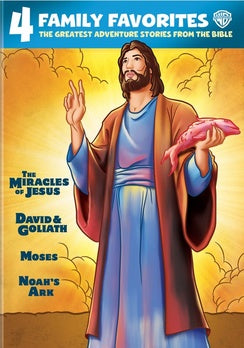 Regular price

$14.95
—
Sold Out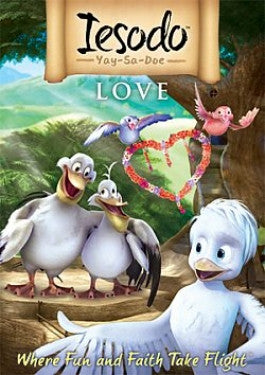 Sale price $9.17
Regular price
$9.99
Sale
—
Sold Out
Sale price $5.99
Regular price
$14.94
Sale
—
Sold Out
VeggieTales: Rack, Shack, and Benny
Rack, Shack, and Benny spend all day every day making chocolate bunnies at the Chocolate Factory. When Nebby K. Nezzer announces that all of the workers are allowed to eat as many chocolate bunnies as they want to, the employees go all out!... Everyone that is except Rack, Shack, and Benny. Their problems are only just beginning, however, what will happen when Mr. Nezzer asks them to sing the bunny song in front of his giant bunny? From Veggie Tales comes the story of Shadrach, Meshach and Abednego in Rack, Shack, and Benny a story about honoring God and resisting peer pressure.̴Ì_
The Story
It seems Larry the Cucumber may be following the wrong advice. When Bob comes across Larry bumbling around on the kitchen counter with an oven mitt on his head, Bob is naturally confused. Larry explains that oven mitts are the new fashion... he saw them on the cover of "Veggie Beat" magazine. But the oven mitt fad soon gets Larry in trouble, when he blindly falls into the sink. This reminds Bob of a Biblical story of three young men who stood up for what was right when everyone else was doing the wrong thing.
George, the loveable old green onion, narrates the story. You see, he works at the Nezzer Chocolate Factory as the gate security guard. It seems the Nezzer Chocolate Factory hires lots of young vegetables, including our three heroes Rack (Bob the Tomato), Shack (Junior Asparagus), and Benny (Larry the Cucumber). It is a hard job. Hours are long and lunch does not even come until three o'clock! But if the employees stop for one teeny weeny second Mr. Lunt (Mr. Nezzer's right hand man) will make sure they get fired, or demoted, or something. Things seem to be looking up for the employees in the movie Veggie Tales: Rack, Shack, and Benny, however, when in celebration of the factory's two millionth chocolate bunny, Mr. Nezzer announces that the employees may eat all the bunnies they want for half an hour! The employees in the factory break into a chocolate eating frenzy ...all that is except Rack, Shack, and Benny. They remember the good advice of their parents and make sure to limit their chocolate feast.
When Mr. Nezzer comes onto the factory floor awhile later all his employees are rolling around on the ground ill. . . all that is except for the trio Rack, Shack and Benny. Impressed, Mr. Nezzer promotes them to Junior Executives. The next day when the trio arrive at Mr. Nezzer's office, they discover their new position might not be as wonderful as they first expected. It seems, in the Veggie Tales: Rack, Shack, and Benny that Mr. Nezzer has built a 90 foot tall bunny and he is planning on having all his workers bow down to the bunny and sing "the Bunny Song." When the trio discover the song implies nothing is more important than the bunny, even God or their families, and that anyone who doesn't sing will be thrown into the furnace like the bad chocolate bunnies they get a little anxious.
The big day arrives, and when the time comes all the factory employees bow down and sing the bunny song, except three. You guessed it, Rack, Shack, and Benny. Mr. Nezzer is none too happy and leads them off to the furnace. What will happen to Rack, Shack, and Benny? Will they fall into the furnace like the bad bunnies? Will their courage and honor for God go unnoticed? And what will become of the evil Mr. Nezzer? And will Larry ever get out of that sink?!̴Ì_
Conclusion
A fun and meaningful film Veggie Tales: Rack, Shack, and Benny brings to life the Biblical story of Shadrach, Meshach and Abednego in a way that will help kids understand the importance of standing up for your beliefs. A great lesson on handling peer pressure, Veggie Tales: Rack, Shack, and Benny is also a wonderful reminder to viewers of all ages that God is always watching out for us, and will honor our sacrifices; whether that is not going on a chocolate bunny eating spree or not bowing down to a false god. The story is only added to by the humorous oven mitt and sink incident, which is a good reminder of how foolish following worldly standards is. And what is a Veggie Tales movie without a Silly Song With Larry? Veggie Tales: Rack, Shack, and Benny features the silly song "Dance of the Cucumber." A fun take on a wonderful Bible story, Veggie Tales: Rack, Shack, and Benny will remind your kids of God's protection and challenge them to stand up for their beliefs.
Veggie Tales
Filled with lovable vegetables and silly songs, Veggie Tales is about more than cartoon characters, the series of films created by Big Idea are meant to plant seeds of faith and character in viewers young and old. Veggie Tales was first created by Phil Vischer and Mike Nawrocki who were looking for a fun and creative way to share Biblical stories, values, and lessons with children around the country. They landed on an idea of a group of veggies living on the kitchen countertop (after all, what mom would not be ok with her kid falling in love with veggies) and the rest is history. Creating a loveable cast of characters such as Bob the Tomato, Larry the Cucumber, Junior Asparagus, Pa Grape, the French Peas, Madame Blueberry, Jimmy and Jerry Gourds, Laura Carrot, and Archibald the Asparagus Veggie Tales teaches wonderful faith based lessons viewers young and old alike can enjoy!̴Ì_
Veggie Tales: Rack, Shack, and Benny has not been rated by the Motion Picture Association of America. This film received the "Faith Friendly" award for all ages from the Dove Foundation. As always, it is recommended that parents preview all content to determine what is suitable for their children, but the film Veggie Tales: Rack, Shack, and Benny is generally considered appropriate for most audiences.