---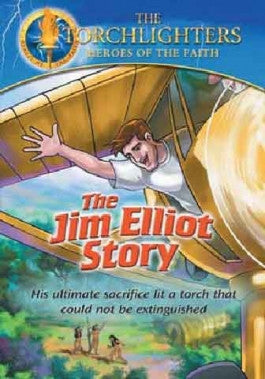 Sale
Torchlighters: The Jim Elliot Story DVD
Watch Trailer
Additional Information
Languages: English & Spanish
Subtitles: English
Closed Captioning: Yes
Sale price $7.50 Regular price $14.99 You save 50%
Estimated arrival between and for USA.

---
You might also like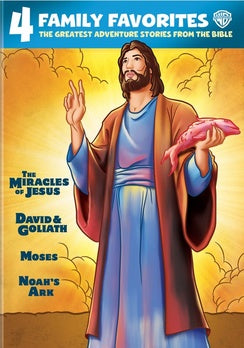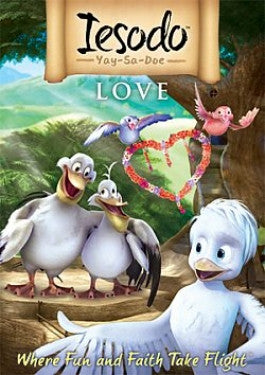 Sale price $9.17
Regular price
$9.99
Sale
—
Sold Out
Sale price $5.99
Regular price
$14.94
Sale
—
Sold Out
Torchlighters: The Jim Elliot Story
The year was 1956, and Jim Elliot was setting off in a little plane with four other young America missionaries into the steamy jungles of Ecuador. They had one mission; reach the savage Auca tribe with news of the gospel. Something went terribly wrong, however, and when news reached the outside world that the five men, including Jim Elliot, had been brutally murdered everyone stood shocked. From the ruins of tragedy, however, a story of hope and redemption rose. From Voice of The Martyrs comes another animated Torchlighter film--The Jim Elliot Story. Join Jim Elliot as he sets off on a journey of courage and sacrifice that will change the world in unexpected ways.
Jim Elliot
Born in 1927 to Clara and Fred Elliot, Jim Elliot grew up in a loving family. From the time he was a little boy his parents taught him and his siblings the truth of the gospel and urged them to live adventurously for Christ. Even as a little boy, Jim clung to the words of visiting missionaries, dreaming of the day God would take him somewhere where he could share the good news of Jesus Christ. After proving himself to be a strong believer and powerful speaker in high school, Jim set off for Wheaton College. During his time at Wheaton three important things happened, as viewers will see in The Jim Elliot Story, that would alter the course of his life forever. First, he was invited to study linguistics by a former missionary to the Quichuas of the Ecuadorian jungle, which would turn his thoughts and prayers toward South America. Second, he met a young woman by the name of Elizabeth. And finally, he was told for the first time of a savage, unreached Ecuadorian tribe called the Aucas.
After many years of prayers and unexpected difficulties, Jim Elliot's dream of reaching the tribes of South America began to come true. In 1952, Jim and his missionary partner Peter Fleming, set off for Ecuador to serve as missionaries to the Quichua tribe. During his time with the Quichua people, Jim learned how to speak several native languages, shared the gospel with many Quichuas who became faithful Christians, and finally married his beloved Elizabeth. This, however, was just the first step in Jim's journey to the events that would inspire the Torchlighter film The Jim Elliot Story.
After three years with the Quichaus people, Jim felt God's call to move on. So together with Elizabeth, his daughter Valerie, fellow missionaries Ed McCully, Roger Youderian, Pete Fleming, pilot Nate Saint and their families Jim set off deeper into the jungles of Ecuador. Their mission was to reach the Auca people with the gospel message. It would not be an easy task, however. The Aucas were a tribe caught up in a vicious cycle of killing, and any outside man who stepped into their territory was brutally murdered. Jim Elliot and the rest of the missionary team, however, were determined to share the hope of the gospel with a people so in need of salvation.
After many months the team managed to find a small Auca village. With joyful preparations complete the five men set off in their tiny plane to meet the people they had come to serve. After establishing friendly contact with the Auca people the men landed their plane on a sandbar. Finally, face-to-face contact had been made and the men, including Jim, rejoiced that God had provided them a way to reach these people. While their early meetings were friendly, something had happened behind the scenes of the Auca tribe that the men were not aware of. On January 8, 1956 all five of the loving, courageous men were speared to death on a sandbar in the midst of the Ecuador forest. And so, it would seem The Jim Elliot Story ends in a martyr's death. The story, however, is more than a tragic death on a jungle beach. For, several years later Elizabeth Elliot and Rachel Saint would return to finish the story of redemption their beloved husband and brother had begun.
Torchlighter Films
Torchilighter films provide a valuable way to share the inspiring and encouraging stories of some of history's most influential men and women of faith with your children. Based on the lives and writings of real people, Torchilighter films like Torchlighers: The Jim Elliot Story not only bring to life history, but they bring to life acts of faith and true stories of men and women of faith, integrity and courage. As your children watch the lives of these great individuals play out on screen they will not only be entertained, but will also learn valuable lessons. They will come to see faith not just as words and stories, but as actions of love and self-sacrifice. They will learn that God's love is constant throughout time, that he saves and transforms lives, and that his wisdom, grace, and love never falter Torchlighters: The Jim Elliot Story brings to life the faith and story of one such individual for your children to enjoy and learn from, and perhaps you as well.
Conclusion
A story of sorrow turned to rejoicing. A story of sacrifice turned into redemption. A story of a man of great courage, integrity, sacrifice, faith, and love that nothing, not even the threat of death, could keep him from following God's call and his heart for the unreached. The Torchlighters: The Jim Elliot Story will encourage and inspire believers of all ages.
Torchlighters: The Jim Elliot Story has not been rated by the Motion Picture Association of America, but was awarded the "Faith Friendly" seal for ages twelve and up by Dove Foundation. As always, it is recommended that parents preview all content to determine what is considered suitable for their children, but this film is considered appropriate for most audiences.
If you enjoyed Torchlighters: The Jim Elliot Story, and learning about the life of a great man of faith, you may enjoy Torchlighters' other films based on the lives of William Booth, Eric Liddell, Amy Carmichael, Augustine, Corrie ten Boom, and many more!