---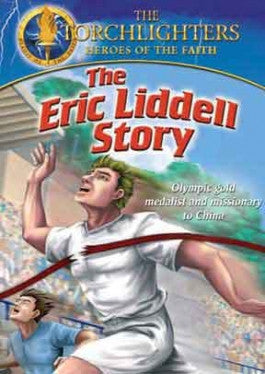 Sale
Torchlighters: The Eric Liddell Story DVD
Watch Trailer
Additional Information
Languages: English & Spanish
Subtitles: English
Closed Captioning: Yes
Sale price $9.99 Regular price $14.99 You save 33%
Estimated arrival between and for USA.

---
You might also like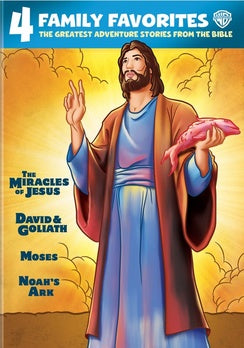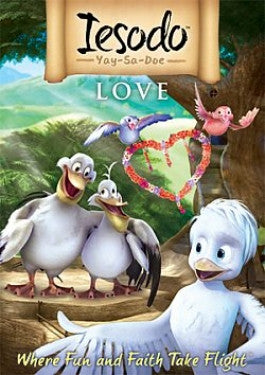 Sale price $9.17
Regular price
$9.99
Sale
—
Sold Out
Sale price $5.99
Regular price
$14.94
Sale
—
Sold Out
Torchlighters: The Eric Liddell Story
The starting gun cracked and the sound echoed across the giant stadium, the audience leaned forward. These were the 1924 Olympics, and history was about to be made. Eric Liddell, "The Flying Scotsman," leaned his head back and ran with every ounce of strength in his body. This was his chance to glorify God, breathing heavy he sprinted down the track. As he ran, however, he had little idea of the bigger race God had already enlisted him in. He had no idea of what lay further down the track and the even bigger audience that would one day watch him. From Voice of The Martyrs comes another animated Torchlighter film:̴Ì_The Eric Liddell Story. Journey with Torchlighters as you discover the life of a courageous man who stood firm in his faith and ran the race with perseverance.
Eric Liddell: Running For God
He was a Scotsman, and yet in many ways he was a Chinaman. Born to two Scottish missionaries serving in China, Eric Liddell would forever, in many ways, belong to both countries. While his parents were loving people, China was a dangerous place for a young Scottish boy, and so Eric and his older brother Robert were enrolled in boarding school back in Scotland. As the years went by Eric grew taller and also grew considerably better at athletics as The Eric Liddell Story will show you. By the time Eric joined his brother at Edenborough University he was among the best runners in the nation! And within a few years he was setting records, and the Scottish newspapers were singing his praises. They would not, however, be singing them for much longer.
In 1924 the whole of Scotland waited in anticipation to see their "Flying Scotsman," Eric Liddell compete in the Paris Olympics. But when Eric discovered that the final 100 meter race would be run on a Sunday he refused to compete. Eric would not put his own personal fame above and before worshiping and honoring his Savior. Astonished and bitterly disappointed the Scottish newspapers flung insult after insult at the young man depicted in The Eric Liddell Story. Yet, Eric stood fast. He would not compete in the 100 meter dash, but he would compete in the 400 meter race. There was just one problem. Eric was not very good at the 400 meter race, and there were two world record holders running against him.
Confident in his decision, Eric strode out onto the track and into the bright Paris sunlight. He did not have much chance of winning, but he would give his only Olympic race everything he had. The starting gun sounded and Eric bounded out, head flung back and arms pumping. And then something astonishing happened. Eric, racing for his Savior not only won the gold metal but set a new world record. The Scottish newspapers sang his praises. . . but not for long. For shortly after his astounding Olympic race the hero from The Eric Liddell Story announced he was quitting running. He was going to China, to be a missionary.
1925 Eric set sail for China, the land of his birth. He served for many years as a teacher at a British run school, teaching the boys first about God and then about running. Working beside his father, Eric focused his race towards God's kingdom. In 1934 Eric married fellow missionary Florence Mackenzie, and the two had three daughters. But time was ticking down for the happy family. With a war in Europe on the rise and Japanese aggression from the east China was a very unsafe place for a British citizen. At their family's urging, Florence went to Canada with their children while Eric traveled deeper into China to the poverty struck town of Siochang. As fighting between the Chinese and Japanese increased Eric firmly stood his ground serving the Chinese people. In 1943 Japanese troops captured Eric's mission station was sent to an internment camp. Yet confident in his faith, Eric was determined to remain full of joy. Would the man from The Eric Liddell Story see his efforts be rewarded?
See how Eric's famous stand during the 1924 Olympics prepares him for even greater challenges as a missionary to China during World War II. When kids see what God can do through a "Torchlighter" who is devoted to carrying out His will and purposes, they too may want to carry a torch of faith by serving Him.
Conclusion
A story of standing firm in your beliefs despite ridicule and persecution, The Eric Liddell Story will encourage and challenge believers of all ages. As you watch Eric's famous stand during the 1924 Olympics you will see how God prepared him to face bigger challenges amidst a WWII Japanese internment camp. As children see how God writes Eric's story to equip him to face the race that lay ahead of him, they will be encouraged that God can do the same for them. As they watch Eric's courage to stand against pressure and fear, confident in faith, they will be challenged to do the same in their own lives and against their own challenges. A story of a great man of faith, boldness, and courage The Eric Liddell Story will inspire believers to build a faith like Eric's"ÌÎÌ_ÌÎ?a faith that can withstand any odds. As you and your children see what God can do through a "Torchlighter" you will be inspired to carry the torch of faith by serving him too.
Torchlighers: The Eric Liddell Story has not been rated by the Motion Picture Association of America, but was awarded the "Faith Friendly" seal for all ages by Dove Foundation. As always, it is recommended that parents preview all content to determine what is considered suitable for their children, but Torchlighters: The Eric Liddell Story is considered appropriate for most audiences.
If you enjoyed Torchlighters: The Eric Liddell Story, and learning about the life of a great man of faith, you may enjoy Torchlighters' other films based on the lives of Jim Elliot, William Booth, Amy Carmichael, Augustine, Corrie ten Boom, and many more!