---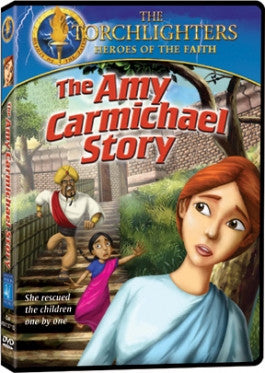 Sale
Torchlighters: The Amy Carmichael Story DVD
Watch Trailer
Additional Information
Languages: english, spanish
Release Date: 10/14/06
Subtitles: English
Closed Captioning: Yes

See More
Sale price $7.50 Regular price $14.99 You save 50%
Estimated arrival between and for USA.

---
You might also like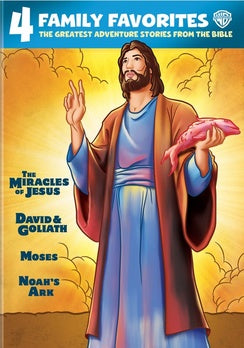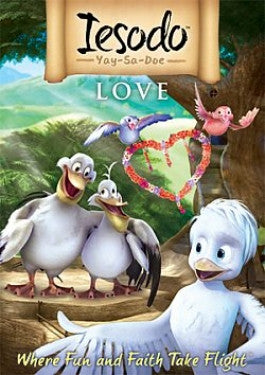 Sale price $9.17
Regular price
$9.99
Sale
—
Sold Out
Sale price $5.99
Regular price
$14.94
Sale
—
Sold Out
Torchlighters: The Amy Carmichael Story
Torchlighters: The Amy Carmichael Story is an animated DVD for children that teaches them all about the renowned missionary Amy Carmichael. Her story is inspiring and is filled with danger, trials, and a great faith in God that sustained her throughout her mission work. This film provides children with a lesson about great faith and evangelism. Serving God is far from easy, but if we are called to go to the most dangerous parts of the world and spread his good news, we need to be obedient. Torchlighters: The Amy Carmichael Story is entertaining and informative, providing children with the true story about one of history's greatest missionaries.
Synopsis
Torchlighters: The Amy Carmichael Story begins with the start of Amy Carmichael's mission to India. She has just decided to leave behind the comfortable life that she is used to in Ireland and spread God's word to those in India. This is an extremely daunting task as the people there are not going to be very pleased with a Christian missionary on their soil. However, she knows that it is something she must do and she goes anyway.
This film shows Amy trading in all of her Irish clothes and possessions for Indian saris as she fully invests herself in her mission work. With her, she has brought a small group of women who are going to help her reach the Indian people. Torchlighters: The Amy Carmichael Story depicts the way Amy let go of everything in order to serve the people there and give them the hope of Christ. Any plans that she might have once had for getting married or having children are set aside, as they may hinder her from doing the most important work she can; God's work. Though this is a huge sacrifice, Amy has no regrets because she knows that Christ is calling her to a life as a missionary in India.
She and her group of women nickname themselves "The Starry Cluster" and eagerly begin their work in India. Their biggest hope is to fulfill Daniel 12:3, sharing the love of Christ in order that they may shine like the stars in the heavens. Though they start out eagerly, Torchlighters: The Amy Carmichael Story quickly shows that their journey of mission work is far from easy. Amy runs into unexpected problems with the Indian people. Because she is white, she is regarded as the highest caste, because India runs on a caste system. She is not allowed or supposed to interact with any of the lower castes, which make up a majority of the Indian population. Another roadblock is the fact that she is a woman. Indian culture does not regard women highly and she experiences difficulty getting the people to respect the authority that she has in Christ. However, though the men do not respect her, some of the women and children are drawn to the hopeful message that she is giving them.
Torchlighters: The Amy Carmichael Story then introduces a character named Preena. She is a seven year old girl who has been given by her family to the temple as an offering to the gods, in order that she may gain favor in their eyes. The women in the temple and other authority figures do their best to break the willful spirit that is in Preena, but she refuses to let them bring her down. Though life inside the temple is anything but okay, she holds on to the hope of escape within her heart. She is beaten and suppressed, but still she lets the idea of escape fill her with a passion and a hope. Preena is finally able to try and escape from the temple, and makes it all the way to the marketplace.
Here, Preena sees Amy Carmichael and is instantly drawn to her. This woman is different from any that Preena has ever seen before. She is filled with an undeniable light and a love that radiates to those around her. Amy is able to talk to Preena, and the young girl continues to see something unique and different radiating out of her.
Unfortunately, Torchlighters: The Amy Carmichael Story then shows the temple officials rushing to the marketplace and locating Preena. They drag her away from Amy, though she tries to grab hold of Amy's cross necklace and stay with her. When she returns to the temple, she pays a huge price for her escape. Her hope is not diminished, however, and is actually furthered by what she saw in Amy. Because Preena cannot stop talking about Amy, the young missionary comes to be known as the woman who steals souls. Her heart radiates a love and kindness that is unusual in that country, and those who see her are drawn to her. This causes others to be wary of her and the change that she is bringing about.
In one final maneuver for freedom, Preena escapes for a second time, desperately praying that she will be able to locate Amy and run away with her. In an encounter that could only be led by God, Preena finds Amy in the marketplace and asks to know more about Christ. Overcome by the miracle God has performed, Amy willingly accepts Preena as her own and treats her like a daughter. Leading her away from the life of cruelty she has known, Amy accepts Preena into their group of missionaries and teaches her about the great love of God.
Torchlighters: The Amy Carmichael Story then shows what happened to Amy and her group of women. They continued to reach out to the people and Amy became known as the "Mother to the Motherless". Though her work was difficult and dangerous at times, she knew that she was being led to a holy calling. Instead of running away in fear, Amy fulfilled the mission that God had prepared for her and brought many souls to Christ. Torchlighters: The Amy Carmichael Story teaches the amazing lesson of a young woman and the great faith that sustained her throughout many trials.