---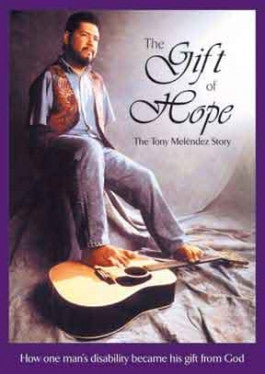 Sale
The Gift of Hope: The Tony Melendez Story DVD
Additional Information
Languages: English
Dove Approved: Dove Family Approved
Run Time: 45 minutes
Region Code: A
Sale price $10.00 Regular price $14.99 You save 33%
Estimated arrival between and for USA.

---
You might also like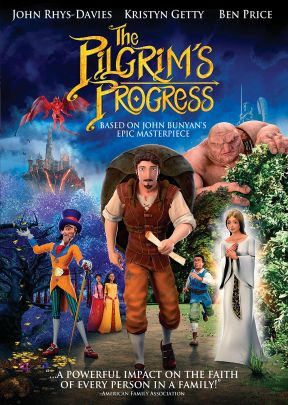 Sale price $11.99
Regular price
$19.99
Sale
—
Sold Out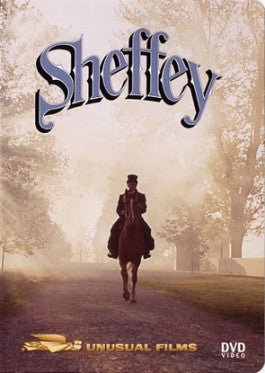 Sale price $12.00
Regular price
$19.99
Sale
—
Sold Out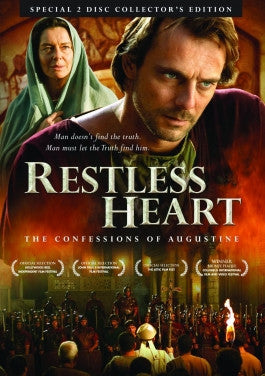 Sale price $14.97
Regular price
$29.99
Sale
—
Sold Out
The Gift of Hope: The Tony Melendez Story DVD
The Gift of Hope: The Tony Melendez Story is an inspiring film about a man who overcame the challenges of his disability to do something extraordinary. Tony Melendez was born without arms, but this hasn't stopped him from doing amazing things. He was born with this defect as a result of his mother taking a prescription drug, Thalidomide, while pregnant. He is known around the world for playing guitar with his feet. He became very popular when he performed for Pope John II in Los Angeles in 1987. The Pope rushed into the audience to embrace him, extremely moved by his amazing performance.
This film allows you to meet Tony and see him perform in many different venues. His story is inspiring and delightful. After seeing this film, you will understand why he has been on many different TV shows, including "Good Morning America" and "The Today Show". He has also been the recipient of several awards, including the Inspirational Hero Award from the NFL Alumni Association at Super Bowl XXIII. He was also awarded the Branson Entertainment Award for the Best New Artist in 1999.
He has used his disability for good and also speaks to many young people about the dangers of drug abuse. His talks feature lessons on self-esteem, disability awareness, cultural awareness, and family support. Tony's inspiring story will challenge viewers to be grateful for the life and opportunities they have been given and to give hope to those in need. The Gift of Hope: The Tony Melendez Story is a beautiful film showing the life and ministry of Tony Melendez.
The Life of Tony
In 1962, Tony Melendez was born without arms. This defect is reportedly due to his mother taking Thalidomide while pregnant with him. He did not let this disability drag him down, however, and tackled the world head first.
He began playing guitar and singing in 1985. In 1987, he sang "Never Be the Same" while playing the guitar with his feet in a special performance for Pope John Paul II. This skyrocketed his career and started his journey of stardom. The Pope told him that his wish was for him to continue giving this hope to all people. This inspired Tony to continue on in his pursuit of music. He has an amazing testimony of pursuing and enjoying life, though it has been anything but easy for him.
Tony decided to start the "Toe Jam Band" and they started touring and had a very busy concert schedule. He later went on to write a book, and The Gift of Hope movie was based upon this book. He has used his disability for good and travels around the world giving inspirational talks.
An Inspiration to the World
Tony has a unique story unlike any other. He was born without arms, and this is an extremely difficult disability to live with. He was not able to participate in regular activities as a child. This life was forced upon him because of his mother's choice to abuse prescription drugs while pregnant. Though he could have become extremely bitter and angry, Tony chose life.
He chose to enjoy every moment of life to the fullest and not let his disability stop him from doing anything. As a child, he always had a great love for music, but was told that he would never be able to play an instrument. After all, don't all instruments require you to have arms? Tony, however, did not listen to this advice and decided to try something for himself.
He taught himself how to play guitar with his toes, an extremely difficult task. The way he overcame his disability is extremely inspiring and motivating. He didn't let the greatest of obstacles get in his way and continued in his pursuit of life and happiness.
Tony trusted that he would be able to find joy in all situations and believed that God had a plan for his life. His story gave The Gift of Hope to others and allowed them to see that they could overcome any situation they were faced with. His story is moving and inspiring, showing the effects of perseverance and hope. He did not let his disability discourage him and instead began a beautiful legacy of faith and dedication.
He decided that playing and singing was not enough, but that he must share his story with the world and inspire others to overcome great challenges. Tony started talking to young people about the devastating effects of drug abuse. His life is a very chilling example of what can happen if drugs are misused. His mother took away his chance to have arms, but he didn't let her take away his chance at life. Instead, he picked up the pieces of his life and began moving forward. He did not let bitterness and hatred consume him, but instead let joy and peace fill him and become his testimony.
Tony speaks on the importance of building others up and giving them a good sense of self-esteem. He talks about how to act around those with disabilities and how they just want to be treated like everybody else. He is not sensitive about his lack of arms, but recognizes that there will be people who make fun of him for this. He teaches important lessons of ignoring those who spew hate at every corner and instead becoming a beacon of light, truth, and hope for the world to see.
The Gift of Hope: The Tony Melendez Story is an inspiring and beautiful film following the life of a man who did not let his disability drag him down. Instead, he dove into life headfirst, not afraid of any of the challenges he would experience. His life is an inspiring testimony of great faith and hard work.
The Gift of Hope: The Tony Melendez Story is not rated by the Motion Picture Association of America, but is considered suitable for all audiences. It is always recommended that parents preview all content to determine what is suitable for their family.
---
DVD Features:
Rated: Not Rated
Region: All Regions
Languages: English
Format: Full Screen
Time: 45 minutes
Release: 2001