---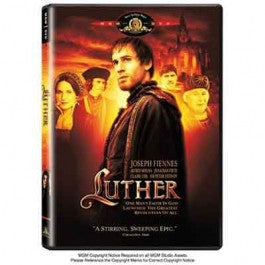 Sale
Luther DVD
Watch Trailer
Additional Information
Cast: Joseph Fiennes, Bruno Ganz, Peter Ustinov, Alfred Molina, Jonathan Firth
Director: Eric Till
Producer: Alexander Thies, Bart Gavigan, Brigitte Rochow, Christian P. Stehr, Dennis A. Clauss
Languages: English
Run Time: 124 min
Screen Format: WS
Subtitles: English, Spanish
Closed Captioning: Yes
Region Code: 1

See More
Sale price $14.99 Regular price $19.99 You save 25%
Estimated arrival between and for USA.

---
You might also like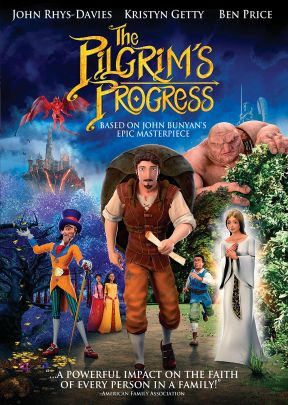 Sale price $11.99
Regular price
$19.99
Sale
—
Sold Out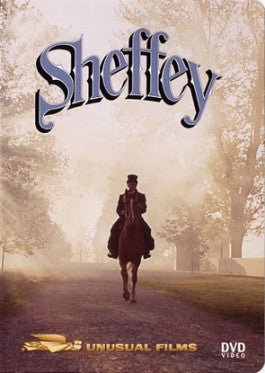 Sale price $12.00
Regular price
$19.99
Sale
—
Sold Out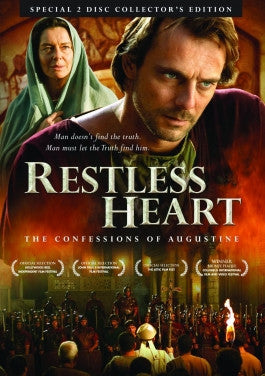 Sale price $14.97
Regular price
$29.99
Sale
—
Sold Out
Luther DVD
Starring Joseph Fiennes, Luther is a dramatic piece of cinematic art. This film is the story of great spiritual revolutionary, Martin Luther. His goal was simple take money, fear, and shame out of the definition of religion and bring the true nature and message of God to all the people. However, this controversial opinion made the people label him as a heretic. This exhilarating film about Luther's spiritual revolution and quest for religious freedom is dramatic and exciting at every turn. Luther is an amazing film that captures Martin Luther's passion and his dedication to freeing the people from religious tyranny.
The Quest for Truth
Before he became a huge force in the Protestant Reformation, Martin Luther was deeply involved in the Catholic Church. He, along with most everyone else, bought into the theology presented by the Church. They were very focused on power and this made up their entire system. Whoever had the power was believed to have a direct connection to God and could even affect people's salvation.
Indulgences were sold for a high price, and marketed as something great. One could purchase an indulgence for a certain amount from the Church and this could be used for a loved one or themselves. The idea of indulgences was that they could reduce the amount of punishment one would receive for their sins. This idea went hand-in-hand with the idea of purgatory. Their time spent in purgatory could be greatly reduced if an indulgence was bought.
Luther began to see that the Church did not care about saving the souls of people, but seemed much more interested in gaining money from the selling of indulgences. It was a very dangerous thing to even consider contradicting the authority of the Catholic Church, but Luther decided that he could not live with the lies anymore.
He recognized that freedom from sin could not be purchased with money. Only God can give his people the freedom from sin, and the Church did not have the power to say that buying indulgences would free anyone from sin. Their theology was false, and this caused Luther great unrest. He decided to publicly dispute the teachings of the Catholic Church. Though he knew he would be labeled as a heretic and his very life would be in danger, he recognized that the truth was more important than his life.
Another thing that Luther disputed was the teaching that good deeds could earn salvation. He needed only to look at the Bible to realize that God did not say that good deeds would save us. There is a very clearly detailed plan of what needs to be done in order to achieve salvation, and nowhere does it say that good deeds or buying indulgences has anything to do with this. Luther shocked the people when he revealed the truth in the Bible and called out the Catholic Church for teaching false doctrine.
Immediately, he was labeled as a heretic, just as he knew he would be. Instead of backing down, he was filled with even more passion and spoke the truth even louder. The Catholic Church had made sure that the Bible was only taught in Latin, but this greatly bothered Luther. The common people could not have access to the teachings of the Bible, which was exactly what the Church wanted. They did not want everyone to find the flaws in their doctrine, so they refused to print the Bible in any language other than Latin. Luther opposed this too and translated the Bible into the vernacular language. This allowed everyone to have access to the Bible and its teachings, but it greatly angered the leaders of the Catholic Church.
Luther wrote and posted ninety-five theses, very clearly stating his beliefs and calling out the Catholic Church for the flaws and lies in their doctrine. On June 15th, 1520, the Pope warned Luther that he was in danger of excommunication. The only way he could avoid this was if he recanted his statements and promised to follow the doctrine of the Church. He knew that he could no longer live with the lies and the false doctrine, and he didn't want the people to go back to living that way. He publicly refused to recant his beliefs and statements, and on January 3rd, 1521, he was excommunicated from the Catholic Church by Pope Leo X.
Though he knew that he was going to be faced with immense opposition, Luther did not back down or deny that he had ever spoken. He was extremely committed to the truth, and was greatly angered when the truth was not being presented. The lies of the Catholic Church ensnared many, and deceived everyone who believed their doctrine. The selling of indulgences made Luther sick to his stomach as he saw that a price was put on salvation. The Bible clearly states that the price of salvation was Christ's death, not any dollar amount.
The story of Luther is beautifully portrayed in this film. His immense bravery and courage are shown throughout this dramatic DVD and the result is captivating. Luther was a true hero who did not back down, but went on a quest for truth. Though he was met with great opposition and even the threat of excommunication and death, he refused to quit. His search for truth was extremely important to him and he stated that he could not go back to living a lie. The Catholic Church was called out by Luther, and he sparked the Protestant Reformation. This film is inspirational and dramatic, showing the true bravery and passion that made up Martin Luther's character. His perseverance changed the Church forever and began a spiritual revolution that would affect the course of history forever.
Luther is rated PG-13 by the Motion Picture Association of America for disturbing images of violence and intense themes. It is strongly recommended that parents preview all content to determine what is suitable for their family, as this film is not appropriate for all audiences.
Starring: Joseph Fiennes, Bruno Ganz, Peter Ustinov
---
Release: November 30, 2004
Run Time: 123 Minutes
Rated: PG-13
Format: AC-3, Closed-captioned, Color, Dolby, DVD-Video, Subtitled, Widescreen, NTSC
Languages: English
Closed Captioning: Yes
Subtitles: English, Spanish
DVD: Region 1