---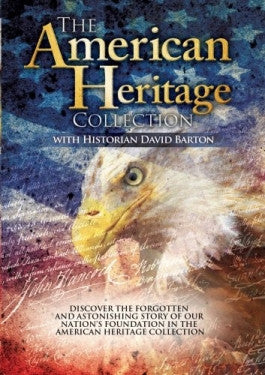 Sale
American Heritage Collection 3 DVD Set
Watch Trailer
Additional Information
Cast: David Barton
Dove Approved: Dove Approved Ages 12+
Run Time: 10 hours plus
Sale price $39.97 Regular price $79.95 You save 50%
Estimated arrival between and for USA.

---
You might also like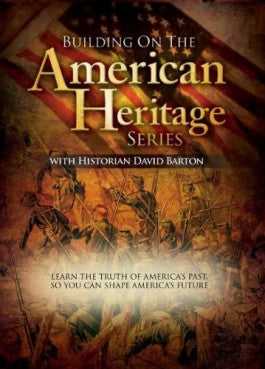 Sale price $39.97
Regular price
$79.95
Sale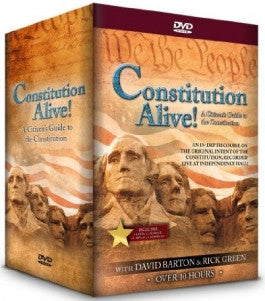 Sale price $39.97
Regular price
$79.99
Sale
—
Sold Out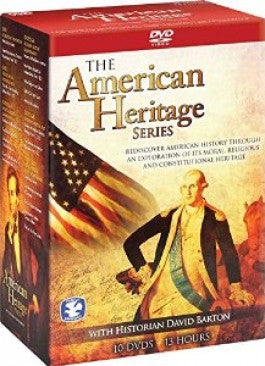 Sale price $39.97
Regular price
$79.95
Sale
—
Sold Out
American Heritage Collection 3 DVD Set
Open up this incredible collection and explore the amazing influence God has had on the founding of our great nation of America. In this series you will be taken back to explore the amazing foundations of our country. This way, you can explore how America has a deeply rooted heritage in Godliness, showing how our founding fathers originally intended the country to work, and how we as Christians can do our part to bring the nation back to its Godly roots. The film includes a private tour of the Capitol, revealing how the many different buildings, statues, and monuments have deep Godly meanings behind them. The series shows the very principles and foundations that bring us a successful government and gives us the steps back to impacting our nation today. We as a nation have strayed very far from our origins, and we can help turn the tide back. But we must be willing to act, and we must do it quickly, before we as a nation are too far gone. This incredible series spans over 10 hours and contains seven volumes for your viewing education and pleasure. Join your private tour guide and Christian historian David Barton as he takes you on this incredible journey to explore the foundations of America in American Heritage Collection 3 DVD Set.
Vol 1. America's Godly Heritage -- In this first documentary and volume in the series, you will hear David Barton's inspiring introduction into this incredible new world you are about to explore. He gives you the foundations for America and shows how you are about to be taken on an amazing journey to explore the beginnings of America. When the Founding Fathers first created this country, they had very specific desires for what role religion would play in our nation. You will see how court cases back then show that Christianity used to be a part of everyday American life. This film will give you incredible insights about the founding fathers and you will begin to see just how much has changed in the 250 years since this nation began.
Vol. 2 The Influence of the Bible in America -- Journey back into the American Heritage Collection 3 DVD Set as you this time discern what place the Bible had in founding America and how its use has been severely limited or even removed in more modern times in America. The Bible used to be used everyday in America and was commonplace in households and in everyday life. It was used as a moral compass and as a standard for people to live by. In more recent days, however, the Bible has become increasingly less common and used, and sadly, people are beginning to stray away from its original intent in our culture. This documentary explores the dramatic difference between today's America versus beginning America in regards to how the Bible is used.
Vol. 3 Keys to Good Government -- Explore public policy views in this next installment of American Heritage Collection 3 DVD Set as you come to find out more about the many incredible patriots who did incredible things in our country and wrote the rules of successful legislature and creating a positive future for Americans. Follow along with the lives of such incredible men as Benjamin Rush, Fisher Ames, and Noah Webster as you come to find out more about the amazing people that started to make America an incredible nation.
Vol 4: Four Centuries of American Education. America has been educating children for four centuries now, but what does that look like and how has it changed over the years? In this in-depth study you will explore how religion and its impact on schools has changed over the last hundred years in America. How is it that the thing that used to be the very center of our education system has now been removed entirely? The documentary also shows the shocking connection between removing the Bible from schools and how it directly correlates to a lower success rate academically. This film examines both the past and the present of education and how the system is continuing to evolve. The film gives definitive answers about the importance of bringing the Bible back to our nation in this thrilling documentary that will inspire you to take a stand on Biblical principles. This is a necessary addition to the American Heritage Collection 3 DVD Set
Vol 5 The Role of Pastors and Christians in Civil Government: In this engaging continuation of the American Heritage Collection 3 DVD Set series, you will see how religious leaders can play key roles in helping the government and establishing a Christian basis for morality in our modern day world. David Barton will show you in this fascinating documentary how Christians have been able to be at the forefront of the Revolution and the creation of America. He will begin to unravel how Christians were able to help shape our nation and give insights into how we can continue to do this today in an effort to bring our country back to God.
Vol 6 A Spiritual Tour of the US Capitol: The US Capitol is an incredible place, and sadly many will never get the chance to visit it for themselves. That's why David Barton has created this entry in the American Heritage Collection 3 DVD Set which takes you on a journey to explore the U.S. Capitol and see how the many different structures and monuments point back to our God and are more spiritually significant than you may have realized.
Vol 7 Setting the Record Straight: American History in Black and White: The American Heritage Collection 3 DVD Set draws to a close with this unique look at the heritage, both religiously and morally of black Americans. This DVD features over 2 and a half hours of content focusing on the lives of Black America and the traditions, political history, and rich legacy behind it all. While often an overlooked culture, this film helps shine some light on an incredibly fascinating topic central to the success of America.
The American Heritage Collection 3 DVD Set is an incredible journey and one that will greatly inspire you in your American life. With over 10 hours of content, it's a unique historical tour at the lives of those who came before us.