---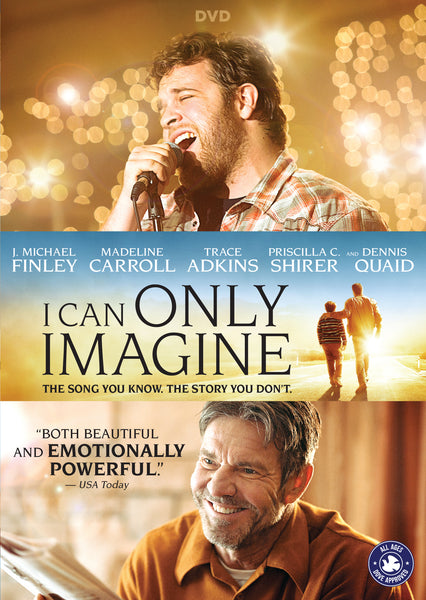 Sale
Sale price $10.99 Regular price $22.99 You save 52%
Estimated arrival between and for USA.

---
You might also like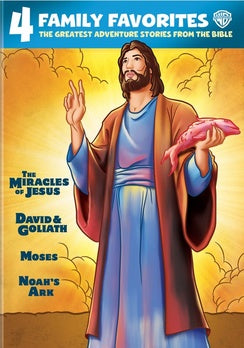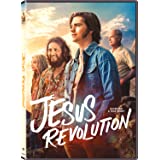 Sale price $15.99
Regular price
$29.95
Sale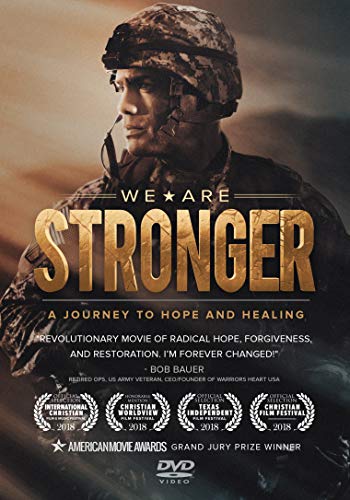 Sale price $9.99
Regular price
$14.99
Sale
I Can Only Imagine DVD
Bart Millard grew up in Greenville, Texas, suffering physical and emotional abuse from his father, Arthur. In adulthood, after Arthur became ill with only a short period to live, he was able to find redemption by embracing faith in God and recovering a genuine love for his son Bart. After many years had passed, Bart's difficult childhood and restored relationship with his father inspired him to write the worldwide hit song "I Can Only Imagine" when he was the lead singer of the Christian band MercyMe.
I Can Only Imagine
"Families needs to see stories like this!"
  -Mark Hall, Casting Crowns
"Christian music fans will be touched by this poignant origin story of a beloved song, which is portrayed with warmth and openness."
  -Sandie Angulo Chen, Common Sense Media
" an amazing film. I think it can change your life."
  -Steven Curtis Chapman
The global hit song I Can Only Imagine has been very loved by music listeners for years now. When MercyMe released this song in 2001 it instantly became a hit within the Christian community but soon the song does a leap to mainstream with a huge success. Millard‰۪s I Can Only Imagine to this day is the best-selling Christian single of all time.
The movie of the same title tells the story of Bart Millard (MercyMe's lead singer) and his relationship with his dad. Throughout his childhood and teen years Millard suffers emotional and physical abuse from his father, Arthur. When Arthur is diagnosed with a terminal illness, he seeks redemption through faith and also seeks a loving relationship towards his son. His troubled childhood and his restored relationship with his father inspires him to write the song that would later inspire millions of people, I Can Only Imagine.
Directors Jon and Andrew Erwin are at the front of this project, who have also directed several Christian films like Woodlawn and Mom's Night Out. Leading this star cast is J. Michael Finley (Bart Millard), a musical theater actor most known for his Broadway starring role in Les Mis̬erables in 2014. Also in this film is Madeline Carroll (Shannon), Molly from the movie Swing Vote. Academy Award winner Cloris Leachman (Memaw), country singer Trace Adkins (Brickell) and War Room's Priscilla Shirer (Mrs. Fincher) who have key roles in this film. Rounding out the cast is none other than Dennis Quaid, who plays Bart's father, Arthur.
For Millard, reliving some of the moments that happened to him during his childhood and teen years wasn't an easy task. For the movie the moments of abuse and pain had to resurface so that his perspective was present throughout the film but those were moments he'd thought he'd never had to bring back again.
One of the things that inspired the making of this film is the impact in itself that the song had immediately when it came out. MercyMe's single I Can Only Imagine was released in 2001 very near to the event that shook up the entire nation of the United States, the 9/11 Terror Attack. In general, people were very touched by this song as many of them had lost loved ones and were dealing with the aftermath of this horrible event.
The objective of this film is to impact people like the song did and has done for 17 years since its release. To impact Christian audiences but also to reach those who don't know Christ and speak into their hearts about the restoring power of forgiveness and God‰۪s love. To speak that important message of true forgiveness and to move them with something that gives them hope. Reminding them that hope can remain alive. A movie for people to get something out of it just like the song continues doing, no matter where the person is in life.
I Can Only Imagine, inspired by a true story, is a Christian film filled with very important themes and beautiful performances by the actors. Its message is leads to redemption and forgiveness and how God can change lives for the better.
If you love the song its inspired from, music in general, real life stories, this movie will impact your life!